Working Through The Supply Chain
Textile World tracks new developments at textile trade shows.
Virginia S. Borland, New York Correspondent
A
pparel fabrics trade shows in Paris are increasingly focusing on new technologies along with new fashions. Survival in the global market depends on innovation, creativity and being first to have both. From fibers to yarns to finished fabrics, all in close proximity at the shows in Paris, buyers are able to track saleable new trends.
At the recent Première Vision Pluriel — which included Expofil, Première Vision, Le Cuir á Paris, Indigo and Mod'Amont — and Texworld shows, there was continuing interest in fluidity and shine. Color, printed fabrics, performance and everything that is earth-friendly are in demand. Along with fabrics for Spring/Summer 2009, fiber and yarn developments were shown for Fall/Winter 2009-10.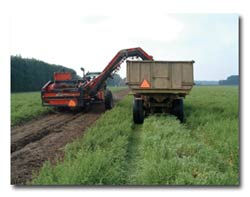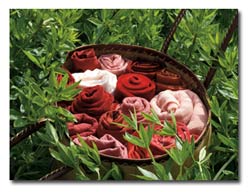 Rubia Pigmenta Naturalia offers a range of natural dye extracts derived from the madder plant.

Color
Exhibitors surveyed at the four-day Première Vision show reported their best-selling colors for Spring/Summer '09. Pale shades of gray and bone are the first picks, followed by white. A brilliant lime green, luminous coral, almost neon pink, strawberry, fuchsia, bright cornflower blue, and egg-yolk yellow are the bright choices. Vibrant navy and pale coral pink are other selections.
Working a season in advance, Cotton Incorporated, Cary, N.C., held trend presentations for Fall/Winter 2009-10. Colors are shown in five ranges. Off-Kilter combines blackened darks with luminous brights. There are sunbaked clay shades, wheat and greened blues in the Enrichment group. Mineral and stone colors in the Response range are joined by solar orange. Warm, wood-grained colors plus pearl, gold and deep red are in group called Propriety. A darkened palette and bold primaries are in the Native story.
One new exhibitor at the Expofil section of Première Vision Pluriel was the Netherlands-based Rubia Pigmenta Naturalia, producers of natural dyes. From farm to factory, they are growing and selling dyes created from the roots and stems of madder plants. Any shade of red, orange, pink or brown can be produced from extracts of these plants. By fall, the company will have harvested and produced yellow, and early next year it will complete the spectrum with blue.
Advertisement
The Rubia stand was crowded; yarn and fabric exhibitors were there looking for non-polluting dyestuffs. Italy-based Crespi has an organic collection that is dyed using Rubia's extracts.
Cotton
Exhibiting at both shows, technical teams from Cotton Incorporated worked with customers to report new developments. Collections of knitted and woven fabrics were shown, created with new yarns and finishing techniques. Wovens of special interest include 10-ounce, 100-percent cotton stretch denim; speckled and heathered piece-dyed corduroy; and a group of fabrics called Elephant Skin made using uncut pile velvet that is washed and brushed to produce a surface resembling elephant hide. Knits that caught buyers' eyes are double-faced fabrics knitted together with a different construction on each side. They are engineered for jackets and outerwear. Super-soft and ultrafine interlocks and jerseys range from stretch heather French terry to heavyweight Ponte di Roma with thermal properties. Some of these are all-over metallic-printed.
Storm Denim™, a water-repellent process introduced by Cotton Incorporated a few years ago, will be sold in menswear this fall at Barney's.
Supima® also was at both shows presenting yarns, fabrics and commercial garments. Of special interest are compact yarns, ultralong-staple Supima cotton and blends of Supima with cashmere.
Milan-based Pozzi Electa S.p.A., an Expofil exhibitor, was showing cotton yarns blended with cashmere and baby camel hair.
The focus at Switzerland-based Hermann Bühler AG is on comfort, luxury and performance. It is spinning Supima cotton into ultrasoft, fine yarns. One new knit construction is made with Outlast® viscose on the inside for thermal regulation and Rainbow cotton — a yarn introduced by Bühler a few seasons ago — on the outside. Men's shirts woven with Rainbow cotton are available at Brooks Brothers. It was also noted that organic cotton is in demand.
Another Expofil exhibitor, Hong Kong-based Bros, reported a demand for organic cotton. The company is selling it blended with Lurex® to Japan. A vintage collection of yarns with a wash-out effect and cotton blended with microwool are popular.
At Texworld exhibitor Raymond Uco Denim, India, menswear buyers were sampling rustic qualities of 13- to 15-ounce denim with a dry, stiff hand. Also selling were bistretch vintage denim and light shades. New are wax coatings, denim woven with recycled indigo yarns and blends with linen and coconut fibers. Some are dyed with tea.
At Première Vision, Uco Sportswear International, Belgium, also pointed out heavier denims, vintage, bistretch and denim woven with a linen weft. New is bleached indigo with a red cast and denim with shine.
Fancy denim at Japan-based Toko Shoji, a Texworld exhibitor, is selling to Ralph Lauren, Christian Dior and Louis Vuitton. There are silky finishes and jacquards. Artistic Denim Mills, Pakistan, showed comfort stretch, vintage and organic cotton denims.
Also at Texworld, Mauritius-based Socota Textile Mills showed yarn-dyed, piece-dyed and printed shirting fabrics woven with organic and fair-trade cotton. Japan-based Osaka Eiko Boeki is printing fabrics with cosmetic products that it claims are good for the skin. India-based Armstrong Knitting Mills is blending organic and non-organic cottons for T-shirt knits and home products.
Of special interest at Japan-based Hokkoh, a Première Vision exhibitor, are huge pink chrysanthemums printed on cotton voile and poplin. Slubbed voile is shrink-finished or has a ripple surface.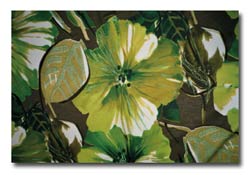 Miroglio offers large floral printed fabrics, among other styles for Spring/Summer 2009.
Linen
Proving that linen is eco-friendly, Paris-based Masters of Linen presented "The Linen Shirt Eco-Profile." Starting with growing flax and the processing and production of fiber, yarn, fabric and shirt, through the wear cycle of that shirt, an independent study shows the environmental impact from a standpoint of earth-friendliness and energy consumption. From agriculture through industrial processing, it has been shown that linen, a sustainable fiber, is free of harmful pollutants. Energy consumption is another story if you want unwrinkled linen —ironing time can be considerable if you want an unwrinkled shirt.
Masters of Linen Fall/Winter 2009-10 color and fabric trends are presented in four groups. Peaceful colors are neutrals and powdery pastels. Gray goes from light to dark. Luster, honeycomb weaves and blends with merino wool are some of the ideas. Eco-greens and green-tinged neutrals are in the Green Attitude range. Grainy textures, slubbed effects, tweeds and protective fabrics turn up.
Warm and woody tones are in a range called Taste of Nature. Bonded and double-sided fabrics are shown. Saturated brights are combined with darks in the Hybrids group. Geometric and graphic patterns, patchwork effects, and complex checks and stripes are some of the choices.
France-based Safilin, an Expofil exhibitor, introduced ultrafine linen yarns measuring up to 50 Nm. There is less twist in these fine yarns, and they are waxed after spinning and before winding.
Giemme and Mario Bellucci, two Italy-based exhibitors at Première Vision, are starting to develop fabrics using these ultrafine linen yarns. Featherweight interlocks were shown at Giemme; an extensive collection is in work for 2010. At Bellucci, there are sheer knits in blends with spandex.
Italy-based Marioboselli Jersey introduced new collections of linen/Lycra® stretch knits and a Bio Line of 20 fabrics, all made using natural fibers, and dyed and processed using natural dyes and eco-friendly treatments. Linen mesh is popular.
Libeco Lagae S.A., Belgium, showed extensive linen collections, pointing up the earth-friendliness of linen and hemp. A lot was shown in heavyweights and natural shades or vegetable-dyed. Eco linen labels and hangtags are given with fabric orders. Other fabrics here include yarn-dyed crinkled crepes, double-sided color-reverse washable linens, linen/metal blends, glitter-coated linens and chintz finishes.
In addition to using natural dyes, Crespi's organic collection is finished with aloe vera. The line includes stretch, lustered twills and multicolored stripes. There has been great interest from buyers in the United States, with no reaction to higher prices. Translucent mesh, foil prints and laminated linen denim was shown at John England Textile Ltd., Northern Ireland.
Man-Made Fiber
Austria-based Lenzing AG, exhibiting at both shows, introduced a new fiber variant, MicroModal® Air. Made from beech wood pulp, it is a sustainable fiber that is ultrafine, lightweight and silky smooth; and imparts a luxurious hand to fabrics. The initial target market is intimate apparel. The eco-friendliness of other Lenzing cellulosic fibers was pointed out. Tencel® derived from eucalyptus is non-polluting throughout the fiber process.
Expofil exhibitor Tearfil Textile Yarns, Portugal, said its spinning technique called Pluma was of interest. Especially suitable for cellulosics, Pluma yarns are low-pill and have an ultrasoft hand. Outlast viscose, SeaCell® and Dri-release® are high-tech yarns. Mélange yarns containing MicroModal, Tencel, Supima cotton and fair trade cotton are new. Los Angeles-based Design Knits is using a blend of Supima/Modal.
J-fiber yarn is new at Japan-based Kurabo. It is a brilliant, soft-touch yarn, spun with short cupro fibers, using Kurabo's Spinair technology that produces hollow yarns. One target market is lining fabrics. Other yarns of interest combine cupro with cotton. Prismduo is a light, soft and shiny yarn made from a blend of hollow cotton fibers and cupro. Air Powder is a spun yarn made using microcupro and selected cotton for a soft, lightweight yarn. Air Dress yarn is enveloped by a thin sheath — cupro-covered cotton, for example.
Marioboselli is blending Modal with Crabyon®, a techno fiber produced by Pozzi Electa made from crab shells. Jackytex, Italy, has a collection of cupro microfiber high-performance fabrics. There are tonal pleated jacquards that have a natural hand and all-over foil prints that have a slippery touch and look of liquid metal.
Schoeller Textil AG, Switzerland, combines nature with technology. Popular are lightweight trenchcoat fabrics woven with a nylon warp and silk weft. Aluminum-dyed and finished fabrics have a metallic look and paper touch. Ceramic-printed fabrics are abrasion-resistant. Customers are asking for fabrics woven with recycled polyester. For Fall 2009, Schoeller has developed bonded bistretch fabrics of cashmere and nylon that use its soft-shell technology. There are wool herringbones and cords that are backed with a bionic membrane for moisture and temperature control.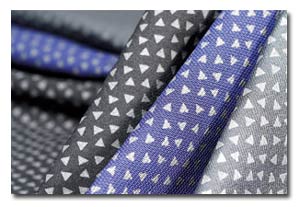 Ceramic-printed fabrics from Schoeller Textil AG are abrasion-resistant.
Luxe
Silk, cashmere, cotton and linen are fibers of choice. Lustrous, soft, light and airy fabrics continue. Satins, jacquards, crepes, crepons and chiffons are strong sellers. Ink-jet prints are enormous and colorful. At France-based Bucol, they look like melting silver, printed on Lurex. Ratti, Italy, has some huge, graphic prints reminiscent of Jackson Pollack.
Satin is a best seller at Bucol. Warp prints are another technique. There are soft; pretty flowers; floating clouds; bright, blurred-edged stripes; and paving stone shapes. Fabrics are pleated, crushed, puckered or fringed. Hand-cut coupé de velours on sheers, shiny jacquards with Lurex and eyelash effects were pointed out at France-based Bouton Reynaud.
At T.B.M., France, nothing coordinates, but everything matches. There are printed dots in spots that go with puffy jacquards, animal-skin prints, faded vintage patches and oversized florals. Along with jacquards, Switzerland-based Weisbrod-Zürrer AG has pleated panels, double weaves and enormous abstract prints.
There are layered sheers at Ratti with different jungle animals printed on each layer. Floral prints are bright and graphic, washed and romantic, or conversational. African ethnics, skin prints, and, of course, paisleys are other themes. There are new fabric treatments including laser-cut coated burlap, paper-hand sheers with lustered yarns running through them, light-reflecting chintz finishes and enormous jacquards.
A collection of silk jacquards that have an all-over mini bubble pattern is new at Italy-based Guest. They are printed or in solid colors and called Elephant Skin because of the surface texture. Ultrasheer silk crepon, chiffon, silk/cotton satin and faille, along with viscose knits, are base cloths at Italy-based Miroglio. Large florals, spaced geometrics and irregular stripes were pointed out.
Expofil exhibitor A-Dress, France, was selling two seasons. Of special interest for Fall/Winter 2009-10 is a line of superfine merino/cashmere yarns called Cashmino. There are bouclé yarns, fur-like yarns and glitter-effect yarns.
May/June 2008