Innovation From Textechno
Textechno nears 60 years as a producer of textile testing instruments.
TW Special Report
S ince the company was founded in 1949 by engineer Herbert Stein, Germany-based Textechno GmbH & Co. KG has striven to react to the changing needs of the textile industry and develop textile testing products that offer the latest in technical possibilities. The company first made its mark on the textile industry when it presented the Stein's cher Messkopf low-displacement force-sensing device for measuring tensile and compressive forces. This new measurement device became a standard part on Textechno's existing testing instruments and went on to be an important component of many Textechno semi- and fully-automatic tensile testers.

Advertisement
Building on its innovations of the past 50-plus years, the company introduced several new products recently at ITMA 2007 in Munich, Germany.
Textechno is exclusively represented in the United States by Greenville, S.C.-based Measured Solutions Inc.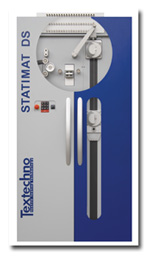 Statimat DS

Textechno's Statimat DS is a multipurpose machine capable of performing tensile strength according to the constant rate of elongation principle, unevenness and yarn/thread count tests all on one machine and in succession on the same sample package. Textechno also offers an optional optical entanglement sensor to measure interlaces in a multifilament yarn.

The machine can measure tensile strength in either a static or alternating load mode, and can also perform creep and relaxation tests.

Statimat DS features a new capacitor system for capacitive mass unevenness testing. The test is run in accordance with the ISO 16549 standard, and the machine can accommodate a wide range of yarn counts.

During the yarn count test, a preselected yarn length, from 1 to 1,000 meters, is delivered into a collection chamber to be weighed.

According to the company, the Statimat DS offers the user both time and cost savings. One test protocol presents all measured data so they can easily be compared and additional calculations, such as tenacity, can be performed.

Dynajet

Textechno's Dynajet tester is designed to look for weak spots on running yarns and threads at high speeds of up to 1,000 meters per minute. This monitoring method allows a manufacturer to look at all the yarn produced, rather than just a small test section of 500 meters or less. The yarn passes through the Dynajet test section — where it is subjected to a constant tensile force that can be set to mimic manufacturing process conditions — into a casablanca-type feeding device, which transfers the yarn to a suction orifice. If the yarn breaks, the machine immediately stops to allow for rethreading.

The number of weak spots measured during the test can be used to calculate the anticipated number of yarn breaks in downstream processing. The manufacturer can use these data to modify the manufacturing process to reduce the number of weak and thin spots in the yarn.

Fibrotest

Textechno's Fibrotest dual-purpose instrument measures both fiber length and fiber strength in succession. After testing, the machine also measures the sample size between the clamps so the exact tenacity can be calculated. Fibrotest features an optical system with high lateral resolution that compensates for fiber mass variation along the sample holder. The machine measures both variables in less than 30 seconds.

LCT

Textechno recently took over worldwide marketing for the LengthControl (LCT) tester, originally developed by Germany-based Trützschler GmbH & Co. KG. A portable device designed for use in the spinning mill, LCT measures fiber length on samples taken from a sliver or raw cotton tuft. The instrument also analyzes fiber hooks, short-fiber length, short-fiber content and staple gradient. LCT measurements can be used to optimize card, draw frame and comber settings.

March/April 2008