Freudenberg Means Nonwovens
From the development of its first products up to the present, Freudenberg Nonwovens has been a leader in the nonwovens industry.
Jürg Rupp, Executive Editor
N
onwovens are an indispensable part of daily life. In 2008,
Textile World
will feature frequent reports about technical textiles and nonwovens. To begin this series,
TW
takes a look at one company, Freudenberg — its name is quite the generic for nonwovens.
Today, Freudenberg Nonwovens comprises 23 production facilities in 13 different countries, employs more than 4,800 people and generates annual revenues of more than $1 billion. Freudenberg Nonwovens not only was one of the first companies to introduce nonwovens to the market, but also is the largest and most diverse manufacturer of nonwovens in the world today. Freudenberg Nonwovens has been led by Chairman Bruce Olson since June 1, 2007.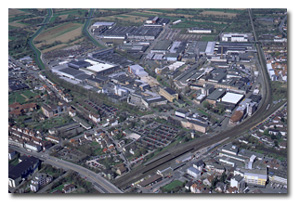 Freudenberg & Co KG's headquarters are located in Weinheim, Germany, where the company was established in 1849.
The Beginning
In 1849, Carl Johann Freudenberg and Heinrich Christian Heintze acquired a tannery in the Müllheim valley near Weinheim, Germany. Patent leather and satin leather were new and in demand, and the company was able to expand and export its products worldwide.
Between 1900 and 1904, Freudenberg's son, Hermann Ernst Freudenberg, developed a tanning process using chrome liquor instead of vegetable dyes. The new process significantly reduced production time, and Freudenberg grew to become one of the largest tanneries in Europe.
Advertisement
World War I, the inflation that followed and the economic crisis of 1929 brought on difficult times for the company, which had been exporting 60 to 70 percent of the leather it produced. The export market quickly disappeared, and the next generation of Freudenbergs — including Hans, Richard, Otto and Walter Freudenberg — took a new strategic direction, first reworking leather residues and then developing leather-substitute materials. In 1929, the company began to produce leather seals, and in 1936 began production of radial shaft seals that had a sealing lip made of Perbunan synthetic rubber, offered under the trade name Simmerring, which itself became a technical term.
Nonwovens Pioneers
Freudenberg Nonwovens owes much of its success to two pioneers in the field: Dr. Carl Ludwig Nottebohm and Dr. Ludwig Hartmann. In 1936, the chemist Nottebohm joined Freudenberg with a nonwovens production patent. Wool or cotton carded fiber mats — the "web" — could be bonded into a nonwoven with the aid of bonding agents. Nottebohm spearheaded the development of staple-fiber nonwovens and generally is credited with bringing Freudenberg´s first nonwoven products — Vileda window cloths and Vlieseline interlinings — to market in 1948. These products received a lot of attention when they were introduced, and subsequent improvements have helped their popularity continue to the present.
Nonwovens have gained acceptance for a full range of applications. Since 1934, the company has offered seals and molded products designed to customer specifications. Since 1957, the company's Viledon filters have been used for a continually expanding range of industrial and consumer applications. Some important company milestones are shown in Table 1.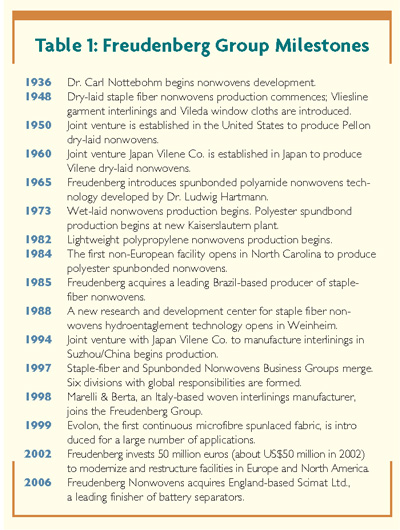 Synthetic Leather
The first lengths of artificial leather were produced for school satchels and bags in conjunction with the Augsburg, Germany-based finishing company Martini in 1940 as an alternative to leather, which was in short supply at that time. As real leather became available again for a short period in 1948, the synthetic leather market collapsed, giving rise to the development of nonwovens for interlinings and wipes. Synthetic leather experienced a further push when compact needlepunched nonwovens with a breathable polyvinyl chloride coating were developed in Weinheim in the 1960s. These new substrates found use in hand towels, suitcases, upholstery and shoes at the beginning of the 1970s.
In the late 1950s, Hartmann developed a fundamentally different production process — the spunlaid process, also called spunbond — where thermoplastic polymers are subjected to a continuous process from polymer granulate to roll goods, in which low production costs are contrasted with a high initial investment.
In 1965, polyamide (PA) spunlaid production began on a new equipment line with the aim of producing household and apparel textiles. However, printed PA spunbonds made into dresses, bed linen and underwear found no appeal at that time. The products were marketed under the Vilan trademark for stretch adhesive tape substrate and printed table cloth applications.

Bruce Olsen, chairman, Freudenberg Nonwovens
Increasing Applications
Further applications for fiber nonwovens opened up with the development of man-made fibers and new bonding agent recipes. Nonwovens were therefore able to push woven and warp-knitted fabrics off the market because they could be produced with more varied characteristics, were more cost-effectively producible and, thanks to their isotropic nature, can be processed with less waste. A wealth of nonwovens applications was discovered, and further production techniques were added.
At the beginning of the 1970s, polyester was processed using the spunlaid process for lucrative tufted carpet backings, which, on account of their thermal plasticity, have been the product of choice for car carpets up to the present day. In the late 1970s, polypropylene fiber spunlaids were developed for baby diaper coverstock and also for the furniture industry, and fruit and vegetable farming. Since 1990, with the acquisition of the spunbond works in Colmar, France, by Rhône-Poulenc, bituminous roofing material substrates also have been offered successfully on the market.
Nonwoven filter cassettes, produced via electrical spinning, since 1990 have kept the air in the car interior free of pollen and particles, and also of odors and smells. With the advent of splittable fibers and the acquisition of the first water-jet machines in Weinheim, microfiber products have been developed for various uses.
Later Development
Global changes including the break-up of the Soviet Union in 1989 and the opening-up of China and Eastern Europe brought new challenges to Freudenberg. To improve efficiency and flexibility, the company broke its operation into smaller business units catering to specific markets. In 1995, The original company, Carl Freudenberg, was divided into independent, limited partnerships operating as subsidiaries of parent company Freudenberg & Co. KG.
Freudenberg Foundation
The Freudenberg Group also is very active in social causes. The non-profit Freudenberg Stiftung GmbH, established in 1984, receives some 1.75 million euros (US$2.6 million) annually from funds and other donations that it may use for its projects.
The foundation focuses on four areas:
• social integration of cultural minorities and migrant families;
• promotion of democratic culture as the prerequisite for peaceful coexistence within society;
• support for young people, especially those who are disadvantaged and are contending with educational and vocational difficulties; and
• reintegration of the mentally ill into the workplace and creating awareness of their challenges.
Fact And Figures
The fiscal year 2006 was a success for the Freudenberg Group. For the first time in the company's 158-year history, sales reached 5 billion euros (US$6.6 billion). Adjusted to allow for exchange rate influences as well as acquisition and disinvestment effects, the rise in sales was some 6 percent. The result of the operational activities rose by approximately 9 percent compared with the same period of the preceding year. At the end of 2006 Freudenberg employed 33,526 people, 141 more than the previous year.
Sales improved by 216 million euros (US$284.7 million) or 4.5 percent. The result of operating activities rose by almost 25 percent to approximately 304 million euros (US$400.7 million), topping the mark of 300 million euros for the first time. The consolidated profit rose to 219 million euros (US$288.7 million) compared to 202 million euros (US$239 million) in 2005. Compared with the previous year, total assets rose by 106 million euros (US$139.7 million) to 4.470 billion euros (US$5.9 billion) in 2006. The 2.4-percent increase was below the growth in sales. After adjustment for the effects of the change in the consolidated group — a loss of 14 million euros (US$18.5 million) — and changes in exchange rates — a loss of 158 million euros (US$208.3 million) — this results in an increase in total assets of 6.4 percent or 278.1 million euros (US$366.6 million). The cash flow from current business activities amounted to 333 million euros (US$438.9 million).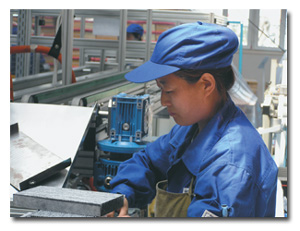 Freudenberg produces car filters at a production facility in China.

Established Product
In 1996, Freudenberg developed another new process that resulted in the production of Evolon textiles. These fabrics, like wovens and warp-knitted fabrics, can be further processed using regular textile finishing processes, and have a decorative appearance and a textile hand. Moreover, Evolon nonwovens are frequently washable, even under launderette conditions. The product is very successful on the market today and is used in a number of applications, especially for end-users and anti-dust-mite fabric for mattresses.
Today, most nonwovens meet one-off requirements as disposable products, or they occupy a stabilizing or shaping role as a durable product in a composite material for products such as roofing materials, carpet backing and interlinings for shoes or apparel. This well-known, ready-to-buy technology is resulting in more and more products coming into high regard as mass products or commodities.

March/April 2008