INDEX Has Grown Up
Nonwovens trends as seen at INDEX 08 show the industry has matured and is shifting more toward niche markets.
By Jürg Rupp, Executive Editor
F
rom April 15 to 18, 2008, INDEX - one of the most important exhibitions for nonwovens - was held at the Geneva Palexpo Exhibition center in Switzerland. The number of companies presenting new products exceeded 500 for the first time in the history of the show. The next edition will again be at the same place: Geneva will be the host city of INDEX in 2011.
INDEX, launched in 1984, is held every three years and is sponsored by Brussels-based EDANA - the International Association Serving the Nonwovens and Related Industries.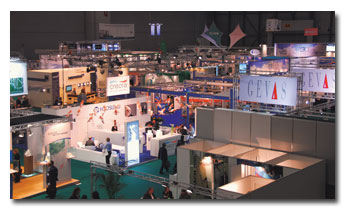 New Business Opportunities
After this event, one thing is clear: The world's largest exhibition for the nonwovens industry is changing its face considerably. The nonwovens marketplace, which used to be big commodities markets, has turned into niche markets. This is quite remarkable if one knows the development of the nonwovens market when it appeared some 50 years ago.
The recent INDEX was further proof that this industry has matured, with many long-time exhibitors confirming the change. It seems obvious that the world of nonwovens soon will be divided into two categories. On the one hand, there are companies dealing up to now mostly with disposable nonwovens.
On the other hand, there is increasing interest from companies around the world looking for new business opportunities. At the moment, this is mainly the case for carded nonwovens. People from the traditional fiber industry know how to handle fibers. This type of product can be handled in the early production stages just like products of spinning. More and more, durable products are becoming niche products, tailor-made for selected applications. Technologies such as needlepunching are flexible and allow a relatively easy access to the world of nonwovens. The nonwovens sector is still enjoying an annual growth rate of approximately 6 to 8 percent. This is a rate the traditional textile industry can only dream of. That's probably one of the major reasons for the growing interest in this basically still-young industry.
Advertisement
However, to be competitive in these markets, one needs a lot of information and the right partners. Most of the leading textile machinery manufacturers exhibit at shows such as INDEX or IDEA, the triennial nonwovens exhibition in the United States organized by the Cary, N.C-based Association of the Nonwoven Fabrics Industry. They are ready to provide the necessary experience and support. Some of the biggest manufacturers actually are increasing their laboratory possibilities to do trials with the most sophisticated machinery.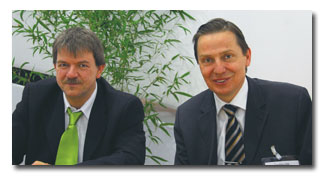 Dr. Robert Groten (left), Freudenberg Evolon S.à.r.l., and Eric Knehr, Freudenberg Nonwovens KG
Expectations Were Fulfilled
One thing is for sure, all people interviewed at INDEX 08 were very happy with the results of the show as well as the organization in Geneva. Robert Laroche, managing director, France-based Laroche S.A., mentioned only one problem, which prompts a never-ending discussion: the limited parking space at the Palexpo Center.
The frequency of visitors was considered to be very good. Dr. Robert Groten, senior research and development manager, Freudenberg Evolon S.à.r.l., France, mentioned that his company had 150 visits per day at its booth. Dr. Rajaram Jaipuria, chairman and managing director, India-based Ginni Filaments Ltd., which started nonwovens production only one year ago, said that being here for the first time with so many visitors, the company was more than happy with the results. Johann Philipp Dilo, chairman and managing director, Germany-based Dilo Maschinensystem GmbH, also mentioned that the frequency was excellent; Dilo was fully booked all day long. Dr. Bernd Kunze, managing director of Germany-based Reifenhäuser Reicofil GmbH & Co. KG, agreed that the quality of the visitors was very good. The visitors were high-level people - no tourists to be found at INDEX, as usual.
All interviewed people mentioned that their expectations were fulfilled. Eric Knehr, regional sales manager, hygiene/medical, Europe/Asia, for Germany-based Freudenberg Nonwovens KG, said his company was offering mainly disposable products up to now and now it is moving into more durable nonwovens for industrial applications, which account already for 70 percent of its sales.
Laurent Jallat, marketing manager, France-based Rieter Perfojet, said his company was happy with the feedback from visitors. For two days, Rieter organized a tour bus from Geneva to its premises in Montbonnot, France, and every day, 40 people were on the bus. Jallat also mentioned that the industry is consolidating.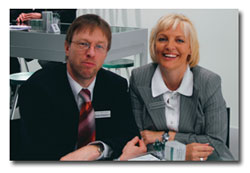 Gustav Wizeman (left) and Edelgard Keinath, Groz-Beckert KG
Lyocell Meltblown Lines
Kunze mentioned cooperation between Greenville, Wis.-based Biax Fiberfilm Corp. and Reicofil. The two companies are entering into a relationship for the development of turnkey systems specifically for meltblown lyocell. In view of such an objective, Biax and Reicofil will collaborate on the sale of such lines for the purposes of providing production capabilities, with Reicofil taking the lead. Both companies will establish a new pilot line that will show the capabilities of this new process. The aim is to have a commercially viable process ready for sale in early 2009.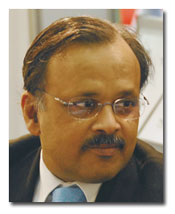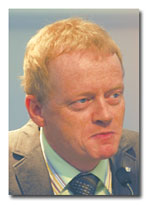 Shishir Jaipuria, Ginni Filaments Ltd. (left) and Dr. Bernd Kunze, Reifenhäuser Reicofil GmbH & Co. KG

Exhibits
All interviewed people considered the feedback on the exhibits and products to be very good to excellent. Groten mentioned that Freudenberg was very happy with the feedback on the Evolon® products. Knehr said in the past, INDEX was more synonymous with disposable products. But this has changed a lot, and today, more durable products such as those for industrial applications are demanded. Dilo sees technical applications in geotextiles, coating substrates and filter media, but also medical, hygiene and wipes. Nonwovens made of natural fibers are a big issue. Jallat explained that the visitors mostly were asking for spunlaced products with specific properties made using Rieter Perfojet's Spunjet technology. According to Jallat, spunlaced products today are as durable as spunbonds.
According to Gustav Wizemann, research and development manager, felting needles, Germany-based Groz-Beckert KG, the cleanable HyTec® Gebedur® jet strip for the hydroentanglement of nonwovens, already presented at ITMA 2007, was the top seller at INDEX.
According to Rüdiger Weinhardt, deputy director, sales and marketing, Germany-based Fleissner GmbH, his company presented a new concept with its high-speed foam padder, which allows a binder impregnation with foam at production speeds of up to 200 meters per minute. Groten mentioned composites with different layers made of biodegradable polylactic acid, fine dust filters, and Evolon as a printing substrate. All banners in the halls of INDEX were printed on Evolon substrates.
Rajaram Jaipuria and Shishir Jaipuria, vice chairman, Ginni Filaments, said the products most in demand were wipes and medical items, but also printed nonwovens made using cotton fibers were popular. Other companies mentioned that there was no real top seller and that sales are evenly distributed among all kinds of products. Everybody wants to have a large product portfolio to balance the risk of being wrong with their products. Jallat said Spunjet is the runner-up, but more in terms of technology than a specific product. The top seller, said Dilo, is for his company not a particular machine, but the concept of the whole production line, which enables the production of 20 basic products. Dilo sold more than 20 complete lines last year. According to Dilo, 50 percent of all fiber-based nonwovens products are produced using needlepunch technology, and there is still an annual growth rate of 6 percent.
Martin Rademacher, head of marketing for Germany-based Oerlikon Neumag, mentioned that today, the industry considers the Oerlikon Group as a total supplier. "This is totally opposite of what happened at the last INDEX three years ago," Rademacher said. "Our philosophy is to provide almost every manufacturing technology to the markets. And we see that technical textiles and nonwovens are still having a brighter future than traditional products."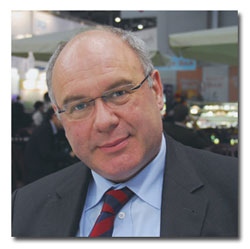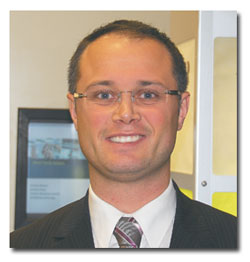 Johann Philipp Dilo, Dilo Maschinensystem GmbH (left) and Laurent Jallat, Rieter Perfojet
Market Situation
All the companies interviewed, with the exception of Ginni Filaments, also exhibited at ITMA 2007. Since ITMA, the market situation has changed a lot.
According to Robert Laroche, the US economic crisis affects the whole world. "It's the same with energy," he said. "The energy prices affect the whole world, too. Europe and Asia are not yet that much hurt, but it will come. A very big problem for all is the exchange rate between the US dollar and the euro. Many companies have the money to invest, but hold up the investment due to the very bad exchange rate, they are losing too much money."
Rajaram Jaipuria also mentioned raw material costs. He said the textile industry is in a very bad situation at the moment - cotton prices have gone up 33 percent, and everybody knows the energy prices have increased. Kunze mentioned that in some ways, the exchange rate between the US dollar and the euro is making any exports to the US dollar areas almost impossible.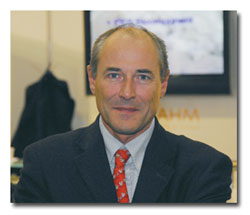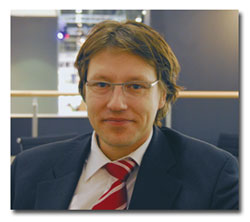 Robert Laroche, Laroche S.A. (left) and Martin Rademacher, Oerlikon Neumag
Go Where The Markets Are
And how is the situation with the products? Is the whole world buying the same products? Or is there a difference on the different continents?
Kunze and Knehr mentioned that the products depend much on the income of the people. According to the demography, people first need food, and then they think about hygiene products, for example.
"Everybody is doing more or less the same," said Jallat. "The difference is only apparent in the end product. Nonwovens can't be shipped around the world, like apparel, for example. They must be produced locally where the markets are. As long as everybody needs products, the industry can sell machinery."
In general, the situation in the markets was described as not so bad. Demand and consumption are permanently growing, said Weinhardt; and based on a large portfolio with the right products, one can face the competitive situation on the different markets, Groten said. If you have a good team and the right market intelligence, many problems can be faced, Knehr said.
Laroche sees a slight reduction in fiber consumption, caused by high fiber prices. With its recycling machinery, Laroche is very well-positioned in a market that is ever-growing.
Dilo is very positive. "There is no doubt the markets will continue to increase, and the product range of every nonwovens manufacturer will grow," he said. "And, for example, our order income is very good, and we are not very much impressed with the so-called bad market situation."
Jallat mentioned the ongoing consolidation of the markets as the big ones get bigger and the smaller ones disappear. However, small companies are achieving good results in niche markets, and not everybody can manufacture the same products.
To conclude comments on the market situation, Weinhardt said one of the aspects of the actual financial crisis is the fact that the speed and handling of the contracts are more or less okay. However, mainly in China, regarding investments, there is a status quo and nobody is really moving forward. The nonwovens sales market is still balanced; most of the companies are making one-third in the Americas, Europe and Asia.
According to Dilo, some regions are recovering, such as South America - mainly Brazil and Argentina. Rademacher mentioned that India is very much on the move. This was confirmed by Shishir Jaipuria. China is by far still the most important market for Groz-Beckert, said Edelgard Keinath, corporate services; and the other markets are quite stable on the same level.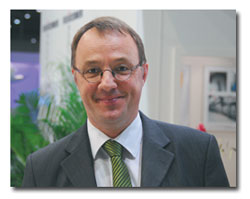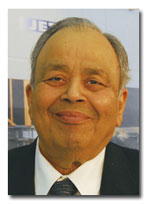 Rüdiger Weinhardt, Fleissner GmbH (left) and Dr. Rajaram Jaipuria, Ginni Filaments Ltd.
Market Changes
Weinhardt sees quite a difference in today's market requirements compared with five years ago. "Today, every product must be clean - no chemical or thermal additives are allowed," he said.
The big question, according to Knehr, is who is the customer of the future? What is the influence of the buying behavior? Who is selling what? Laroche is convinced technology for the traditional nonwoven manufacturing processes has reached its peak, especially carded nonwovens. If airlaid products are successful, there are more complex products today, and everybody wants to get out of commodities and sell niche products. Groten still sees a growth in the disposables market. The substitution of traditional products will go on with fewer film-based composites, but instead multilayered nonwovens.
Keinath is convinced that needlepunched nonwovens are getting better and will further replace traditional products - for example, in automotive carpets.
Dilo is sure the priorities have changed, especially for spunlaced products. Energy prices are soaring, and so is the cost of water. Needlepunched products are becoming more lightweight and therefore more attractive. He is convinced that everything in the industry is based on the triangle of natural fibers, energy and food, because crop rotation becomes more and more important for fiber producers.
Also for Jallat, the nonwovens markets have changed a lot. Five years ago, products were much heavier than today - the average weight of a nonwoven product is now 30-percent less. But - and here is the advantage for the customer - lighter products offer the same characteristics and increased performance. There are still possibilities to get better and even lighter products.
Kunze confirmed that for spunbonds, the applications also are increasing. Weinhardt is convinced the markets will move as they did in the past. China and India will be back in the near future. The rising raw material costs will bring lighter fabric weights. To follow this trend for spunlaced products, the fiber part will be further replaced by wood pulp, to decrease the raw material costs and to get the same hand in the products. And, he said, polypropylene will be applied more than polyester, and pulp might replace viscose.
Sustainability
Groten and Knehr are convinced that sustainability with all its consequences is the megatrend of the future, and, also as said before, lightweight fabrics with the same quality aspects.
"We all know," said Rademacher, "the markets are going up and down - everybody's talking about spunlacing, but one should not forget traditional needlepunching is still very important. It must be the prominent aim of the whole machinery industry, to make the existing processes even better and more efficient and flexible. The card becomes faster and faster, and fiber-based nonwovens are still having a bright future." Rademacher said Oerlikon Neumag's F.O.R. crosslapper is getting much faster these days, and Italian ideas mixed with German thoroughness are a very good blend for machinery to be competitive.
Educating The Markets
High performance and cost efficiency are the keys to success for tomorrow. It also is a matter of communication. In the eye of the consumer, nonwovens are still considered to be a one-way product. Every association and every machinery producer must have this focus in mind.
As Rajaram Jaipuria said: "At the moment, being a newcomer in this market, we are only selling to our neighboring countries. It must be our duty to explore the Indian market by explaining the advantages of nonwoven products, and with the appropriate communication, I am sure, we will have big success."
July/August 2008