SDL Atlas Debuts Three Performance Fabric Testers
England-based SDL Atlas will unveil three performance fabric testing units this summer at ITMA Asia + CITME 2008 in Shanghai.

The Hydrostatic Head Tester measures a fabric's resistance to water penetration when hydrostatic pressure is applied. Suitable for testing all types of fabrics, it provides accurate, repeatable, quick results, according to SDL Atlas, and complies with EN 20811 and AATCC 127 standards.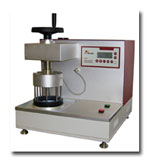 SDL Atlas' Hydrostatic Head Tester
The Air Permeability Tester — used with woven, nonwoven, air bag, napped, knitted, layered, pile and other fabrics; as well as slab, bonded and molded flexible urethane foams — is compliant with ASTM D737 and D3574, and ISO 9237 standards.
The MMT Liquid Moisture Management Tester for sportswear and performance apparel fabrics is suitable for research and development as well as quality control applications.

July/August 2008
Advertisement