Current Trends
Robert S. Reichard, Economics Editor
T
he business slowdown is taking its toll on overall mill activity. Since the economic downturn began about a year ago, production of basic textiles like yarns and fabrics has slipped by a significant 16 percent — with a smaller 8-percent falloff noted for more highly fabricated mill products. Shipments in dollar terms also have dropped fairly sharply over the same period.
Adding to mill woes is the fact that fiber and other procurement costs have also been rising at a time when cost pass-throughs are becoming increasingly difficult. Consider the fact that textile and apparel price averages on the producer level have increased only about 2 percent vis-à-vis a year ago. That's far under the aggregate producer price index advance that at last report was put at nearly 10 percent.
The same trends are cropping up on the consumer level. Thus, while the overall cost-of-living index over the past 12 months is sporting a 4-percent increase, clothing tabs have remained relatively unchanged. And if you zero in on girls' and some women's apparel, quotes are actually running some 5-percent under year-ago readings.
Finally, profits have been equally disappointing. New after-tax figures for first quarter 2008 show dollar earnings down to only $91 million. That's a more-than 70-percent decline from comparable year-earlier numbers. Margins also show a big drop, falling from 2.8 percent in early 2007 to only 0.8 percent during the first quarter of this year.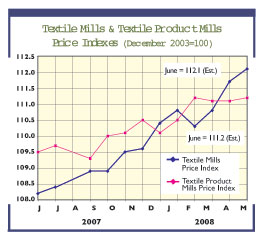 The Worst May Be Over


On a somewhat rosier note, there are a growing number of signs that things may be bottoming out. For one, apparel sales pretty much have been holding their own over recent months. One possible reason: Cautious consumers, who have cut back sharply on purchases of autos and other big ticket items, are increasingly turning their attention to more affordable clothing and other less expensive products. The evidence on this score is pretty impressive. Despite the business slowdown, US sales of apparel continue to top year-earlier levels. It's all in sharp contrast to the huge declines in auto sales noted over the same period.
Meantime, the fact that import penetration seems to be slowing also could be having a positive impact on domestic activity. Witness the fact that incoming shipments of textiles and apparel on a square-meter-equivalents basis have been easing off in recent months. Overall year-to-date imports of these products have actually declined a bit compared to 2007 levels — with the drop put at more than 3.5 percent over the first four months of 2008. And this import slowdown is pretty much across the board. Indeed, even imports for China now are no larger than they were a year ago. And some significant declines are noted for other big exporters to the United States such as Taiwan, 6.5-percent decrease; South Korea, 22 percent; Canada, 31 percent; Mexico, 12 percent; and the Caribbean Basin, 3.5 percent.
Profits Should Turn Around


Given all these upbeat signs, the industry's longer-term earnings outlook doesn't look all that bad. To be sure, the recent profit declines noted above will most likely persist for a few more quarters, and a steep drop in overall 2008 mill earnings now seems unavoidable. But after that, the numbers should begin to improve, and the improvement could be significant if new predictions by Global Insight prove to be anywhere near correct. More to the point: This economic consulting firm's rough profit measure — revenues less labor and material costs — while dropping 16 to 17 percent this year, is projected to bottom out in 2009. At that time, little more than additional 3- to 4-percent profit drops are anticipated for both basic textiles and textile mill products. And in the following year, profit increases of some 3 to 4 percent now are forecast for both key subgroups. On an equally reassuring note, Global Insight's profit figures for apparel show an actual increase this year — with domestic firms expected to hold onto these gains over the ensuing two years. In any event, the positive effects of these strong US apparel numbers can't be underestimated. If nothing else, they pretty much should guarantee continuing good demand for our domestic textiles.
July/August 2008
Related Files:
Download current US textile and economic indicators.
Advertisement