Executive Forum: Allen Gant & Glen Raven
Focus on innovation helps shape the future.
TW Special Report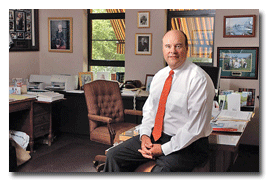 A
llen E. Gant Jr., president and CEO of Glen Raven Inc., is an ideal choice to deliver the Techtextil North America (TTNA) symposium's keynote address. While his company has a 127-year-long history in the traditional textiles industry, it also has maintained a heritage of technical textiles production — an important company strength that has helped lay the groundwork for Glen Raven's current global strategies.
In his speech, Gant will share Glen Raven's experience in responding to global business opportunities, and the resultant benefits to stakeholders and customers.
New Perspectives Become Necessary
While Glen Raven has long been at the forefront of technical textiles production in North America, there came a time when Gant and the company decided to refocus and exit certain market segments in favor of more specialty fabrics.
Gant attributes the company's shift in focus to a dramatic change in the world economy. " Within the space of less than a decade, the world economy changed dramatically, fundamentally and forever," he explained. "Fortunately for Glen Raven, we were in a position to capitalize on these changes because we already had a portfolio of technical products, capabilities and expertise. In addition, as an innovative, privately held, financially sound company, we were in an excellent position to invest for the future, as evidenced by our acquisition of Dickson S.A., and lay the groundwork for construction of our Glen Raven Asia business center. Perhaps most important of all, we also had a mindset to accept the fact of change and adjust with the times."
Advertisement
Another facet of Glen Raven's global success has been its ability to recognize not only when to enter into or expand in a market, but also when to exit. "We determined that there were a number of market segments in which we could no longer add value because they were becoming rapidly commoditized. As a result, we exited the panty hose business, apparel fabrics and outside yarn sales," Gant said.
Though the decision to exit certain markets was not an easy one, that unease was lessened by Glen Raven's increased investment in segments where Gant felt the company could provide unique, value-added, branded products, such as the Sunbrella® line of performance fabrics, as well as fabrics for automotive headliners and protective workwear.
Growth At Glen Raven
"When viewed from a broad perspective, our global strategies are addressing the entire continuum of the supply chain," Gant said. "On the one hand, we have manufacturing facilities and sourcing infrastructures on three continents, including North America, Europe and our newest addition, Asia. On the other hand, with the addition of Astrup and Boyle, we are now responsible for assuring that our customers have the right products in the right places at the right times, all backed by competitive prices and responsive service."
Glen Raven acquired long-time business partners The Astrup Co., Cleveland, and John Boyle & Co., Statesville, N.C., in May 2007, marking the first time the company has sold and serviced products it does not produce. "By merging these companies into Glen Raven, we are much closer to our customers, not only manufacturing many of the products they use, but also servicing these products. This closer relationship is opening up opportunities to develop innovative new products and services, and to improve efficiencies throughout the supply chain," Gant said.
Hands-On Innovation
Growth and sustainability have come not only through successful mergers and acquisitions, but also through giving employees the means to drive product ideas to market. The company's GlenOvation program involves Glen Raven associates in the innovation process, enabling everyone to submit for review a promising idea for a new or existing product and possibly to obtain funding to further research and develop that idea.
"Employees are challenged to suggest improvements in existing products and offer insights into how existing processes can be strengthened," Gant explained. "In this regard, GlenOvation has served as a continuous conduit of new thinking that we have incorporated throughout our company, enhancing our manufacturing and customer service processes and improving products."
The company created a New Frontiers Department to support its operating subsidiaries.
"One of the most important missions of the New Frontiers Department is to serve as a resource that exists outside of our operating subsidiaries," Gant said. "As such, it brings an outside perspective and serves an invaluable role as a counselor, advisor and gadfly. One of the most important roles of the New Frontiers Department is to challenge the status quo."
One recent project has been the launch of an online information resource, giving Glen Raven managers access to up-to-date market information to help provide direction when brainstorming new, innovative concepts.
"This information resource is just one example of how New Frontiers is assuring that our front-line managers, who are charged with daily operational responsibilities, can maintain a vision for the future, and perspective on key events in the markets they serve and the world in general," Gant added.
High Visibility
Glen Raven not only has emphasized leadership in technical textiles within the company, but also has maintained a very visible presence in the textile industry overall.
In addition to participation in TTNA, the company has been a leading sponsor of IFAI Expo for a number of years, and it sponsored Philip Lempert's keynote address at the IFAI Expo held last October.
Such visibility has helped spread Glen Raven's message beyond textiles to the general public: An article in the Washington Post late last year cited the company as a leader in North Carolina's current industrial revolution — a well-deserved tribute to Glen Raven's ability to prosper by focusing on the manufacture of specialty fabrics that require high-tech equipment and expertise.
Participation in industry organizations is also encouraged. Gant served as the founding chairman of the Washington-based National Council of Textile Organizations, while other members of the Glen Raven management team also hold industry leadership positions.
"We devote our time and energies to industry involvement because our success as a company is directly affected by the economic, political and social environments in which we operate," Gant explained. "If we are to influence issues, then we must assume active roles in the organizations that are shaping public policy. Our goal is not only to assure that Glen Raven has a positive environment in which to do business, but also to help assure the continued success of the entire textile industry. All of our futures are closely intertwined … [and] it is our responsibility to help shape the future."

January/February 2008