January/February 2008
Australian Wool Innovation
's website,
www.merinoinnovation.com
, has received the 2007 World Summit Award for world's best practice in e-business.
G3 Technology Innovations LLC
, Pittsford, N.Y., has launched
www.greenshieldfinish.com
, a website that highlights its GreenShield™ textile fabric finish. The site offers information about GreenShield products and technology, answers to common questions and contact information.
The Research Triangle Park, N.C.-based
American Association of Textile Chemists and Colorists (AATCC)
now offers Spanish- and Chinese-language versions of certain articles published in the online AATCC Review. The articles are accessible through the Membership Services section located at
www.aatcc.org
.
Cognex Corp.
, Natick, Mass., has introduced an extremely compact DataMan 100 fixed-mount, image-based ID reader to enable Six Sigma read rates at up to 45 parts per second.
Brussels-based
EDANA
has made available on CD-ROM the complete set of papers from its 2007 Outlook Personal Care Products Conference. It has also published its second "Sustainability Report: Absorbent Hygiene Products," available at the Sustainability section of its website,
www.edana.org
.
Organic Exchange
, Berkeley, Calif., has released the "Organic Exchange Organic Cotton Market Report 2007."
Germany-based
DyStar Textilfarben GmbH & Co. Deutschland KG
has redesigned its website,
www.dystar.com
, to offer information on the textile supply chain and DyStar's textile solutions.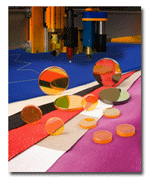 Laser Research Optics offers a full line of carbon dioxide laser optics.
Laser Research Optics Inc.
, Providence, R.I., has made available a full line of carbon dioxide laser optics for use with low-power lasers used in cutting polyester, belting, sailcloth and other man-made fiber products.
Warp Knits of Delaware
, Wilmington, Del., has published "Warp Knit Fabrics Technology" by Dr. Bharat J. Gajjar.
January/February 2008
Advertisement