Narrow Fabrics, Broad Applications
Jakob Müller, bullish on innovations in technology and product, points to a bright future.
Jürg Rupp, Executive Editor
N arrow fabrics have experienced an enormous upswing within the last 10 to 20 years. One company that has manufactured ribbon production machinery of every kind for 120 years is Jakob Müller AG, Frick, Switzerland. CEO Christian Kuoni tells the story of how, from small beginnings, the enterprise became a global market leader with branch offices in all important industrial countries.

Today, narrow fabrics are commodities in the best sense of the word, used in daily life. Ribbons, sports paraphernalia or promotional articles, medical bandages and labels are just a few examples of products that are produced on so-called narrow weaving machines. These products help to fix loads, save lives or show affiliation to a favorite club.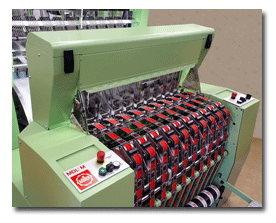 Müller's MDLM harness-free loom produces jacquard-patterned labels.

Milestones
Jakob Müller, with headquarters in rural Frick, was founded in 1887 by Jakob Müller-Schneider, who built ribbon-weaving systems with punch-card control. Over the years, many further company milestones occurred.

"After the foundation, the year 1918 was of great importance," Kuoni said. "At that time, Müller started to weave ribbons for zippers that were a great success. An important year was 1956, when the first Velcro® was produced on our machines. In 1963, the first needle loom was then put on the market. The principle is still valid today for weft insertion. The signal for the foundation of the foreign branch offices was carried out in 1977. Jakob Müller Deutschland GmbH came first, Jakob Müller Italiana S.p.A. followed in 1979, and Jakob Müller of America Inc. opened in 1982. In the year 2000, branch offices followed in Brazil, Mexico and Hong Kong.

"We must not forget the ITMAs in 1987 and 1991," Kuoni continued. "We finally had a rapier weaving machine, which began its triumphal march into the markets. The air-jet technology then followed with the label-weaving machine in 1997. The year 2001 was very important, with the foundation of the Jakob Müller Institute of Narrow Fabrics. And the latest technical milestones are the harness-free jacquard weaving machines, which will be shown at ITMA 2007. Regarding development of the infrastructure, 2005 must be mentioned with the integration of the Maschinenfabrik Breitenbach; and now in the year 2007, we have bought the Bata Park in Möhlin [Switzerland], an area of 29 hectares. We will invest 40 million Swiss francs [$33.25 million] at the location in Switzerland. This investment includes the property as such, as well as the development of the infrastructure."

Following the interview with Kuoni, Textile World had the opportunity to inspect the new Müller complex in Möhlin. After only a few months, without interrupting production in Frick, production is already being phased in while construction of the new premises is finished.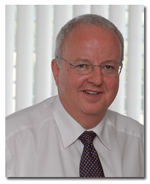 Christian Kuoni, CEO, Jakob Müller AG, Frick
Customer-Oriented Organization
In principle, the Müller enterprise is organized around products. There is no differentiation of weaving or knitting, but rather of application areas:
• design, patterning, programming, production control and online transfer;
• warping;
• narrow fabric weaving, warp crochet knitting and label weaving; and
• making up, inspection, fabric cutting, and dyeing and finishing.

The application fields for narrow fabrics are focused across the whole textile industry; that's why there are no real target groups. Kuoni mentioned apparel, floral products, gift ribbons, medical, automotive, underwear and technical fields, among other application areas.
Market Situation
Today, customers expect optimal solutions at the lowest possible prices. To meet these requirements, the Jakob Müller group manufactures at different locations — machines are built for making-up and apparel in Germany; weaving and finishing machines are made in Switzerland; warp knitting machines are made in Italy; and harnesses are produced in the Czech Republic. For certain Asian markets, a range of machines is built in China; and in India, Müller produces a narrow weaving machine that is also exported to some local markets, according to Kuoni.

TW asked Kuoni to assess the current market situation for narrow textiles before ITMA 2007. " It's very positive," Kuoni said. "We never had a high selling period within the previous years; however, we have worked well. We have good products; we deliver quality. But for certain, one important point is the ongoing innovation; we offer our customers something new again and again. Furthermore, we have the Jakob Müller Institute of Narrow Fabrics; we train people and produce technical literature, for example. We help our customers to become even more successful. And this service package arrives simply well, and one trusts us. The Narrow Fabrics Conference, which will be carried out at ITMA for the seventh time, also is a further service to the industry. And the eighth conference will be in Shanghai at ITMA Asia 2008."

Jakob Müller fights with the same difficulties as any other competitor. Currently, the main problems are the currency situation with the weak US dollar and the pressure on prices. "However," Kuoni said, "if the customer needs the machine and he has sufficient orders, then he buys, even with a strong currency. On the other side, the euro is too strong for the Swiss franc. We suffer from the high euro rather than the weak dollar. The European marketplace is very large and very important for us."

The export share of the enterprise is 99 percent. From this, approximately 50 percent of product goes to Asia. The most important export countries and regions are China, India, Bangladesh, Europe, Turkey and South America. Pakistan is very quiet. North America also is quiet.

Asked about the main emphasis in Jakob Müller's research and development work for the short- and mid-term future, Kuoni said: "At ITMA, we will show new systems, for example, the harness-free jacquard machine. We will present a new printing system for labels, woven and then printed. We offer technology of high standing at sensible prices."

Striking Market Changes
Comparing today's market for narrow fabrics with the market five to 10 years ago, Kuoni noted several changes: "There are, for certain, new applications. Take freight traffic as an example. Belts have completely replaced the earlier chains as safety belts. In the past, containers were fixed with chains, today with belts. If one looks around in nature, grazing fences, nets against snowdrifts, barriers of every kind — for example on construction sites — are produced mainly on our machines."

Kuoni attributed the success of narrow fabrics to several factors. "These products are easy and uncomplicated to mount. Nets in the trunk of a car, at the airport — luggage is today protected with nets and no more with tarpaulins," he said. "Another trend is in sport. Both apparel and sports gear are often produced with nets. In the past, a ski pole had a leather loop — today this is a ribbon. All kinds of Velcro, bags, many products are made with nets. Spacer fabrics can replace certain foams.

"The so-called smart textiles are provided with wires and cables. Ribbon weaving machines are also here in use. Every gift box, every bouquet of flowers comes with a ribbon. Ribbons cannot be underestimated for underwear. One has always smiled at me when I mention Asia and its women; very few women wear a bra. This is only one example of the great potential of ribbons. This list could be prolonged interminably. There were radical changes, which have helped to make the narrow weaving sector even more successful. We are convinced it will grow further."

Kuoni said Jakob Müller's customers and their requirements have changed. "There are always new customers with new requirements," he said. "We must be extremely flexible and focused on products to meet the customer's expectations."
Positive Prospects
Regarding the future, Kuoni is sure it won't be much easier. "New developments are immediately copied," he explained. "But the market for narrow fabrics will further develop in the future. We are only at the beginning. If one only thinks of fan items, this is very new. Years ago, there was no market for this. And today, a fan can't enter a stadium without a scarf of his club. Just from the sports sector, we are sure there are many new products yet to come."

Kuoni expects Müller will maintain a leading market position in the future. "We have excellent staff," Kuoni said. "We will put more new innovations on the market that help our customers to be competitive. We must offer machines that are technically of high standing, but are also economical, so we can write the next 120 years into our history."

---
September/October 2007
Advertisement