Feeling And Looking Good
Fall 2008 will be a season of hybrids.
By Virginia S. Borland, New York Correspondent
E
xhibitors at recent textile trade shows in Paris reported buyers are responding to new fabrics that look as good as they feel and function. Luxury, comfort and protection are woven together. New natural fibers blend with man-mades to bring out the best of both. Organic is a buzz word, and denim is of special interest.
Trends evident at Première Vision Pluriel — which incorporates Première Vision for fabrics, Expofil for yarns and Indigo for surface design — and Texworld are to sophistication, shine, smoothness and softness. Twills, ottomans, jacquards, double-faced fabrics and jerseys are sampling well. Coated and polished finishes are turning up on a variety of fabrics.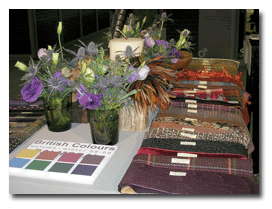 Color trends and fabrics manufactured by British companies for Fall/Winter 2008-09 were on display at the most recent Première Vision in Paris.
Denim Takes Center Stage
The interest in denim has grown so much that Première Vision S.A. has created a new show around it. Première Vision CEO Philippe Pasquet recently announced Denim By Première Vision will be held December 4-5 in Paris. The show will cover the Spring/Summer 2009 season.
Cary, N.C.-based Cotton Incorporated exhibited at both Expofil and Texworld. Its Stay True Cotton™ treatment was one of its focus areas. Interest is growing in darker denims, and this treatment helps dark cotton denims retain their original color longer. Denim also was a highlight at the company's Spring/Summer 2009 trend presentation. New looks included gray denim woven with a black warp/pink filling, top-bleached denim double cloths, heavy denim woven with slubbed yarns, and lighter weights.
Buxton Midyette, vice president of marketing and promotions at Phoeniz-based Supima, said there is interest in exceptionally soft and strong 9-ounce denim. Midland, Mich.-based Dow Fiber Solutions showed bi-stretch denim woven with Dow XLA™, its comfort stretch fiber that keeps its fit and feel. Eco-friendly is a strong selling point at Bossa Denim, Turkey, which is seeing demand for midweight stretch and rigid fabrics.
At UCO Fabrics Inc., Rockingham, N.C., it was noted that authentic 14-ounce denim with a beat-up, vintage appearance is popular for menswear. One popular finish is a coating that gives denim a shiny, leather-like look. Organic is in demand. With a limited organic cotton supply, UCO is also using recycled indigo-dyed cotton. Fair-trade cotton, with mixes of organic and regular cotton, also is used.
Japan-based Showa Co. Ltd. also sells organic-cotton denim. In addition, it offers a line of novelty denims. Some are woven with cotton blended with cashmere or silk. There is a 5.5-ounce blend of Supima®, Tencel®, silk and cashmere that is soft and warm to the touch. A lyocell/spandex blend has been foil-printed for a shiny look, and top-dyed wool blended with cotton takes on a refined appearance.
At Texworld, Pakistan-based US Denim Mills displayed designs featuring cowboys and Indians. It uses US-grown Pima cotton — some blended with linen, bamboo or lyocell.
New Technology
New yarn and fabric technologies were evident from a number of exhibitors at Première Vision, Expofil and Texworld.
At Première Vision, Germany-based Ploucquet Holding GmbH presented new applications for Outlast® temperature-regulating viscose. London-based retailer Marks & Spencer has just launched a line of underwear using the Outlast technology. It is also looking at bedding products.
At Expofil, Portugal-based Tearfil Textile Yarns showed yarns containing Outlast viscose that are going into underwear and activewear. Other yarns contain Seacell® or dri-release®. Organic is a major factor here. Along with organic cotton, Tearfil is using natural dyestuffs.
Expofil exhibitor Sinterama S.p.A., Italy, introduced a Cocona™ yarn that has active carbon from coconut shells embedded in polyester. The carbon absorbs odors and humidity and provides ultraviolet (UV) protection. Target markets are sportswear, bedding and automotive interiors.
Italy-based knitter Michelangelo Calamai S.p.A. has layered fabrics with Cocona next to the skin. Activewear and underwear companies looking for fabrics that are comfortable and functional showed interest.
Expofil exhibitor Bros Holding Ltd., Hong Kong, is selling cotton yarns blended with Seacell, Coolmax® or Thermolite®, which provide antibacterial, UV and temperature-regulating properties. Milk-based yarns are used for moisture management. Organic cotton is a factor here as well.
Première Vision exhibitor Schoeller Textil AG, Switzerland, has developed new finishes to give fashion fabrics high-tech protection. One of the most successful is ColdBlack™ black wool/nylon jacket weights that reflect light to keep the wearer cool (See "Cool Rider," Quality Fabric Of The Month, www. TextileWorld.com, Oct. 9, 2007). Other fabrics have been given breathable, shiny, leather-touch finishes or imitate the look of Neoprene.
South Korea-based Hyosung Corp.'s stand at Texworld focused on specialty areas including products for protective wear, surgical and flame-retardant end-uses. Eco-friendly yarns also are strong sellers. Yarns made with recycled nylon and organic cotton were highlighted.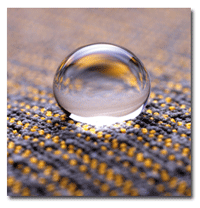 Schoeller Textil's Schoeller®- dryskin is a moisture-transporting double-cloth fabric suitable for a range of sports apparel.
Go Green
Interest in the environment and sustainability is on the rise. Texworld exhibitors India-based Alok Industries, and Handseltex Industrial Corp. and Li Peng Enterprise, both based in Taiwan, all stressed environmental friendliness. At Handseltex, sheer jersey for intimate apparel is knitted using organic cotton, bamboo, linen, silk and recycled polyester. Li Peng is using recycled yarns in woven suiting-weight fabrics. Some are crush-finished and printed with shiny or rubber-touch substances. Alok uses organic and fair-trade cotton. Yarn-dyed shirting fabrics and knits for T-shirts and intimate apparel are some of its offerings.
At Expofil, Switzerland-based spinner Hermann Bühler AG also stressed organic cotton, noting there isn't enough produced. The company's yarns are sold out until January. It is speaking with farmers in the Carolinas and New Mexico about increasing organic cotton production.
Sustainability also was a major topic at Lenzing Fibers, Austria. Tencel, derived from eucalyptus, and Modal, with beech tree origins, are produced from raw materials in constant supply. The botanic photosynthesis involved in growing these plants aids the environment. The fiber production also is eco-friendly.
Wool
Brian Hinnigan with Scotland-based wool weaver Hinnigan Fabrics, said there is a market for organic wool, despite the higher cost. The company is selling fabrics dyed with herbal dyestuffs and finished without chemicals. His eco-wools are box patterns woven with thick yarns. Extra-long-staple wool, called Seelong, is another innovation.
Scottish tweeds in gentle, misted shades of brown; updated tartans; and classic menswear suitings were pointed out at Scotland-based Lochcarron. Other looks include oversized patterns with a slightly retro image, fine worsteds with floating yarns running through them and enormous houndstooth checks on marled grounds.
Uruguay-based Paylana S.A.'s range goes from fine, dressweight wool gauze plaids to soft, heavy wool coatings. One fabric, called Tiffany's Overcoat, is a thick twill in a blend of 80-percent wool and 20-percent nylon. There are subtle, fluid stretch ombres, fancy tweeds, wool/ramie over scaled herringbones and basket weaves.
Jules Tournier et Fils, France, is showing satin-touch wool/angora blends and wool/mohair coatweight plaids that reverse from fluffy to bouclé textures. Picchi S.p.A., Italy, has thick, boiled wools studded with pin dots; novelty plaids; and polyurethane-coated silk sheers. One of the most popular cloths is a linen/wool/nylon plaid with a dry hand.
Texworld exhibitor Raymond Group, India, cited interest in comfort stretch with Dow XLA. It is going into mens' suitweight fabrics that are also selling for womenswear. The most popular fabrics in its fall line are smooth, with luster and a dry hand. Rich, dark shades were pointed out.
At Expofil, France-based A-Dress introduced Cashibo, a new sweater yarn spun in a blend of merino/cashmere/Siboo®, a viscose derived from bamboo. Its best-selling yarn is St. Malo, a blend of cotton and silk that is going into socks.
Another spinner, Italy-based Botto Poala S.p.A., has 100-percent cashmere and superfine merino for knitting and weaving. There are blends of merino with cotton, silk or lambs wool. Fine-count yarns, stocked in 120 colors, are best sellers.
Knits
With comfortable clothing in fashion, knitted fabrics are selling. Italy-based Marioboselli, reporting a 30-percent sales increase, is showing cleaner fabrics with less decoration. Flannel is knitted in wool or blends with cashmere or Modal. Some knits are sanded, while others have small jacquard patterns.
New at Italy-based Jackytex S.p.A. are silky-finished wools, felted and boiled wools, and cashmere blends. Touches of Lurex® are used in bold stripes. There are matte/sheen ribs, black and white wool/viscose geometric patterns and bicolored jacquards.
A-Girl's Co. Ltd., Japan, has focused on finishing. There are coated double knits that reverse from a leathery surface to terry; lightweight, silky and hairless wool jerseys; rayon/cashmere blends that are flat and satin-like; and cotton knits with a cashmere touch.
Application Treatments
Embroideries and application treatments in surface design are simple; flower prints are rarely seen; and large abstracts, skins, paisleys, mini no-print prints and conversationals are frequent themes.
At Italy-based Guest, color-coordinating abstract patterns turn up on silk georgette, crepe de chine, wool jersey and cotton drill. There are 14 color, large-scale prints on silk crepon; and pretty, small, feminine designs on georgette and velvet.
Miroglio S.p.A., Italy, is selling skins, abstracts and large conversationals with an Art Deco feeling. There are all-over foil prints that have a reflective look.
London-based Liberty Plc has returned to its archives for inspiration. Paisleys on printed tweed grounds, Art Deco shapes, dotty stripes, blurred flowers and veined leaves are printed on Tana lawn, silky cotton jersey and silk crepe de chine.
At Indigo, Tom Cody Design — which has offices in New York City and London — also showed Art Deco-styled prints and application treatments. Other themes are skin-print/geometric combinations, tribal ethnics and ombre shadings.
Luxe
For evening, shine and glitter are prevalent. France-based Bucol showed Duchesse satin. Silk ottoman jacquards are sculpted and glittery, and some are lacquer-finished for a reptile effect. A lot of prints are large, blurred and abstract. There are warp prints on taffeta and ink-jet-printed shell designs.
France-based E.D.T. pointed out Duchesse satins and shiny ottomans. The best-selling fabric in this line is a silk/cashmere knit that is available printed or embroidered. There also is a reflective sateen woven with monofilament nylon that was shown with bicolored abstract jacquards.
Laces at France-based Solstiss S.a.s. are less embellished. Abstract patterns are outselling flowers. Metallic lace comes in silver, copper or gold. There are animal and chain patterns. Beaded laces in black/cream combinations and satin corded laces are of note.
Jacquard weaver Weisbrod-Zürrer AG, Switzerland, has sculpted tonally shaded jacquards, herringbone-pleated chiffon, metallic brocades and moire. There are glitter tweeds, animal skin and ethnic patterns, and chiffons that are smocked using elastic threads.
Double-faced fabrics at Italy-based Ratti S.p.A. reverse from stripes to abstract-patterned jacquards or from check-patterned bouclés to lacquer-embossed surfaces. There are ink-jet prints on wool, application prints on silk with a rubber touch, mini/maxi designs on mousseline and swirling abstract stripes.
---
Two Hundred Years Of Wool
Australian Wool Innovation (AWI) recently acquired assets of Australian Wool Services (AWS), making AWI the owner of Woolmark — the world's best-known textile fiber brand. A redesigned Woolmark logo will be at the forefront of commemorative events celebrating 200 years of wool in Australia. Updated in a W formation and with curls, the logo will be featured in global promotional activities throughout the coming year.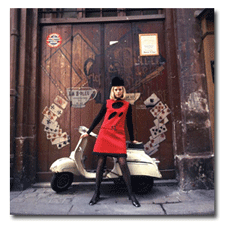 AWS forerunner the Australian Wool Board commissioned this promotional photograph in the 1960s.
Recently, AWI moved into new offices in New York City's Rockefeller Center. Other locations include Italy, Hong Kong, India and China, and there are plans to open an office in San Francisco. Stuart McCullough, who heads up the USA operation, noted that New York will service the fashion industry, while the West Coast office will work with activewear and sportswear producers such as The North Face and Nike.
Resource information is available through AWI's website, located at www.wool.com. Fashion trend information, developed in Italy, includes a color forecast with Pantone® references and new fabric directions. Woolmark's Birgit Gahlen, based in Italy, was recently in the United States to present color and fashion trends to customers.
G'Day USA is the overall theme of the AWI bicentennial celebration. An outback gala in New York will kick off the events, which will include a sheep-shearing demonstration and show of designer garments.
---
November/December 2007
Advertisement