November/December 2007
EDANA, the Brussels-based International Association Serving the Nonwovens and Related Industries, has issued a call for papers for its Nonwovens Research Academy, to be held Oct. 9-10, 2008, in Germany. Short abstracts are due Jan. 3, 2008. In addition, EDANA has made available grants for students who wish to attend the academy. Grant applications are due June 1, 2008. For more information, contact Catherine Lennon 32 2 734 93 10; fax 32 2 733 35 18; catherine.lennon@edana.org; www.edana.org. EDANA also offers online a summary of its "2006 European Nonwovens Production and Deliveries" report. edana.org
The Fiber Society, Raleigh, N.C., has issued a call for papers for presentation at its Spring 2008 conference, to be held May 14-16, 2008, in France. Submissions are due Jan. 15, 2008. For more information, contact Pam Gabriel (919) 513-0143; fax (919) 515-3057; pam_gabriel@ncsu.edu.
Research Inc. has relocated to 7041 Boone Ave., Brooklyn Park, Minn. 55428; (763) 398-1739.
Ahlstrom Corp. will relocate its headquarters to Salmisaari, Finland, in December 2007. The company's post office box address, phone and fax numbers will remain the same.
Phifer Inc., Tuscaloosa, Ala., has added 10 new colors to its line of vinyl-coated polyester SheerWeave® 4800 fabrics.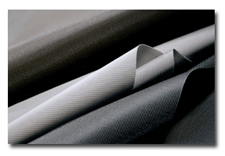 Phifer Inc.'s SheerWeave® 4800 fabrics
Glen Raven Logistics, Altamahaw, N.C., now offers an online quoting service at the Logistics section of its website, www.glenraven.com.
The Association of the Nonwoven Fabrics Industry (INDA), Cary, N.C., has created an online government affairs forum at http://imisw.inda.org/. iMISCM/AM
Bluestar Silicones, France, has launched www.advantex-textiles.com to support its advantex™ fabric coating technology.
November/December 2007
Advertisement