Two Knits In One
Alandale Knitting's strataTek fabrics comprise two separate layers - each offering distinct performance and aesthetic benefits - held together by an elastomeric yarn.
Janet Bealer Rodie, Associate Editor
W
Then technicians at Alandale Knitting Co. developed a knit fabric that could provide distinctly different properties and aesthetics within two completely separate layers, company President Donald W. Trexler presented the concept to industry colleagues and was greeted with incredulity.
"I described it to some machinery folks, and they had never seen anything like it. Then I described it to some spandex folks, and they said, 'Not only is there nothing out there like you describe, but what you've just described can't be done,'" Trexler explained.
As it turned out, a very similar manufacturing process had been patented about a year earlier, but no one was using it for apparel applications. Trexler arranged with the patent owner to grant Alandale - a Troy, N.C.-based commission apparel fabrics knitter that itself holds some 15 patents on machine design and products - exclusive rights to use the process in the United States, and thus, strataTek was born.
Trexler said strataTek fabrics can offer more performance and aesthetic attributes within its two layers than single jerseys, and the fabric construction eliminates the problem of grin-through that can occur in plated jerseys and other so-called two-layer constructions. They also offer stretch owing to an elastomeric yarn that runs between the layers and holds them together.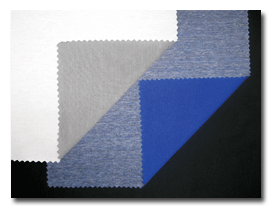 The strataTek fabrics shown above pair a
cotton face layer with a Cocona™ back layer (left)
and heather polyester/cotton/rayon with polyester.
"There are so many things you can do with it," he said. "We're working with several customers for military applications. And some of our suppliers see this as heaven-sent because more and more people want more and more attributes in one yarn, and there are limitations on how many attributes you can spin in one yarn. With strataTek, you can put a very high-performance yarn on one side, such as Nomex® - it's a great flame-resistant yarn but not very comfortable, and it's very expensive. You can put this on the outside and something on the inside for comfort, such as moisture management, plus you can have no-melt properties on the inside.

"We're solving problems with this," he continued, citing Cocona™ activated carbon-based fibers and yarns, which can present dyeing problems. "They've put that in plated jerseys and other constructions, but they can only come up with a gray or silver fabric because the Cocona shows through. We've made fabric that completely covers the Cocona - a true white fabric that also can be dyed for good color. We're doing a similar thing with SmartSilver™ [antimicrobial treatment]."

Gentry Mills Inc., Albemarle, N.C.; Coville Inc., Winston-Salem, N.C.; and Deer Creek Fabrics Inc., Stamford, Conn., are current sales partners for strataTek.

StrataTek fabrics can pair a fashionable heather or printed face with a performance-based back, or wool for warmth with cotton/modal for comfort. Combinations also can include sustainable pairings such as bamboo/cotton with Repreve® recycled polyester; a range of natural- or man-made-fiber face layers with back layers containing antimicrobial, moisture-management and/or antistatic properties; and a host of other options.


---
For more information about strataTek, contact Laurie Trexler (910) 572-1371, Ext. 112; ltrexler@alandale.net; www.stratatek.com; or Kevin Williams (336) 719-0031; kwilliams@thirdlineinc.com.
---
July/August 2007
Advertisement