SDL Atlas Introduces Quickspin System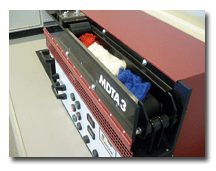 In an effort to help spinners reduce costs and supply cycle time, as well as ensure fabrics and yarns meet customer expectations, England-based SDL Atlas has introduced the Quickspin System for the production of sample yarns that require color blending and dyed fiber matching. Samples may be made from natural or man-made fibers, and blends, with fiber lengths of up to 75 millimeters or 3 inches. The new system incorporates the Suessen MDTA Fiber Opener and Rieter R20 spinning unit, and is especially suitable for the production of cashmere sample yarns, according to SDL Atlas. Between 5 and 7 grams of fiber are required for a test sample; a sample of blended yarn can be produced in about 5 minutes.
The optional QuickKnit system may be used to produce a knitted sample in less than 10 minutes without the need for any additional production machinery.
England-based cashmere yarn supplier R. Gledhills Ltd. has used the new system, which it reports has enabled the company to reduce sample preparation costs and conduct product testing and development on a larger scale.
---
July/August 2007
Advertisement