Fall/Winter 2008-09 Trends Start With Fiber
Fiber companies offer direction, resources, innovation and education.
By Virginia S. Borland, New York Correspondent
D
esigners, manufacturers and retailers seeking trend and sourcing information are relying more and more on reports from fiber companies. For colors for upcoming seasons and new development fabrics that will perform and look good, fiber producers are a starting point for the seasons ahead. In sectors from streetwear, casualwear and activewear to products for the home, fiber producers work through the supply chain to inform and sell.
Cotton At Home

Cotton Incorporated, Cary, N.C., recently presented a home trends update for Fall/Winter 2008-09. Generally clear colors, especially yellow shades and metallics, were pointed out. The season will be tailored and sophisticated. The presentation included three groups of colors and fabrics.
Colors in the Composed category are clean and clear. Dark - almost blackened - brown, rust and chocolate are lightened with soft pink, pale mint, tarnished gold and white. Geometric patterns with a menswear influence and pebbled textures are among the looks shown. There are multicolored pinstriped terry cloths, seersucker stripes, chevron patterns, twills, fine-wale cords and puffy quilted circles.
Slate gray shades are featured in the Enmesh story. They are highlighted with energetic orange-red, yellow and aqua, plus deep cool green and navy. Fabrics here include laser cut-outs, gridlock prints in black and white, dimensional basket weaves, shags and boldly printed graphics.
The last group, Theatrics, has dramatic color combinations. Intense shades of rosy red are joined by vibrant turquoise blue, gold and olive, along with hushed cream and a quiet, soft blue-cast gray. Lustrous crushed and patterned velvets, shimmering jacquards with a Baroque feeling, ethnic inspirations, metallic touches, appliqués and embroideries are some of the fabrics shown.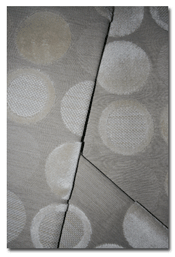 A home fabric from Cotton Incorporated's
Fall/Winter 2008-09 collection

Dow Fiber Solutions
Offers Fashion Direction

Bengt Jacobsson, Paris-based fashion-fabric-color consultant to Midland, Mich.-based Dow Fiber Solutions, recently presented directions for Fall/Winter 2008-09. Colors, fabrics and a selection of garments he presented are on view at Dow's New York City office. All of the fabrics and apparel contain Dow XLA™ comfort stretch fibers blended with natural and man-made fibers.
Color and fabric selections are designated for menswear, womenswear and intimates. Jacobsson and his team of three designers work directly with weavers and knitters to create new fabrics each season. Fabric shown in swatches at Dow for Fall/Winter 2008-09 will be available commercially this September. They are currently being presented to a select group of apparel companies and retailers. Development swatches, color cards and resource lists are available.
The Dow XLA color card shows three ranges. Concentration colors are strict and intense. Darks and neutrals are inspired by construction materials. Shades include slate, steel and cement grays; sandstone; black; and denim blue; plus pale and deep moss green. Fabrics are clean, graphic and shiny. There are wool-blend twills from Artextil S.A., ultralight pinstripes from Carreman, cotton/wool/XLA denim from Bossa, cotton-blend jacquards from Boller Winkler, cotton/silk/cashmere/XLA ultrasoft knits from Loro Piana S.p.A., and lustrous knits in polyester blends from Tricots Allard.
Meditation shades are light and washed out. There are icy pastels, winter mauves, pearlescent whites, tawny suedes, plus soft camel. There is a group of silky fabrics from T.B.M. Soieries, thick bouclé from Jules Tournier et Fils in a blend of wool/mohair/silk/nylon/XLA, embossed and printed fabrics from Sfate et Combier, corduroys and velvets in cotton blends from Niedieck/Girmes International GmbH and Lauffenmühle GmbH & Co. KG, and shirtings from Boller Winkler in cotton/bamboo/XLA. Featherweight soft knits from some of Europe's major producers are shown in blends with wool, silk, bamboo or Seacell.
Ornamentation colors are intense, rich and saturated. There is emphasis on dramatic red shades plus warm copper, bronze, gold, verdigris and teal blue. Jacobsson refers to this group as "the new Baroque." Brocade and jacquard weaves, decorated denims, matte/shine, lacy effects and stylized prints are in this group.
Ornamentation fabrics include metallic jacquards and cloques from T.B.M. Soieries, elegant suitings with an Edwardian look from Carreman, lacy knits from Tricotages MCF and lustered knits from Loro Piana. There is a group of ornamental jacquards and pleated fabrics from T.B.M. Soieries, including patterned denim.
Apparel on display at Dow includes swimwear, activewear, jeans and casualwear, shirts, suits and intimate apparel for men and women from designers and brands such as Prada, Brooks Brothers, Calvin Klein, Tommy Hilfiger, Club Monaco, Juicy Couture, Lands' End and LLBean.
Invista Launches CoolMax® Nylon Plus

At a recent press event in New York City, Invista, Wichita, Kan., introduced a new CoolMax® variant, CoolMax Nylon Plus, also referred to as X6290. This new fiber is a four-channel nylon compatible with Lycra®. Compared to standard nylon, it has an improved dry rate and dyeability plus moisture-wicking properties. True black, rich jewel tones and deep shades can be achieved. The fiber can be blended with any natural or man-made fibers. Focus areas are intimates, seamless and pantyhose.
Two other Invista technologies, CoolMax freshFX® and CoolMax fabric with Cordura®, highlighted the comfort and performance values of these products in socks, legwear and underwear. CoolMax freshFx contains silver-based antimicrobial incorporated into the fiber to inhibit bacteria and odor growth.
CoolMax with Cordura is especially durable and abrasion-resistant, and it can triple the wear life of socks. CoolMax with Lycra Body Care is another way to provide a fresh approach to legwear and underwear. Using microencapsulation technology, vitamin E, aloe vera, sea kelp or aromatherapy scent can be released onto the skin when activated by body movement.
Fabric and garment demonstrations showed the exceptional fast drying, wicking ability and absorbency of these products. Product displays featured socks, intimate apparel, underwear and activewear from well-known brands. DeFeet®, Tommy Hilfiger, Thorlos, FoxRiver® and Columbia Sportswear Co. are some of the companies represented. CoolMax is expected to have applications in products for the home, especially sheets and pillows, in addition to apparel.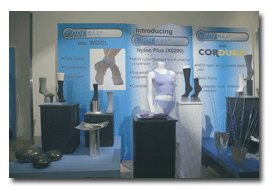 Invista displayed examples of socks and underwear featuring new CoolMax® fibers including CoolMax Nylon Plus and CoolMax with Cordura® at its recent press event.


Hyosung Focuses On The Environment
At Korea-based Hyosung, creora® spandex fibers are increasingly being used in blends with natural fibers. "There is interest in environmental responsibility and friendly fibers," said Ria Stern, director, North American Marketing & Global Brand, Hyosung (America) Inc., New York City. "A lot of customers are using creora in blends with bamboo and are exploring blends with organic cotton and soya."
Creora C-400 and H-450 have been engineered to be knitted with natural fibers. Both are low-heat-set spandex variants. Stern pointed out that fabrics containing creora C-400 or H-450 can provide energy savings and greater productivity because they run through tenter chambers at higher speeds and lower temperatures. She added that fabric whiteness, quality and productivity are excellent, and there is less curling of the fabric.
Merino Performance Wear

Australian Wool Innovation (AWI) is working with The North Face and Kenyon Consumer Products Inc. to introduce high-performance technical products for activewear markets. Kenyon, the largest producer of base-layer apparel for sporting, hunting and fishing, is using mercerized merino wool for a range of thermal apparel for men. The mercerization process, applied to worsted top, increases the fabric's luster, giving it a soft, silky touch. Thermal tops and bottoms come in three colors - sand, black and navy.
The North Face recently introduced two ranges of high-performance, athlete-tested apparel made with merino wool. Layering garments in their Summit Series, made of 100-percent, 18.5-micron merino wool, are reported to provide next-to-skin performance and comfort. Extreme Wool styles are made in a blend of 90-percent merino wool and 10-percent nylon, and are Teflon®-coated.
"It has been astounding how many of our athletes that have been part of the testing campaign have noted the comfort, temperature control and endurance of the fabric," said Tony Krohn, global product director, Sportswear, The North Face.
New Soft, Luminous Angelina Variant

Bernardsville, N.J.-based Meadowbrook Inventions Inc., producer of Angelina® fibers, has introduced a new translucent Angelina variant. Luminescent Angelina is a staple fiber that can be spun into super-soft fine-gauge yarns. It contains more layers than other Angelina fibers, so color refracts to produce an optical, shimmering effect. In blends with cotton, rayon and other fine-denier yarns, it brings a fresh glow to fabrics and an ultrasoft hand. Focus areas are T-shirts, plus lightweight knitted and woven fabrics.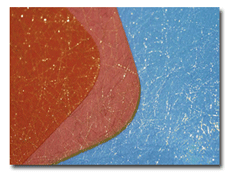 A wetlaid nonwoven featuring
Meadowbrook Inventions Angelina® fiber


Leinenfelder is blending silver Luminescent Angelina with cashmere and cotton. Badin Sartel S.a.s. has ultrafine-count spun yarns. Other suppliers from Europe, Turkey and Asia will introduce Luminescent Angelina in upcoming collections. In apparel, Luminescent Angelina yarns are in the current collection of Dolce & Gabbana.

Angelina fiber color ranges include metallic, iridescent, holographic and clear polyester as well as metal. Meadowbrook Inventions will be at Spin Expo in Shanghai in September exhibiting all ranges of Angelina fibers.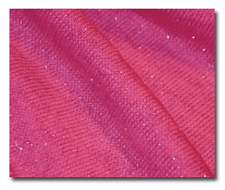 A cashmere/Angelina fiber blend knitted fabric


Radici's Stretch To The
Future Design Competition

This year, RadiciSpandex Corp., Gastonia, N.C., selected The Fashion School at Kent State University in Kent, Ohio, for its annual Stretch to the Future Design Scholarship Competition, and honored designer Carmen Marc Valvo, who was designer judge of the competition. Three winners from the junior class received scholarships. Valvo and the winning student designers were feted at an event held at the Italian Trade Commission in New York City.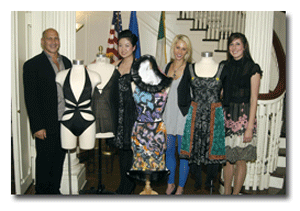 (Left to right): Designe judge Carmen Marc Valvo with
Kristy Chen, Teresa Calabrese and Stephanie Green
- the winners of Radici's Stretch to the Future design contest

The Grand Prize and Swimwear winner, Kristy Chen, created a black halter swimsuit in a spandex fabric from Milliken & Company. The First Prize and Eveningwear winning garment by Teresa Calabrese was created in white moldable jersey and cotton-lined spacer fabrics from McMurray Fabrics Inc. Calabrese spray-painted the fabrics with a subway graffiti-inspired pattern. Stephanie Green was Second Prize and Sportswear winner. Her three-piece garment was created in fabrics from Symphony Fabrics, Darlington Fabrics and Sextet Fabrics.
A fourth award, for Bridal design, was presented to Jodi-Gaye Duhaney for a floor-length, fitted, deep-plunge halter dress made with fabrics supplied by Milliken, Symphony and VF Intimates.
RadiciSpandex Corp. CEO Marty Moran and Luciano Radici, regional director, Americas, of The Radici Group, RadiciSpandex's parent company, presented Valvo with the 2007 Stretch to the Future crystal award.
---
July/August 2007
Advertisement