Keep The Cash Flowing
Asset-based lending, factoring and financial services continue to evolve in the wake of increasing international trade.
By James M. Borneman, Editor In Chief
T extile and apparel manufacturing have long depended on an array of financial services to adapt to often volatile business conditions. As part of a complex supply chain, each member faces the challenge of maintaining operations while enduring the ebb and flow of cash demands.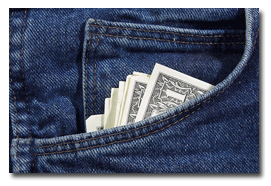 Factoring
The concept of factoring — the sale of a company's accounts receivable to a factoring firm at a discount in order to benefit from reduced collection risk and a quick cash infusion — has evolved to meet the needs of globalization, adding additional financial services, and in many cases, shedding the bad-boy image some factors had in earlier days. In some cases, other assets can be considered — incorporating another form of asset-based lending — which can enhance the total amount of available funding.

According to the New York City-based Commercial Finance Association's most recent Annual Asset-Based Lending and Factoring Survey, factoring volume for US factors grew to $112.8 billion in 2005 — a 9.3-percent increase over 2004 volume and the strongest year-to-year growth since 2000. The top client industry continues to be textiles and apparel, representing almost 60 percent of the factored volume in 2005. Eighty percent of all the factoring in 2005 was on a non-recourse basis; and 85 percent was performed on a notification basis, meaning the client must notify its customers to remit directly to the factor. Another statistic of note was that 72 percent of the factoring in 2005 involved clients selling goods to retailers. In addition, the survey states that global factoring now exceeds $1 trillion in annual volume.

A Century Of CIT And Textiles
Headquartered in New York City, The CIT Group/Commercial Services Inc. has major offices in Charlotte, Atlanta, Dallas, Los Angeles and Danville, Va., as well as international offices in Frankfurt, Hong Kong, Shanghai and Taiwan.

With approximately 800 employees, CIT provides lending and credit protection services to the textile, carpet, apparel, home furnishings and related industries. According to the company, the strength CIT brings to its clients is an understanding of their industry and a commitment to working with companies in good times and bad. CIT tailors financial solutions that help companies of all sizes increase liquidity and sales, improve cash flow, reduce operating expenses and eliminate customer credit risk.

As the needs of the textile industry have expanded, so has CIT's variety of services to meet the changing needs of textile companies. Examples include import and export trade finance and letters of credit, in addition to more traditional credit and financing services. CIT affiliates can also provide merger and acquisition advisory services and insurance services.

According to company officials, CIT does business with every significant retailer on behalf of its clients. Most of CIT's clients are privately held, so the company cannot disclose names, but it stated they encompass all aspects of the US textile industry: yarn and fabric manufacturers; finishers; importers; distributors; carpet and rug; bed and bath; and hosiery. CIT's clients range in size from $3 million in revenues to $100 million and more in annual revenues.

"Textile companies are making greater use of the various financing options that are available in the marketplace," stated CIT Senior Vice President Lewis Tabb. "For example, they are increasingly turning to CIT for their lending needs as well as their credit protection needs. By consolidating both of these services with a company like CIT, it is easier for them to monitor and manage their cash flow online using the various Internet-based reports we make available to our clients.

"As our clients are increasingly doing business overseas, we expect to play an important role in their international expansion efforts," Tabb continued. "CIT is able to provide financial solutions that will bridge the gap between buyers and sellers domestically and internationally. As business becomes more global, we expect the demand for our services will continue to increase.

"CIT has been financing companies for nearly 100 years, and we have been serving the textile and related industries for most of our history. We understand the challenges facing this industry, and we have a broad range of services to help companies meet those challenges. Our goal is to be a financial supporter of the textile industry for another 100 years," Tabb said.
Also based in New York City, TradeCard Inc. managed $5 billion worth of transactions settled on the TradeCard Platform in 2006.

With 115 employees, TradeCard offers a unique mix of on-demand technology, financial services, in-country support in 40 countries and a global network of more than 2,000 active trading partners.

According to the company, TradeCard enables businesses to trade smarter by extending supply chain visibility, enhancing organizational agility, improving margin and cash flow, and sustaining business growth. TradeCard helps companies that source to maintain control of transactions, eliminate unexpected delays, and make better decisions to help achieve the expected benefits of lowcost country sourcing. The TradeCard Platform automates processes from purchase order through payment and chargeback. Financial services are inserted into the process to improve working capital, lower costs, and ensure that trading partners have the cash needed to fill orders on time. TradeCard's visibility suite, SourceView, enables customers to merge the physical and financial aspects of the supply chain. SourceView helps customers manage events and processes for vendor compliance, packing, labeling, shipment building, goods receipt reconciliation and chargebacks to ensure orders arrive at the right place at the right time. SourceView ensures that buyers, suppliers and service providers operate as a single transparent supply chain.

TradeCard services global retailers; and global apparel, footwear, and furniture manufacturers — including major companies such as JC Penney, Linens 'n Things, J. Jill, Columbia Sportswear, TAL, Stride Rite, Wolverine and Bassett Furniture.

"Many textile companies are leaving money on the table," said Marshall Gordon, TradeCard's senior vice president. "Excess costs, such as high capital costs, are often factored into the total cost of the finished product. By leveraging existing financial services and merging the physical and financial supply chain, buyers and suppliers can collaborate on finance programs such as invoice discounting, export financing, e-factoring and electronic AR [accounts receivable] financing. Low cost countries tend to have higher costs of capital, which can quickly erode sourcing savings. Online financial services can eliminate capital costs and help preserve savings in low cost regions," Gordon said.

"Any supplier with accounts receivable balances that requires accelerated payments will have a better alternative to traditional factoring and AR financing through platforms such as TradeCard," Gordon continued. "In particular, suppliers selling to customers with stronger credit than their own can benefit. In our case, the buyer does not need to be a TradeCard customer, only the supplier does. Most firms can obtain access to cash in a manner that is faster, cheaper and at better terms than traditional options."
Continued Growth
Where does it go from here? " TradeCard has successfully helped leading companies in apparel, footwear, retail and furniture to synchronize the flow of cash and product to control the supply chain," Gordon said. "The next strategic evolutionary step is to automate freight and logistics processes and to integrate them into sourcing strategy. Coordination between chief financial, supply chain, and logistics officers will be the next wave in maintaining control of transactions and keeping a handle on costs. Look for TradeCard to release a new product in the first quarter of 2007 that brings this functionality to the TradeCard Platform."

---
January/February 2007
Advertisement