Rieter Perfojet Pilot Line Includes NSC Thibeau® Excelle® Card
As the result of a cooperation between NSC nonwoven and Rieter Perfojet S.A., both based in France, a new Rieter spunlacing pilot line featuring NSC's Thibeau® Excelle® card is available for customer trials at Rieter Perfojet's technical center in Montbonnot, France. Several processes, including the opening and blending of a variety of fibers, are possible.

The new line also features the compact PERFOdry 3000 air-through dryer and JETlace® 3000 hydroentanglement system.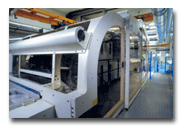 Rieter Perfojet's spunlacing pilot line features NSC's Thibeau® Excelle® card.


According to the companies, the line's integrated card, equipped with the VarioWeb® three-doffer delivery system, features an output capacity of more than 450 kilograms per hour per meter, and offers consistent web quality at high production levels.

The online card enables customers to create nonwoven fabric samples ranging from 10 to 150 grams per square meter (g/m2). In other configurations, the fabric weight may exceed 150 g/m2. Maximum winder speed is 250 meters per minute (m/min), although a line speed of 600 m/min is possible when another process, such as spunmelting, is introduced.
September/October 2006
Advertisement