Unifi Launches Eco-friendly Repreve® Yarn
Unifi Inc., Greensboro, N.C., now offers Repreve®, a line of yarns made from 100-percent recycled materials including post-industrial fiber waste and post-consumer plastics. The new yarns offer design flexibility with availability as aio all-in-one performance yarns and in near-microdeniers and adhere to first-quality standards. In addition, the company reports, their production eliminates the need to process petroleum into virgin polyester and saves the equivalent of 0.5 gallons of gasoline per pound of yarn produced.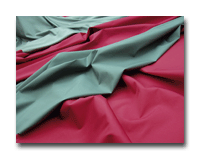 Fabrics from Consoltex Inc.'s Earthwhile® line are made with Unifi Inc.'s Repreve® 100-percent recycled content yarn.
Targeted applications include apparel, upholstery and automotive fabrics. Repreve is featured in performance activewear and outerwear fabrics from Lawrence, Mass.-based Malden Mills Industries Inc. which offers more than 20 new Polartec® fabric styles using Repreve and Montreal-based Consoltex Inc. which offers four fabric styles in its Earthwhile line.

According to Roger Berrier, vice president, commercial operations, Unifi, Repreve was developed over a three-year period. "[W]e are dedicated to environmental sustainability, and we want to provide the industry with a new and innovative way to introduce the eco-friendly story to performance fabrics and garments," he said.
September/October 2006
Advertisement