ATME-I® On The Move
ATME-I® 2006 will relocate to a new venue in Atlanta, making the exhibition an international destination.
Michelle Mendieta Mitchell, Assistant Editor
T
he move from Greenville to Atlanta for the 2006 edition of the American Textile Machinery Exhibition-International® (ATME-I®) — taking place October 31-November 3 at the Georgia World Congress Center (GWCC) — is the latest chapter for the show, which links back to the 1881 International Cotton Machinery Exposition and has become the largest textile machinery exhibit in North America.
Until this year, ATME-I — so named in 1969, when the Falls Church, Va.-based American Textile Machinery Association (ATMA®) collaborated with Textile Hall Corp., the then-parent company of the show's Greenville venue — called Palmetto Expo Center, with its more than 315,000 square feet (ft2) of exhibit space, its home. Over the years, ATME-I has adopted several different formats, ultimately returning to a single-show format in 2004. In 2006, in addition to relocating ATME-I among GWCC's 1.4 million ft2 of exhibit space, show sponsor ATMA and show organizer England-based Mack Brooks Exhibitions Ltd. have created ATME-I Inc., a jointly owned umbrella group. Mack Brooks will organize ATME-I 2006 on behalf of ATME-I Inc.
According to Dave Tellett, exhibition director, ATME-I, the show will relocate to a city regarded as an international hub, facilitating travel for visitors from the United States and abroad. "The city also has superb exhibition space, excellent accommodations and every possible amenity," he added. "It's also within driving distance of a majority of textile interests in the U[nited] S[tates]."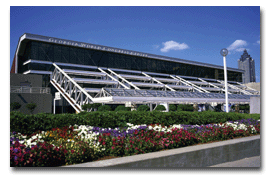 ATME-I® exhibitors will display their products and services in Hall B of Atlanta's Georgia World Congress Center.

The move also is an opportunity to mold the show into something different, as Jay White, vice chairman, ATMA, explained in remarks made earlier this year. " … [W]e're not going to rebuild what we had in Greenville," he said. "What we need is to launch the show to be something new. And that's what's happening this fall in [Atlanta].
"The show can be one place where the industry in the Americas can be driven forward," White continued. "We have the most imaginative people, the most innovative people, the most inventiveness, the best legal system — so we have the right environment to do something with the industry. And I'm talking about the hemisphere, not just the United States."
Show organizers are marketing ATME-I 2006, especially to international visitors, as an opportunity to network with potential partners as well as to see and assess the latest equipment and processes. In addition to attracting buyers mostly from new-growth industrial sectors in the United States and overseas, they expect more than 40 percent of buyers will come from foreign markets. The show's management team has promoted the exhibition in Shanghai, Turkey, Singapore, South and Central America, Canada, and the United States, among several other locales; and has raised the exhibition's visibility by working with industry organizations and government agents worldwide. The international audience has been receptive thus far, Mack Brooks reports.
Adding to the show's international flavor, the US Department of Commerce (DOC) has designated ATME-I, along with the other collocated and co-anchored shows, to its International Buyer Program. Commercial Services offices throughout the world are actively promoting the event to international textile executives as part of that program.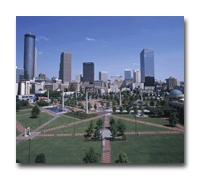 Centennial Olympic Park is among the attractions Atlanta has to offer to ATME-I® visitors.

"The DOC will help us bring in thousands of new buyers from around the world by promoting the show through its 150 US Commercial Services offices located in 85 countries … ," said Clay Tyeryar, president, ATMA. "They will also help in 'matchmaking' attendees with the suppliers at the show."

The show, which in 2004 drew 483 exhibitors from 22 foreign countries and the United States, will feature under one roof a variety of textile machinery, supplies, accessories and services for a wide range of textile industry sectors. ATME-I will be divided into different show segments based upon those sectors. The 20 segments will include: machinery for spinning preparation and spinning, man-made fiber production, winding, texturing, and twisting, along with auxiliary machinery and accessories; weaving preparatory and weaving, tufting, and auxiliary machinery and accessories; knitting and hosiery machinery; auxiliary machinery and accessories; washing, bleaching, dyeing, printing, drying, finishing, make-up, and auxiliary machinery and accessories; and dyestuffs and chemical products. Testing, measuring, transport, handling, and packing equipment will be featured, along with pneumatic equipment and air conditioning plants; liquid, solid and air-recycling equipment; design, data monitoring, CAD/CAM/CIM and integrated production software; data collection systems and automatic and process controls; and plant and equipment general maintenance products and services. Educational, professional and association representatives will be available, as well as technical information sources.

Attendees will be able to visit ATME-I's exhibitors, along with those of the collocated American Association of Textile Chemists & Colorists 2006 International Conference & Exhibition, in the B exhibit halls from 10 a.m.- 5 p.m. from Tuesday, October 31, through Thursday, November 2. On the last day of the show, Friday, November 3, the halls will close at 3 p.m.

Additionally, as part of ATME-I's partner program, organizers have developed a series of leisure events for accompanying spouses or partners not attending the show. The four-day program will feature tours and excursions to sites in Atlanta and the metro area.
---
For more information about ATME-I, contact Joanne Porter (866) 514-4342; fax (770) 438-6172; joanne@atme-i06.com; www.atme-i06.com.
---
September/October 2006
Advertisement