Function Joins Fashion For 2007-08
Classic and elegant, or casual and comfortable, fabrics are offering additional attributes.
By Virginia S. Borland, New York Correspondent
T
here is a new dimension to textile marketing. Along with looking smart and having a good hand, apparel fabrics have been designed to provide the wearer with well-being. They help the body maintain a comfortable temperature, control bacteria, prevent odor, protect the skin from ultraviolet rays and impart moisturizing agents. Most are made of multi-fiber blends, including natural fibers that were unknown 10 years ago. At the recent Expofil, Première Vision and Texworld shows in Paris, many fiber companies, spinners, knitters and weavers showed technological developments created for special niche markets.
Outlast Technologies Inc., Boulder, Colo., in partnership with Germany-based Kelheim Fibres GmbH, unveiled new temperature-regulating viscose fibers. Outlast phase change materials (PCMs) until now have been available only in acrylic fibers. According to Pat Gruber, CEO, Outlast, it took less than a year of working with Kelheim to develop this new technology.
Kelheim's annual production of viscose fiber is 85,000 tons. Robert Gregan, CEO, noted that in its niche markets, the company is the major global producer. Target markets are underwear, knitwear, shirts, seamless apparel and mattress ticking. All fabrics will undergo a rigorous certification program.
Tearfil Textile Yarns, Portugal, a spinning partner, has sold Outlast viscose yarn to major European knitted shirt brands. Merchandise is expected to be in stores in early 2007.
Yarns

At Expofil, Tearfil showed yarns from its fashion and technical divisions. Aside from Outlast viscose, other performance yarns contain SeaCell® Active and dri-release®. These yarns are antimicrobial, anti-fungal and odor-neutralizing; and feature moisture management. Many yarns are multifunctional. There are fine and silky high-twist yarns in blends containing wool, linen, Modal®, Tencel® or organic cotton.

At Switzerland-based Hermann Bühler AG, there was interest in SwissCotton Silver® ring-spun yarns featuring X-Static®. Spun with extra-long-staple combed cotton and 5- to 10-percent silver-coated nylon, these yarns are antimicrobial, antiodor, antistatic and temperature-regulating. They are going into socks, pajamas, underwear and children's gloves. They are reported to control psoriasis. Organic cotton also is in demand, and Bühler's SwissCotton Rainbow®-treated yarn is selling well to producers of jacquard fabrics.

Condamin & Prodon Schwarzenbach, France, reported its becool® nylon is going to sportswear brands, including Nike, and underwear retailers such as Victoria's Secret. These yarns — available as single or bicomponent yarns, jaspés and texturized yarns — have a draining system that draws moisture away from the skin. T-shirt manufacturers are using becool on the inside of garments to transport moisture to an outer layer of cotton.

Pozzi Electa S.p.A., Italy, continues to sell Crabyon yarns for medical end-uses. Reported to aid in recovery from dermatitis, they are used in socks for diabetics and are under evaluation for sunburn treatment.

For fashion, clean and shiny is in at Pozzi Electra. There is a demand for fine-count cashmere/wool, cotton/wool, silk/linen and cotton/microdenier viscose blends. Bamboo is processed like linen — more costly than the viscose process, but there has been no resistance to the higher prices. The look is slightly lustrous, and the hand is dry.

Italy-based Filati MacLodio S.p.A. showed yarns for Summer 2008. This cotton ring-spinning mill reported fine counts and blended yarns are selling well. There is a lot of linen here, blended with micro-viscose, cotton or silk. One popular yarn is a linen/bamboo/silk combination. Slubbed yarns and core-spun yarns were pointed out. In the techno area, the company is selling SeaCell, SeaCell Active and metal to activewear markets.

Yarns from France-based A-Dress go to major fashion houses. New for Fall 2007 is a range containing Siboo, a viscose derived from bamboo. It is used alone or blended with silk, linen, cashmere or soy. Pure Siboo is going into a range of products, from silky T-shirts to medical socks. It has exceptional absorption and dryness. There are classic ring-spun yarns, fancy bouclettes, ultrafine silky yarns and velvets.

France-based Safilin spins linen alone or blended with cotton, viscose, polyester, Modal or bamboo. Two strong areas are upholstery fabrics and denim. Some of the new denim fabrics contain a cotton warp and linen filling.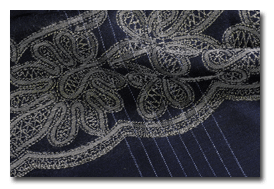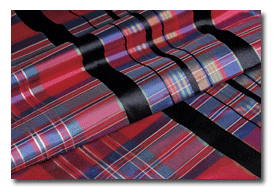 For Fall/Winter 2007-08, Braghenti is showing plaid taffeta decorated with wide mohair stripes, and classic flannel woven with placed jacquard designs.

Fibers

Dow Fiber Solutions, Midland, Mich., teamed with Calvin Klein to introduce Flexible Fit men's underwear, including tanks, tunics, V-neck tops, trunks, briefs and boxer briefs. Fabrics knitted of 91-percent cotton/9-percent Dow XLA™ have comfort fit with a non-snap stretch; and can be chlorine-bleached, and machine-washed and -dried at high temperatures.

Looking ahead to Spring/ Summer 2008, Dow Fiber Solutions presented color and fabric trends. Forecaster Bengt Jacobsson mentioned contrast. A color group called Natural Elegance includes a mix of soft, clear blues; mustard; honey; two white shades; denim; and two inky darks. Edgy Casual shades are for the youth market. Black, white and red are the focus. Gray, white, tan, daffodil yellow, dark teal and a deep browned red are in this range. Pale porcelain shades in the Rustic Couture group are light with shadowed counterparts. Easy Performance colors are bright and punchy.

Some of the fabrics Jacobsson mentioned are matte/shine stretch shirtings; mesh, pointelle and piqué knits; silky jacquards; chinos; sateens; gabardines; and linen denim. Pebbled surfaces and graduated stripes are others. And all have comfort stretch.

At Cary, N.C.-based Cotton Incorporated, Fall '07 and Spring '08 development fabrics include cotton/wool and cotton/linen blends. According to Jeana M. Fitzgerald, manager, product development, Global Product Supply Chain, most of the cotton/wool fabrics are brushed and have a soft, warm touch. They are knitted and woven in blends of cotton with camel hair, cashmere or angora.

Fleecy tubular rib knits and French terry in cotton/wool have been brushed on both sides. There is a heather knit of dyed wool and natural cotton. The cotton is stained by the wool to create the soft heather effect. A lot of the cotton/ linen fabrics have subtle texture, small patterns and a dry hand.

Cotton Incorporated's Spring/ Summer 2008 color card shows five ranges. The Sensory group includes porcelain pales with coral, American Beauty red and Musk. There are light and dark jades, gray, and four rich darks in a group called Elemental. Dominion colors feature classic red and navy with sky blue, a slightly browned red called Rhubarb and two browns. The Bliss group features warm and sunny yellows, and sunbaked neutrals. Denim blue, white, a lively red, green, dark brown and taupe are in the Boundless story.

Wichita, Kan.-based Invista continues to develop innovative knitwear. Using commercial yarns containing Lycra®, Tactel®, Coolmax® and Thermolite® fibers and Teflon® fabric protector, knitwear consultant Sheila-Mary Carruthers' collection features concept sweaters designed to show new directions in garment, stitch, pattern and function. There are double-faced fabrics that reverse from hairy to textured, odor-absorbing fabrics, knits that release moisturizers to the skin, cobweb lace that is softly brushed, sporty stripes and new cables. Some of the sweaters are knitted using washable blends of wool/Lycra, bamboo/nylon/Lycra, merino wool plated with nylon/Lycra, or composite yarns. Many of the yarns are treated with Teflon® stain release.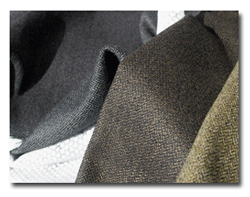 Schoeller Textil AG offers phase-change material wool fabrics coated with a waterproof, breathable membrane.

Fabrics

Fabrics for Fall/Winter 2007-08 can be classic and refined or casual with extra performance. Nothing is basic; the looks are very new. There is a lot of contrast, with unusual yarn combinations, pattern mixes and subtle weave effects. Colors tend to be dark and blackened. Exhibitors report gray as the major sampling shade for womenswear and sportswear. In menswear, it's blackened brown and navy. Black and white combos and lustrous metallic highlights are less somber standouts.
At Switzerland-based Schoeller Textil AG, there are PCM wool fabrics coated with a waterproof, breathable membrane. Some of the fabrics are brushed, some have an aged look, and all have a wool touch. For the luxury market, there are sheer metallic twills with or without stretch.
France-based Chargeurs has trademarked the name Klimeo® for merino wool PCM fabrics developed for its Avelana womenswear and Roudiere menswear lines. The Klimeo process includes microcapsules and a special finishing treatment that does not alter the fabric's hand. Most of the fabrics at Avelana and Roudiere are available with Klimeo.
Belgium-based UCO Textiles Group recently entered into a joint venture with India-based Raymond Ltd. to form UCO Raymond. Mark Ix, president, UCO Raymond, noted the company now has production facilities in Belgium, India, Romania and the United States. UCO is an exhibitor at Première Vision, while Raymond shows at Texworld. "We are keeping our high-end image," Ix said. Some of the new woven fabrics he is showing blend cotton with linen, wool, hemp or bamboo. A lot contain organic cotton or Supima® cotton. The company spins bamboo at its own facility in Texas. There is a new workwear line with Outlast, and there is bi-stretch.
The Raymond wool line includes natural-stretch wool suitings, machine-washable wool flannel, worsted denim and wool/silk blends. This vertical producer grosses $600 million annually, and has facilities to make fabrics and garments worldwide.
Japan-based Chigasaki Woolen Spinning and Weaving Co. Ltd. also showed wool denim. Other fabrics range from traditional wool tweeds and thick felts to cobwebby wool/mohair blends, wool/silk satin, wool/linen brushed herringbones and puckered effects.
Crinkled and washed effects at Isoule Textile, France, often have a spot of shine. Hinnigan Fabrics Ltd., Scotland, updates classic tartans with lustered yarns running through them and with puckered effects. Le Corbusier and Mondrian provided inspiration for some of the patterns.
With the popularity of dresses, knitted fabrics are selling. Milan-based Marioboselli introduces 150 new styles each season. For fall, there are blended yarns including cashmere/cotton, Modal/cashmere and wool/silk; a lot contain Lycra. At Italy-based Jackytex, there are jacquard velvets with Venetian mosaic or Oriental kimono patterns. Gessner AG, Switzerland, uses Lurex® and chenille for elegant eveningwear. There are glittering paisleys and box patterns, ribs and stripes.
Japan-based A-Girls Co. Ltd. sells to Gap and Juicy Couture. There are soft cashmere jerseys, heathered double-faced tweeds and glittery cables. Australia-based DPK sells wool/spandex fleeces and waffles to North Face and Modal/silk to Victoria's Secret. There is a lot of merino wool here. Blends with polypropylene are selling for cycling wear.
There is novelty in the silk sector. At Italy-based Braghenti, plaid taffeta is decorated with wide mohair stripes, warp-printed taffeta is back-coated for rainwear, and classic flannel is woven with placed jacquard designs. Guest, also based in Italy, has coordinating reversible black-and-white checked mattelassés, circle prints on tweeds and silky jacquards with swirling wooly patterns. Spain-based Deniertex offers application treatments on crushed velvet, and classic glen checks overprinted with mottled patterns.
France-based Bucol and Italy-based Ratti are showing ink-jet prints with swirling designs. At Bucol, there are updated animal-skin digital prints, jacquards that resemble leather and metallic dot fil coupés. Ratti has double-dyed burnouts and discharge-printed jacquard velvet.
Weisbrod-Zuerrer AG, Switzerland, is showing optic-patterned jacquards and touches of metal and luster.
Printed fabrics at England-based Liberty are inspired by gardens, music and creative arts. Curves, scrolls and Art Nouveau are some of the shapes. New York City-based Symphony Fabrics has skin prints, menswear looks and mini designs. One new fabric, called Bambino, is a blend of bamboo/spandex.
---
November/December 2006
Advertisement