Spinning A Good Yarn ... And Supply Chain
Mother/daughter business engages comprehensive shipping and logistics provider to help streamline supply chain, distribution operations.
TW Special Report
I
n 2001, a mother and daughter founded Tempe, Ariz.-based South West Trading Co. Inc. (SWTC) — a company dedicated to offering innovative, luxurious and environmentally friendly textile products — in the daughter's garage. That company has grown, like the materials used to manufacture the products it makes. You see, the company's product line, comprising a host of yarns for the knitting and crochet artist, features " green" fibers made from milk, bamboo, corn and soy.
SWTC's products reach more than 4,000 retail locations worldwide. The family-owned company exports its products to Canada, the United Kingdom, Australia, New Zealand, Mexico, Sweden and several other countries.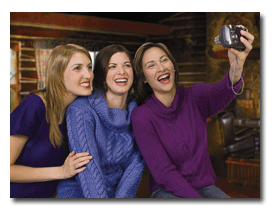 South West Trading Co. Inc. markets "green" milk, bamboo, corn and soy yarns to knitters and crochet artists.

Needling The Supply Chain

By 2004, the company needed to deal with some growing supply chain issues. SWTC's operations were slowed because the company's package shipments were processed and labeled manually. In addition, its shipments were often delayed while clearing customs at the border.
"We had a huge problem with shipping. It was slow, and we had no efficient tracking capabilities. For our import work, we had been booking shipping ourselves and were struggling with customs clearance delays constantly," said Jonelle Raffino, president of SWTC. "Our entire supply line was in chaos."
In addition, the company's distribution center operation was not as efficient or effective as it should have been for SWTC to continue to maintain customer satisfaction while growing so quickly. In just five years, SWTC changed locations four times. When the company moved to its current distribution center, its owners thought there was more space than they could ever need, but they quickly found space to be in short supply.
To help it streamline its shipping operation and maximize its distribution center space, the company turned to United Parcel Service (UPS), a major global shipping and logistics supplier based in Atlanta, and its local representative. As a result of a more efficient shipping operation, SWTC was able to triple the number of packages it could ship per day, "but more important, our customers were immediately notified that a package was en route and provided tracking information," Raffino said.
In order to maximize SWTC's distribution center space, UPS redesigned the layout and provided a new plan for managing the company's inventory. Subsequently, SWTC reduced its inventory by enacting a just-in-time distribution model. These changes resulted in a 25-percent increase in SWTC's capacity and a large increase in efficiency gains.
The efficiencies gained from the reliability of the new solution helped SWTC expand its product line to include its new Soysilk® Pals plush line — the first of many ventures for Soysilk brand products in the consumer market. According to Raffino, the company realized a substantial increase in sales from 2004 to 2005.
Currently, SWTC uses one shipping and logistics provider for both its domestic and international needs — including air- and ocean-freight import, customs brokerage, consolidation of multiple less-than-truckload shipments, domestic and international small package delivery, and other services.
"We knew all these types of services existed, but didn't think we could afford it as a young company," Raffino said. "It was important that as a small company we be taken seriously and receive the same attention to detail and service as a big company gets. [Our shipping and logistics provider] helped us to understand importing and solidified our supply chain foundation."
A Special Opportunity
For SWTC And Soysilk

As all small businesses probably know, when the phone rings, it could be big. SWTC recently discovered how big it can be.
The company introduced its Soysilk Pals Collection in February at the International Toy Industry Association show. The unique collection received much attention and fanfare, which led a future customer their way — the Smithsonian Institution's National Zoo in Washington, which contacted SWTC about creating a commemorative Soysilk panda collectable to celebrate baby panda Tai Shan's first birthday.
"It was such an honor to create a Soysilk panda for Tai Shan and to work with the zoo," Raffino said. "The deadlines were extremely tight, so I made three calls upon hearing the news — to my team for an emergency meeting, to my factory to assure myself we could produce the order on time, and to our UPS representative to figure out how in the world I was going to get them to Washington, D.C., on time."
SWTC had its share of hurdles to overcome. The factory did not meet the deadline, so every day the pandas were on the ocean, SWTC's worry grew. When the ocean container arrived at the port, UPS's customs brokerage team was ready and received a binding ruling from US Customs and cleared the shipment through.
The ocean container arrived at SWTC's distribution center early in the morning. The company unloaded it in less than one hour, took inventory, repacked the necessary boxes and palletized the order for immediate pickup. SWTC's UPS representative stopped by to make sure all of the paperwork was correct, and soon after, the pandas were picked up and shipped to the National Zoo — arriving one day early.

November/December 2006
Advertisement