ATME®-I, AATCC & IFAI Expo Coverage In Atlanta
Megatex Flash Report
T
he American Textile Machinery Exhibition®-International (ATME®-I), Industrial Fabrics Association International (IFAI) Expo and American Association of Textile Chemists and Colorists (AATCC) International Conference & Exhibition (ICE) converged under the Megatex umbrella in Atlanta in late October for a first-time multi-faceted approach for these organizations.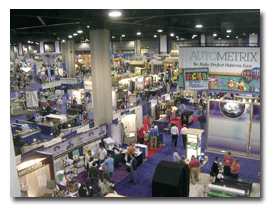 Pleased with the success of IFAI Expo, IFAI and its President and CEO Steve Warner continue to promote and serve the greater interests of the industrial and technical fabric communities.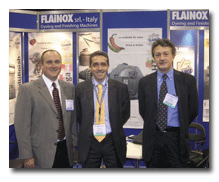 Above: (left to right) Jay Martin, Martint; with Valerio Zaffalon and Luca Bardone, Flainox S.r.l.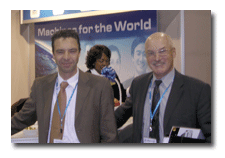 Above: Hartmut Behnke (left), Then Maschinen GmbH; and Peter Philipp, Fong's Industries Co. Ltd.

An Atlanta First
As the first ATME-I in the recent past to be held away from its traditional location at the Palmetto Exhibition Center in Greenville, ATME-I presented 417 exhibitors and hosted more than 5,000 visitors. With an atmosphere of a gathering of old friends, the show has changed, yet visitors and exhibitors alike made positive comments associated with a more local-style show. Among preregistered attendees, 25.3 percent were from countries outside the United States. According to the organizers, nearly 25 percent of visitors were owners, CEOs or other company management.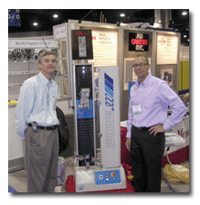 Above: Henderson Wise (left) with Carroll Craft, AB Carter Inc.; with Mesdan S.p.A.'s AutoDYN 300 automatic strength tester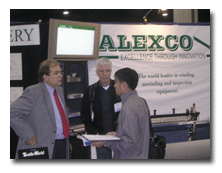 Alexander Machinery noted interesting crossover traffic from IFAI Expo to the company's location at ATME®-I.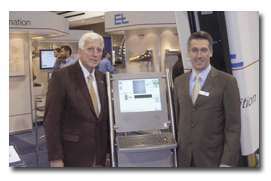 David Merritt (left) and Udo Skarke, Erhardt + Leimer Inc.
IFAI Continues To Grow
The annual IFAI Expo, which changes location each year, reported more than 8,300 participants from 81 countries, with 441 exhibitors showcasing materials, equipment and services. "The attendance and exhibits this year prove without a doubt that the specialty fabrics industry is stronger than ever, providing innovation and practical applications across many market sectors," said IFAI President and CEO Steve Warner. "These aren't simply dreams for something that might be possible someday. Our Expo presents practical solutions that everyone is looking for. Our goal in organizing the IFAI Expo is to provide a marketplace that showcases new technology and provides networking opportunities by bringing in the dominant companies involved in our industry."
Additionally, IFAI educational programs featured 110 speakers. IFAI Expo will venture to the Las Vegas Convention Center, Oct. 3-5, 2007. According to Warner, more than 75 percent of the exhibit space for 2007 has already been booked by Atlanta exhibitors.
Megatex also included the colocation of AATCC 2006 ICE and events organized by 10 additional textile organizations.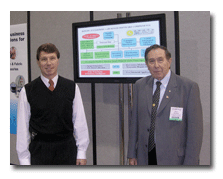 Above: John A. Blasman (left) with John C. Blasman , Jomar Softcorp International, on hand with software system demonstrations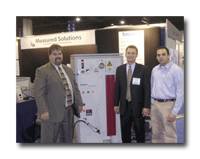 Above: (left to right) David Curry, Mark Reese and Patrick Raines, Measured Solutions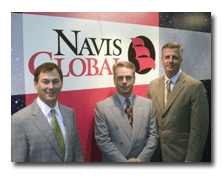 Above: (left to right) William Motchar, Jeffrey Dixon and Eric Carpenter, Navis Global (formerly Tubetex)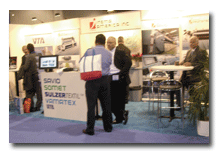 ITEMA showed its spinning, winding and weaving lines at ATME®-I.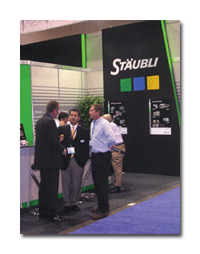 Ludovic Pitrois (center), Stäubli Corp, greets clients at ATME®-I.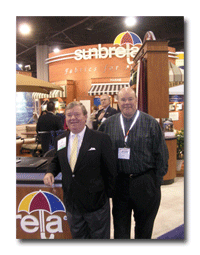 Above: Carl Wallace (left) and Allen Gant, Glen Raven Inc., support Sunbrella® and Dickson® products at IFAI Expo.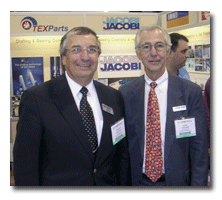 Above: Rodger Hartwig (left) and Hans Balmer, Symtech Inc.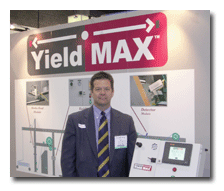 Above: Rick Stanford of WESTechnologies promoted the new YieldMAX fabric-yield monitoring system.


November/December 2006

Advertisement