Bulletin Board
Knoll Textiles , New York City, has launched three new patterns Whisper, Zen and Allure in its Imago line of engineered resin surfacing materials used to create light-transmitting building materials.


Knoll Textiles' Imago line of engineered resin surfacing materials is used to create light-transmitting building materials.
Greenville-based high-performance fabrics manufacturer
Safety Components Fabric Technologies Inc.
has selected Performance Textiles, Annapolis, Md., and TexCom International Inc., Malibu, Calif., as Northeast and West Coast distributors, respectively, of its WeatherMax fabric.
Prodesco Inc.
, Perkasie, Pa., has redesigned its website, www.prodesco.com, to incorporate flash animation, photography and an interactive timeline presenting the companys technical textiles expertise and capabilities.
Interpolymer Corp.
, Canton, Mass., offers a free selector guide detailing the companys Syntran® and Megatran® polymers. The guide is grouped by application under the market categories of Surface Care, Consumer Specialties and Industrial Specialties.
Chesnut Ridge, N.Y.-based
Spitzer and Boyes LLC's
The Consumer Guide to Industrial pH and ORP Instrumentation, by David B. Mills, ranks pH and oxidation reduction potential (ORP) sensors by performance and supplier. The guide is available at www.spitzerandboyes.com and
www.isa.org
.

Herrmann Ultrasonics Inc. has moved its North American headquarters to 1261 Hardt Circle, Bartlett, Ill. 60103; (630) 626-1626; fax (630) 626-1627. The 20,000 square-foot location features three applications laboratories, expanded manufacturing and service engineering facilities, and an ultrasonic welding training center.

DQS USA Inc., Rolling Meadows, Ill., has recertified the US facilities of Oakdale, Minn.-based fluoropolymer producer Dyneon LLC to the ISO 9001:2000 quality management systems standard.

Victor Innovatex Inc., Canada, has launched Rivi seating pattern made with Eco Intelligent Polyester®, which has received Gold Cradle to Cradle Certification from McDonough Braungart Design Chemistry LLC, Charlottesville, Va.

J. Ennis Fabrics Ltd., Canada, has launched the Performance Plus Eco Friendly Collection of contract upholstery fabrics. Codesigned with Victor Innovatex, the line includes a mix of Victors Eco Intelligent Polyester and recycled fabrics in 10 patterns.

Baltimore-based Under Armour® Inc. has selected the 600-light DynaPack Pack-to-Light system from Rockaway, N.J.-based AL Systems Inc. to support its large retail clients. The company also will use AL Systems DynaPro paperless picking and packing solutions within its distribution network.

Kermel GlenGuard®, a 6-ounce-per-square-yard protective fabric from France-based Kermel Co. and Glen Raven, N.C.-based Glen Raven Inc., has met Quincy, Mass.-based National Fire Protection Associations NFPA 70E Class 2 requirements regarding electrical safety in the workplace.

The heat-resistant, glossy and aqueous Santel® Toridex NZ-3 resin and primer from Northvale, N.J.-based ADM Tronics Unlimited Inc. features a composition without zinc compounds or other metal modifiers or catalysts.

The new TurfTex line of fabrics and elastics for sports apparel from George C. Moore and Darlington Fabrics - companies of Westerly, R.I.-based The Moore Co. - features soil-release and wicking properties.

Irving, Texas-based
Flowserve Corp.
has opened a Quick Response Center (QRC) a regional sales and service center in The Netherlands. Through the QRC, customers in that region have access to the companys LifeCycle Advantage equipment management program.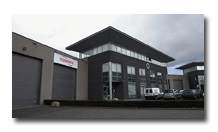 Flowserve Corp.'s Quick Response Center
Kaeser Compressors Inc.
, Fredericksburg, Va., now offers a new Interactive Air System Maintenance CD, which uses instructional video, voice-overs and graphics to give an overview of maintenance functions for rotary screw compressors, refrigerated and desiccant dryers, filters and drains. In addition, Kaeser has released Meeting Your Compressed Air Treatment Needs, a guide that assists customers in selecting equipment according to the intended applications.
---
November/December 2006
Advertisement