Techmer Offers Color And Quality Management System
Clinton, Tenn.-based Techmer PM has developed the Techmercolor™ patent-pending color and quality management system for polypropylene, polyester and nylon polymers.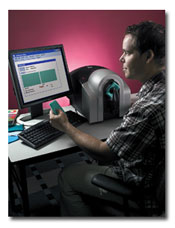 Techmer PM's Techmercolor™ color and quality management system is powered by Datacolor software systems.

Developed for the fiber and plastic industries to reduce color development cost and prototype-to-product realization time frames, the system enables nonmetameric matches across multiple applications and polymers, and enables production parts to be electronically monitored anywhere in the world for quality control color compliance based on spectral curve evaluation.

The new system offers electronic evaluation capability for lot or merge commercial match approvals and assembly sequences.
May/June 2006
Advertisement