Techtextil North America Attracts Innovators
The fourth edition of Techtextil North America — the International Trade Fair for Technical Textiles and Nonwovens — will bring 140-plus exhibitors from the United States and more than 25 other countries to the Cobb Galleria Centre in Atlanta, Mar. 28-30, 2006. Below is a sampling of exhibitors:

Glen Raven Inc., Glen Raven, N.C., will showcase its flame-resistant GlenGuard™ fabric for protective clothing. Glen Raven's Technical Fabrics subsidiary will feature its fabrics for military, automotive, flag and banner, industry/manufacturing, outdoor and sailing applications. Glen Raven subsidiary Dickson Coatings' offerings will include fabrics for truck tarpaulins, swimming pool covers, heavy-duty bags, banners and partitioning.

France-based NSC Nonwoven will display its Asselin® needlelooms and the A-50 XFRS needleloom, which can handle heavy load requirements. The company also hopes to draw the attention of visitors with its ProDyn® system and Excelle® card that allow users to produce small batches with less cleaning, resulting in raw material savings.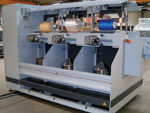 Representatives from Rieter Machine Works Ltd. Filament Yarn Technologies will demonstrate the UT 50 universal yarn twister during its US debut at Techtextil North America.
Representatives from Rieter Machine Works Ltd., Filament Yarn Technologies, Switzerland, will be on hand to present a complete range of technical yarn production and processing machinery including the UT 50 universal yarn twister, which will make its United States debut, and the RIEVAP 54 draw roll, used in technical and industrial yarn extrusion. Nonwovens production machinery from France-based Rieter Perfojet S.A. include the Jetlace 3000 spunlace machine equipped with the cross-direction tensile-strengthening ISOjet system; EMBLO meltblown line for production of microfilament nonwovens; Perfobond 3000, now proposed for production of polyester spunbond fabrics; and Spunjet, which combines spunlaid and spunlace technology.
March/April 2006
Advertisement