Eleksen Offers Smart Fabric Wireless Keyboard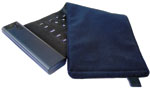 Smart fabric developer and manufacturer Eleksen Ltd., England and Waltham, Mass., now offers its full laptop-sized, portable ElekTex® Smart Fabric wireless keyboard.

ElekTex is designed to support e-mail access, document editing, mobile web browsing and text messaging on smart phones, personal digital assistants (PDAs) and handheld devices.

The keyboard is water-repellent and durable, and can be rolled to fit in a handbag or pocket, accordingto the company. The Bluetooth®-enabled, 2.4-ounce keyboard comes equipped with an embedded light-emitting diode to show connectivity and keyboard status. Additionally, Eleksen will manufacture and design the keyboard to meet the specific needs of businesses. The company also offers the electronics and sensor design to original equipment manufacturers for their own branded keyboard products.

"Where existing keypads on many smart phones and PDAs make typing anything longer than a short message impractical and uncomfortable, we've designed the laptop-sized ElekTex fabric keyboard to allow consumers to easily and more comfortably type longer documents on their phones and handheld devices — making these new portable devices more usable," said Andrew Newman, product manager, Eleksen.
March/April 2006
Advertisement