Tomer And UPS: Design To Delivery In Style
TW Special Report
F
or Israeli-born designer Tomer Gendler, having a shipping partner to take care of the logistics of transporting materials, samples and final product to and from points around the globe allows him to focus on creating his renowned Tomer line of upscale menswear, designing and running his New York City-based business. And with customers including exclusive boutiques and Hollywood celebrities like Jamie Foxx and Adrien Brody, delivering on time is a must.
Since starting his fashion label four years ago, Gendler has relied on Atlanta-based United Parcel Service (UPS) to help him with his shipping and logistics needs.
"Shipping is the thread that ties our business together," Gendler said. "When we're creating a collection, we ship almost daily, and every shipment is critical to getting the job done."
Before Gendler's clothing arrives at select stores, each piece goes through hundreds of steps and travels thousands of miles. Gendler begins the process by searching out unique fabrics and trims, such as cashmere blends from Italy, high-tech fabrics from Switzerland and buttons from China. After creating his designs, he orders and ships enough thread, fabric and trim to create samples, which he shows to fashion buyers in New York. Gendler works with the buyers to decide what pieces will be ordered and ultimately sold in stores.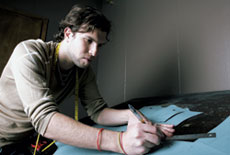 Tomer Gendler, owner and designer of a menswear line, uses UPS shipping and logistics.

Gendler and his staff of four then figure out how much fabric is needed to fulfill orders. Next, samples are made according to design specifications, often shipped back and forth several times from manufacturers in Italy, New York City or China until the look is perfected. The production process moves on to a grading company, which tailors patterns to make the clothing line in multiple sizes. UPS ships the patterns, fabric and trim to New York and Italy, where tailors make the clothes. UPS' customs brokers take care of complex tariffs associated with importing textiles so that each component clears inspections seamlessly.

Once the clothes are made, they are shipped to the Tomer New York showroom for painstaking quality inspections. Finally, the clothing is shipped to stores across the country and around the world.

With so many production steps, there are always inherent as well as unexpected challenges. " It can be anything — a particular button might be late or there isn't enough fabric," Gendler said. Thus, shipping reliability is critical to this designer.

"If one thing falls down, the whole line is in jeopardy. If we're late even by one day, the stores have the right to cancel the order, which leaves us with thousands of dollars worth of garments that we can't sell. But when you're on time, they trust you. It says you're a solid business partner."

Gendler stays on top of where his orders are at all times through UPS' website. By entering a tracking number, he can find out where orders are to be sure he's on time.

By having a shipping partner take care of these steps, Gendler is free to forget about the logistics and focus on designing and running his business.

"The only other way that we could do this is if we owned our own boats and trucks," he said.

Wrapping Up For The Holidays
When Gendler was asked to design a limited-edition line of scarves for UPS for the holidays, he had to figure out how to reduce an already tight three-month turnaround to just six weeks. With a lot of hard work — and some quick shipping, he was able to do the job.

First, Gendler quickly designed a cable-knit winter scarf in three colors. He then called a trusted wool supplier to source a quality cashmere blend. A sample was created in New York, and after making some final adjustments to the scarves' thickness, UPS shipped the sample direct to China, where the line of 1,000 scarves was manufactured.

The scarves' finishing touches required labels made in Italy. UPS shipped them to New York for inspection, and then to China, where they were sewn onto the scarves. Lastly, the scarves were flown to Atlanta for final assembly and packaging, and then were delivered around the world. The result was a quality scarf made just in time for the holidays.

"It all came together so quickly," Gendler said. "It just shows what can be done with the right partners."
Advertisement