ITM 2006 Ready For Success
ITM 2006 World Launch event offers preview of growing exhibition in Istanbul, Turkey.
By Jim Borneman, Editor In Chief
I
TM 2006 organizers Teknik Fuarcilik ve Yayincilik Ltd., Turkey, recently welcomed exhibitor representatives and members of the press to Istanbul to highlight the upcoming textile technology event, to be held June 27-July 2.
According to organizers, the first ITM, held in June 2004, attracted 770 exhibiting companies — 650 of which were from outside Turkey. ITM 2004 attracted approximately 60,000 visitors from around the world from countries that included Switzerland, Germany, Iran, Italy, Syria, France, Pakistan, Russia, Japan, India, Spain, Taiwan, Korea, Egypt, the United States, China, Bulgaria, Lebanon, Georgia, Kuwait, Belgium, Uzbekistan, Saudi Arabia, the United Arab Emirates, Poland, Jordan, Algeria, Hungary and Yugoslavia, among others. All indications point to growing visitor and exhibitor interest in the ITM 2006 edition.
The organizers stressed the Istanbul location for ITM exhibitions offers the advantage of being "the crossing point of Europe and Asia." Here, European textile technology manufacturers can meet with investors from Asia, the Middle East and eastern Europe. The show seems to have increasing value to visitors and exhibitors alike, with ease of travel from Middle Eastern and eastern European origins in terms of visas, transportation and cost.
Visitors will notice a change in the organization of the halls at the CNR Expo International Fair and Congress Center, site of the upcoming exhibition. In the past, technology was mixed throughout the show, a symptom of the strong agency network active in Turkey. This year, the show will attempt to be more segmented, keeping the technologies — including weaving, spinning, knitting and finishing — grouped together as a convenience for visitors.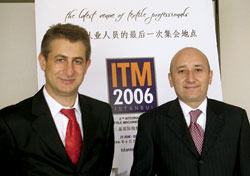 ITM 2006 organizers umit Vural (left), board chairmanand director of technical operations; and Necip Guney, board chairman and director of sales and marketing, Turkey-based Teknik Fuarcilik veYayincilik Ltd., greeted guests at the ITM 2006 World Launch event.


While many well-known textile machinery companies will participate, visitors also will notice a strong agency presence at the show. Turkey-based Bilol Tekstil, which dates back to 1911, represents a long list of firms and well-known brands including: Somet, Benninger and Bonas in the weaving sector; Müller in narrow fabrics; Benninger, Pozzi and Reggiani in finishing; and Saurer in embroidery.

Galip Bilol, who spoke at the World Launch event, said the relationship between Bilol and ITM is growing with ITM's continued success. At the first version of ITM, known as Bur-Tex and held in Bursa in 2002, Bilol Tekstil occupied 350 square meters (m2) of floor space. At ITM 2004, it filled 1,000 m2; and at ITM 2006, the company is scheduled to occupy 1,450 m2.

Some firms, like Stäubli AG and Uster Technologies AG — both based in Switzerland — market and support their technologies directly in the region. Turkey-based Erbel Mümessilik, founded by Haluk Erbel in 1983, represents Switzerland-based Rieter Group, which has had a presence in Turkey for 115 years. With more than 40 employees, Erbel assists in sales and technical service for the Rieter spinning machines installed in Turkey, which comprise more than 50 percent of all spinning machines running in Turkey.

Bateks Tekstil, Alfredo Modiano, Iteks/Inter Tekstil, Teknik Tekstil, Erler Makina, MSD Makina Mümessillik, TYT and other agencies based in Turkey are focused on developing business in the region and will be eager participants at ITM 2006.

However, local Turkish machinery companies are not to be overlooked. Among them, Lafer-Türk A.S., a joint venture between Turkey-based Has Dis Tic. Ltd. Sti. and Italy-based Lafer S.p.A., designs and manufactures finishing machines in Turkey. Lafer-Türk's range of equipment includes shearing, sueding and raising machines; as well as tumblers and compactors.


---
Editors Note: For a full preview of ITM 2006, see the May/June 2006 issue of Textile World Asia.
---
March/April 2006
Advertisement