Consumer-Driven Development
Fibers and yarns offer new twists.
Virginia S. Borland, New York Correspondent
D
eveloping and marketing fibers and yarns is becoming more sophisticated. The customer base has changed, marketing is more competitive, and demands of the ultimate end-user — the consumer — are more specific. Fiber producers and yarn companies are communicating through the supply chain to develop new products and strategies for particular end-uses.
Seamless garments, brightness of color, moisture management, temperature control, ultraviolet (UV) protection, stain repellency and the environment are some of today's issues. Comfort and easy care are givens. And, to attract buyers, fabrics must have eye appeal.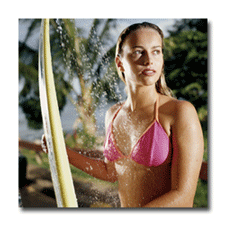 Hyosung Corp.'s offerings include creora® H-250 chlorine-resistant spandex for swimwear applications.

Spandex

Spandex continues to be one of the most popular fibers. According to Marty Moran, global sales manager, RadiciSpandex Corp., Gastonia, N.C., spandex's growth rate is 6 to 8 percent annually. All RadiciSpandex production is done in the United States, and 75 percent of sales are to countries in the Western Hemisphere.
"We are committed to the Americas," Moran said. "Now that Guatemala has signed [the Central America-Dominican Republic Free Trade Agreement], we see great potential in Central America for our spandex. After that, we're looking to see what happens with the Andean region."
South Korea-based Hyosung Corp.'s spandex production is based in the Orient, with sales going to major fabric producers in Europe and Asia. Global marketing offices are creating awareness about creora® spandex. "Buyers can visit five showrooms around the world to see creora fabrics from Hyosung partners," said Rita Stern, North American marketing director. "More than 600 fabrics are on view in our offices in Korea, China, Hong Kong, Italy and New York."
Wichita, Kan.-based Invista, the world's leading producer of spandex fibers, has a global presence on six continents. Lycra® spandex is one of the world's most recognized brands. Along with spandex, Invista offers a comfort stretch fiber, Lycra T-400.
Heat-resistant spandex to blend with polyesters and microfibers, chlorine-resistant spandex for swimwear, bright white, black and low heat-set are some of the new spandex offerings. Seamless garments, activewear, denim, swimwear, intimate apparel and, yes, hosiery are some of the target markets.
"The sheer hosiery market has picked up," Moran said. "It is being driven by young women who want to emulate Hollywood stars, and they are wearing sheer hose."
S-TS spandex is RadiciSpandex's newest product. The company developed this low-temperature heat-set spandex to blend with cotton and polypropylene. Activewear, socks and core-spun wovens are focus areas. Moran also mentioned seamless, denim, wool and bedsheets where comfort, fit and durability are issues.
S-17B, another RadiciSpandex fiber, is chlorine-resistant and allows fabrics to appear clear white and bright in colors. It is selling well for intimates, where there is demand for ultralight fabrics in clean shades and for swimwear.
Victoria's Secret and VF Corp.'s Vassarette are two lingerie brands mentioned. Other RadiciSpandex products Moran noted include S-45, developed to blend with polyester and microfibers and heavy deniers that go into narrow fabrics and tapes. "And we are constantly developing new products," he added. Black spandex, antimicrobial and moisture management were areas he noted.
A recent spandex introduced by Hyosung is creora H-100D, a black spandex that eliminates grin-though or metallic sheen when the garment is stretched.
According to the company, it has outstanding washfastness and resists chlorine, abrasion, acid and alkali sweat. "We can avoid the shine of traditional black, even on light fabrics and hosiery … and black is always in fashion," said Ugo Tinti, private label manager, Pompea S.p.A. This intimate apparel and hosiery specialist is using creora in more than 80 percent of its production.
Other creora spandex products Stern pointed out are creora H-350, a heat-resistant spandex that was developed to blend with polyester and microdenier fibers; creora H-100X, an alkali-resistant spandex that is going into mesh and velvet fabrics; and creora C-400/H-450 low-heat-settable spandex. creora C-400 is steam-settable for seamless garments and produces whiter whites, Hyosung reports.
Stern mentioned Taiwan-based Eclat Textile Co. Ltd. is blending creora H-450 with bamboo. Other mills are developing blends of creora with Pima cotton, viscose and Tencel®. "All of these fabrics will be on view as they become available at our fabric libraries in New York, Milan and Asian locations," Stern said.
Invista recently introduced Super White Lycra. Aimed at intimate apparel, including molded garments, and developed in answer to consumer complaints about graying underwear, Super White Lycra has been adopted by leading European mills including Germany-based Penn Elastic GmbH, Austria-based Willy Hermann Wirkwarenerzeugung GmbH and Italy-based Jersey Lomellina. Invista reports it provides brighter whites, clearer colors and less yellowing.
Black Lycra also has been impacting the intimates market. Some of the advantages pointed out include reduced grin-through in dark shades, washfastness, improved durability to UV rays and knit-in patterning and marl effects. Some of the major mills that are using Black Lycra include Belgium-based Liebaert NV/S.A., Willy Hermann, France-based Bel Maille, Greece-based Fieratex, Italy-based Giovanni Brugnoli, Jersey Lomellina, Italy-based Piave Maltex S.p.A., Portugal-based G.M.L. Texteis and Spain-based Puntiblond S.A.
Two new Lycra names are XFIT Lycra and Xtra Life Lycra. XFIT Lycra is a four-way stretch denim technology that can be achieved using both spandex and T-400 products. Fabrics have been developed by Central Fabrics Ltd., a division of Central Textiles Group, Hong Kong. Xtra Life Lycra targets the swimwear market. It is said to "offer a new level of durability and chlorine resistance so swimsuits keep their shape and do not sag, bag or fade over time."
Comfort Stretch

Midland, Mich.-based Dow Fiber Solutions' (DFS') olefin-based stretch fiber, Dow XLA™, has the generic designation lastol. It was launched about three years ago. Since its debut, Dow has added two variants that are targeted to niche markets. Dow XLA CP™ is a Chlorine-Proof™, UV-resistant fiber that is going into swimwear. Dow XLA HTT™, aimed at workwear, is a high-temperature-tolerant stretch fiber that has been tested to withstand temperatures up to 220°C; and is resistant to harsh chemicals used in industrial laundering, tunnel drying and dry cleaning.
DFS will be opening a showroom in New York City in late September. Featured will be development samples, fashion and color information, and fabric resources. At a recent showing in New York, they presented trends for Fall/Winter 2007-08 that had been developed by Paris-based fashion forecaster Bengt Jacobsson. He presented directional woven and knitted fabrics, all containing Dow XLA, including soft tweeds in blends with cashmere, wool or angora; corduroys and velvets with cotton and polyester; and dobby, seersucker and brushed shirtings that contain cotton and nylon. There were double-faced fabrics, denims, suitings, patterned knits and opulent brocades. Yarn resources and construction details were available. Dow XLA blends with linen, bamboo and organic cotton are in the testing stages.
Nylon

With its recent purchase of Invista's European nylon business, Israel-based Nilit Ltd. has become Europe's leading nylon producer. Along with Sensil®, Nilit is now licensed to use the Tactel®, Cordura® and Supplex® trademarks in Europe, the Middle East and Africa. For visibility, Nilit is participating in major trade shows such as Expofil and Ispo. It is still focused on activewear and intimate apparel.
Israeli design consultant Ilana Joselowitz presents seasonal forecasts for bodywear showing color trends and ideas. Seamless apparel is a large part of her story. Comfort and fit are two of the reasons she gives for its success. Ultralightweight yarns and combinations of opaque and sheer fabrics in one garment are continuing trends.
Some of the fabrics Joselowitz shows are knitted using different Sensil yarns to achieve two-color and tonal effects in one dyeing process. Others have a cotton hand and appearance. High-performance seamless garments are knitted with paneling for muscle control. And antibacterial properties added to the polymers of certain yarns last up to 50 washings.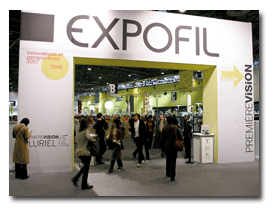 The next Expofil - to be held in Paris, Sept. 19-22, 2006 - will feature many recent fiber and yarn developments.

From The Corn Field

In February 2006, the US Patent and Trademark Office awarded Wilmington, Del.-based DuPont Patent no. 7 million for inventing polysaccharide fibers. These fibers, as well as Bio-PDO™ — a key ingredient in DuPont™ Sorona® polymer — can be made from renewable resources such as corn. Fabrics made with Sorona fibers are soft, with a natural cotton-like hand. They have comfort stretch and recovery; are easy-care and easy to dye at low temperatures; offer stain, UV and chlorine resistance; and blend well with other fibers, according to DuPont. Flat or textured yarns are available. End-uses include intimate apparel, high-performance activewear, ready-to-wear, outerwear, and automotive and upholstery fabrics. Sorona is manufactured in Kinston, N.C. DuPont also is planning to license a facility in China to make polymer.
At DuPont's stand at Expofil this past spring, new fabrics and developments on view included Sorona/wool blends for suits and sweaters, and synthetic leathers from Quanzhou Haitian Textile Co. Ltd.; and moisture-wicking fabrics from Shaoxing Xinghong Chemical Fibre Industrial Co. Ltd., both based in China. Other mill partners located in Asia are blending Sorona with cotton, bamboo, Modal®, lyocell, nylon, polyester or spandex. It is going into woven fabrics, and circular and warp knits. Some of the fabrics available are piqués, oxfords, twills, poplins, dobby weaves, corduroys and velours.
At a recent press conference in New York City, DuPont introduced Ultra Release Teflon® fabric protector to the family of Teflon products. Unlike other stain-release finishes, this product has no repellency. Instead, its focus is the release of stains, such as grass and dirt, from fabric. It does not change the hand or appearance of fabrics and reduces fabric graying after repeated launderings. The company conducted wear trials on clay- and grass-stained baseball uniforms, which underwent multiple wearings and washings.
Ultra Release Teflon was created through an alliance comprising DuPont chemistry, Switzerland-based Ciba Specialty Chemicals Inc.'s technology and Invista marketing. Other Teflon products include Repel Teflon and High-Performance Repel Teflon, which protects fabrics from absorbing stains; Release Teflon and High-Performance Release Teflon; and Advanced Dual Action Teflon, which both repels and releases soil and stain.
Yarns

Technology is providing new yarns that are finer, smoother, softer and do more than ever before. There are yarns that contain seaweed, paper, soy, silver or bamboo. There are 100-percent cotton yarns that can be knitted or woven into fabrics that can be piece-dyed for two-color effects. Some have thermal properties; others are antistatic and antibacterial, and neutralize odors.
At France-based A-Dress, best-selling yarns are ultrafine-spun with 100-percent bamboo, 100-percent silk and cotton/silk blends. New yarns blend bamboo with linen or soy, and cashmere with linen. Bamboo/soy blends are available in fine to heavy weights and are going into T-shirts and sweaters.
Italy-based Filati Maclodio S.p.A. is spinning yarns from a cellulosic fiber called Lenpur® and SeaCell®, which combines seaweed with lyocell. It is developing blends of Lenpur/SeaCell/cotton and Lenpur/SeaCell/viscose. One popular fine yarn is spun of 74-percent Lenpur/16-percent polyester/8-percent cashmere.
Switzerland-based Hermann Bühler AG reports interest in its SwissCotton Rainbow®. This is a treated cotton yarn that dyes more deeply than untreated cotton. Fabrics that are woven, knitted or embroidered using a combination of treated and untreated cotton yarns can be piece-dyed to achieve two-color, tonal, heather or marl effects. In development are lightweight, fluffy, bulky yarns.
Another Switzerland-based spinner, Spoerry & Co. AG, has five new spinning frames with 1,100 spindles each to spin ultrafine cotton yarns. The company reports it is the first to buy this technology from Switzerland-based Rieter. The new equipment will enable it to spin single- and two-ply yarns from Ne 140/1 to Ne 220/1. The company is developing cotton blends with cashmere and silk.
Condamin & Prodon-Schwarzenbach, France, recently introduced Becool® and Becool Silver. These yarns are antimicrobial, anti-odor, antistatic, breathable, temperature-regulating and easy-care. They include nylon or polyester single or bicomponent yarns with or without spandex. Texturized and jaspé yarns are available. Target markets are activewear, intimate apparel, hosiery, medical and technical.
OJI Fiber Co. Ltd., Japan, is spinning yarn out of paper that comes from Manila hemp. The paper is cut into fine strips from 1 millimeter (mm) to 4 mm wide, and is then twisted into yarn. It is reported to be strong, smooth and light; have good insulation properties; and blend well with other fibers.
Canada-based Amtex (Yarn) Manufacturing Inc. is the exclusive North American spinner of SeaCell and Lenzing FR®. It is blending SeaCell with wool, and selling yarns into hosiery markets. Also for hosiery, there are yarns of 100-percent bamboo and 100-percent soy. A blend of 50-percent Lenzing FR and 50-percent wool is going into military uniform fabrics.
Many of these yarns and fibers, along with other new developments, will be shown at Expofil in Paris, Sept. 19-22, 2006.
July/August 2006
Advertisement