A Step Forward For Retailing
Mohawk retail programs offer more services, support for dealers and a strategy for increased growth.
TW Special Report
I
nnovation often is more than just product. More than 30 years ago, Mohawk began working closely with floor covering retailers to better understand their business, and to provide programs and products that would be beneficial at the retail level. Thus began the development of several aligned dealer programs that the company has nurtured. The programs have been beneficial for Mohawk and have changed the face of floor covering retailing.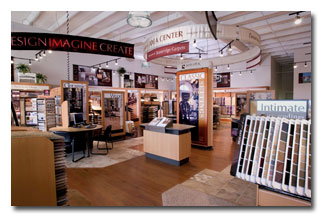 Through its aligned dealer program, Mohawk provides Floorscapes® dealers with complete selling systems that can be installed in less than one week.
Mohawk Floorscapes

Through an aligned dealer program, Mohawk works closely with the retailer to create the right product mix, displays, staff training and the business systems for the store. The flagship of the company's aligned dealer programs is Mohawk Floorscapes®, under which a dealer — an independent business operating as a stand-alone store — agrees to devote the majority of the store to Mohawk products. Mohawk provides a complete selling system comprising store fixtures, an exclusive product mix and a variety of additional programs including advertising, merchandising, education, training and installation. Mohawk also brings the dealer new profit centers such as window treatments and cleaning services.

The system involves a complete remodeling of the store. Mohawk has created methods that allow dealers to revamp in less than one week, so the store only has to close for a couple of days.

Retailers nationwide have become Mohawk Floorscapes dealers, with the number of Floorscapes stores growing significantly in the last year alone. Mohawk spent more than two years researching and developing the Floorscapes concept, which is based on consumer-driven shopping experiences.

Research shows today's floor covering customers are faced with too many choices and too little time, and the marketplace isn't focused on price as much as personal choice, individual expression, education and trust. Studies show the average floor covering shopper now visits less than two stores before making a buying decision. The Mohawk Floorscapes concept was designed as a one-stop resource for floor covering. The concept enhances value-added ideas about floor covering and simplifies the shopping experience by making it easy for shoppers to get information and maintain a sense of control over the process.

Mohawk Floorscapes dealers report a significant increase in the average price per square foot of flooring sold, as well as an overall increase in sales and profit.

"Because of the professional environment, an enhanced consumer shopping experience, more knowledgeable salespeople and a better presentation of merchandise, Mohawk Floorscapes shoppers buy better-quality goods at higher prices," said Ed Williams, senior vice president of marketing. "The average ticket is higher, and margins are improved. There is also a significantly higher closing rate. All of these factors [add] to the increased profitability of the store.

Mohawk ColorCenter
Mohawk's oldest aligned dealer program, Mohawk ColorCenter®, was created in 1974. Under the Mohawk ColorCenter program, a dealer devotes a percentage of the store to Mohawk merchandise. The ColorCenter concept can work as a boutique within a store, or as a complete store layout. The stores are independent businesses, and the owners choose their level of participation. Dealers benefit from the alignment with the Mohawk brand and have access to many of the same training and business tools as Mohawk Floorscapes dealers. ColorCenter dealers also receive exclusive product offerings. Again, the goal is to make the shopping experience comfortable and to make it easy for consumers to understand their floor covering choices.

Today, there are more than 2,000 Mohawk ColorCenter stores across the nation.
Mohawk Floorz®

The most recent aligned dealer concept is Mohawk Floorz® stores, based on the concept of a stocking dealer or warehouse store. The front of the store is broken into shops so consumers can focus on the products that most interest them. The back of the store is set up like a warehouse or big-box operation, with rolls of carpet and pallets of hard-surface products ready to be purchased by do-it-yourself customers.
Mohawk Floorz stores are standalone, independent businesses that make a commitment to sell primarily Mohawk products.
All Mohawk aligned dealer programs are successful for one key reason: They provide retailers with tools and merchandise that boost the store's sales and — more importantly — the bottom line.
Mohawk is more than a supplier. It has become a partner with its dealers, providing services that help dealers build business. Programs include everything from training — not just sales, but design, installation and business management; to promotions; to advertising; and even to health insurance options dealers may use with their employees.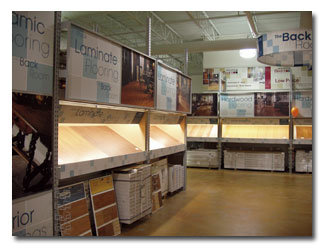 The Mohawk Floorz® retail concept features rolls of carpet and pallets of hard flooring products ready to be purchased in a similar fashion to a big-box or warehouse store.

Mohawk University

As the training arm of Mohawk Industries, Mohawk University offers dealers courses and tools that can improve the bottom line of their businesses. Using an objective approach, with no sales or marketing distractions, instructors teach thousands of people each year how to become experts in different aspects of the floor covering business, including everything from installation to business operations. Novices are able to learn business fundamentals, while seasoned veterans can improve their skills.
"Our courses are purely educational," said Ed Williams, senior vice president of marketing. " They're open to people who want to become better at their business, and we concentrate on the information that's going to make that happen."
Mohawk University courses are taught at the main campus in Dalton, Ga., and in more than 100 cities in North America. Select courses have also been taught internationally, in countries including Canada, Peru and Russia. Course subjects range from basic product knowledge in carpet, ceramic, hardwood and laminate; to color and design; to leadership and business management. Courses can last from one day to several days.
A key to Mohawk University's success is the experience of its trainers. Many are nationally and internationally recognized training professionals, with strong backgrounds in the floor covering and retail industries. Some of them have run floor covering stores themselves, so they understand the day-to-day challenges of the business.
"We feel that providing our dealers with the information available through Mohawk University is as critical as getting a shipment delivered on time," Williams said. "Mohawk invests in product development, merchandising and store systems, and — just as important — education. It takes all these things to make a dealer successful in today's marketplace."
Mohawk University continues to expand its offerings. In addition to its series of training classes, it provides a growing collection of training courses on CD-ROM and video, and in print. All Mohawk University courses — both the classroom and electronic versions — qualify for continuing education unit credit.
"We want to be the 'go-to' resource for information when a dealer needs it," Williams said. "Mohawk University has literally taken retailers from the verge of bankruptcy to remarkable success."
Over the years, Mohawk University has received numerous awards - both from the floor covering industry and from various training and media organizations - in recognition of its work. It continually is improving its curriculum. At the end of every training session, students are asked for their thoughts on how to improve the course. This input gets carefully scrutinized - and used.
"Thanks to input from students, we've been able to identify new industry challenges early on and incorporate them into our training before they become problems in the field," Williams said.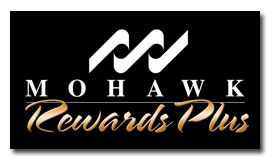 Mohawk Rewards Plus is the company's umbrella motivational rewards program for retail floor covering salespeople.

Mohawk Rewards Plus

Promotional and motivational programs for retail floor covering salespeople are the norm for the industry. These typically are special offers that last a few weeks for trips or merchandise. Salespeople sell selected merchandise to earn prizes.
Three years ago, Mohawk implemented major changes in how it conducts these programs for its core group of retail salespeople, placing the promotions under one umbrella program: Mohawk Rewards Plus. Under the program, a retail salesperson establishes one account in which all Rewards Plus points are consolidated.
The salespeople can redeem their points at any time during the year. Plus, they can earn points not just for carpet, but also for hard-surface products. All retail salespeople and store owners who make retail sales are eligible to participate in the program.
And unlike with short-term promotions, the point totals from Mohawk Rewards Plus are cumulative, so salespeople can keep working toward bigger prizes. Mohawk has even allowed salespeople to roll points from one year into the next.
The Mohawk Rewards Plus system requires no paperwork. Qualifying orders are posted in the system when they are ordered, and salespeople claim them online to receive points.
Salespeople may redeem their points for hundreds of awards, both large and small, including Mohawk flooring and Mohawk home products.
Dealer Services

In addition to product and merchandising programs, Mohawk has created a group that works to provide retailers with a variety of other services. Mohawk's aligned vendor program helps retailers by offering business services and profit centers that retailers can use to build sales or run their stores more efficiently. More than 60 different programs, products and services are available, and range from offerings such as Mohawk Professional Floor Care — turnkey carpet cleaning or hardwood refinishing, to Mohawk Custom Window Fashions; to carpet cutting equipment; to business services, advertising and printing. Dealer Services can even help retailers set up employee health insurance.

Mohawk's aligned dealer programs, grouped with its educational and retailer rewards programs and services, have strengthened the company's relationship with its dealers. Through the aligned dealer programs, the company offers its products in a focused manner, which contributes to increased sales and profits for both Mohawk and its dealers.

Mohawk University provides broad training opportunities to help dealers realize success in their businesses. The cumulative Mohawk Rewards Plus program offers incentives to salespeople by awarding points for sales of Mohawk products — points that can be redeemed for a wide range of valuable prizes. Finally, the company offers assorted ancillary services to help dealers in various aspects of their operations.
July/August 2006
Advertisement