A Few Encouraging Signs
By Robert S. Reichard, Economics Editor
T here's more and more evidence that our domestic and apparel industries aren't faring all that badly. Indeed, in most instances, American firms are pretty much holding their own. With more than half of the year now behind us, some of these positive signs would have to include: less-than-feared declines in overall US mill activity; non-Chinese import declines, which are now helping to offset continuing Chinese penetration; and domestic profits and margins, which at last report are not all that different from those reported last year. Still another possible positive: increasing chances the Chinese import wave may be about to crest — thanks to a combination of factors including new increases in Chinese production costs, stepped-up US pressure for more import protection and an increasing likelihood of further modest upward revaluation of China's badly undervalued currency — the yuan.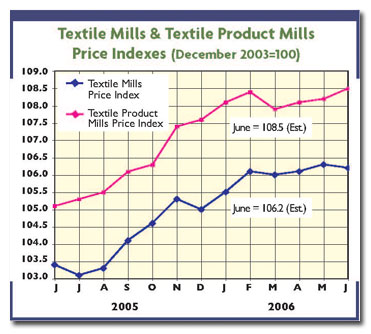 A Closer Look At Mill Activity
Zeroing in on domestic mill production first — declines have been surprisingly modest — at least on an overall basis. The year-to-date mill trend as measured by the Federal Reserve Board index of mill production, for example, is off only about 1 to 2 percent when compared to the similar 2005 period. To be sure, product-by-product performance has been uneven. Thus, there's been a considerable slippage in basic mill items like yarns and fabrics. But this has been offset to a significant degree by some modest new advances in output of more highly fabricated textile products like home furnishings and carpets.

In any event, overall mill production for the year as a whole is likely to slip by only a few percentage points. And at the risk of sounding immodest, that's pretty much in line with TW 's first-of-year projections (See "Surviving The Game Of Textiles," TW, January/February 2006). In short, 2006 isn't going to be a great year — but mill output is going to be a lot better than some of the purveyors of gloom and doom had been predicting as recently as six months ago.
A Changing Import Pattern
But perhaps the biggest surprise of all this year has been the absence of another big jump in incoming textile and apparel shipments from abroad. Through mid-year, for example, import totals on a square-meter-equivalents basis have advanced by only around 1.5 percent. That's far under the 10-percent, 8-percent and 10-percent increases that were racked up in 2003, 2004 and 2005, respectively; and the 7-percent increase originally projected in 2007. But, as pointed out above, this has been occurring only because continuing gains from China are now being offset by declines in incoming shipments from many other countries — most notably Canada, Mexico, the Caribbean, the European Union and Turkey.

It should also be pointed out that the increasing Chinese market penetration is prompting Uncle Sam to press for special consideration for textiles in the current round of global trade talks. Such consideration is urgently needed, according to the Washington-based National Council of Textile Organizations. The textile group finds that China now has taken control of nearly half of the US apparel market in those product line where quotas have been removed. That's in marked contrast to the only 8-percent import share the Chinese have managed to capture in product categories that have remained under quota.
Profits Hold Steady
Despite all the China problems, our domestic textile and apparel industries continue to turn a profit. A good part of this can be traced to the aforementioned drop in imports from non-Chinese sources. But added assists here are coming from the increasingly efficient market-oriented strategies of US firms and from the fact that market prices have remained quite firm — with both basic mill and mill product quotes at last report running close to 3 percent above year-ago readings.

Bottom line: The latest Census Bureau profit numbers, for first quarter 2006, show industry earnings actually inching above year-earlier levels — with an extrapolation for the rest of the year suggesting that total after-tax profits will come pretty close to last year's $1.6 billion. And a similar picture seems to be shaping up for margins — after-tax-tax profits as a percentage of sales, where industry returns also are expected to come fairly close to last year's 3.2-percent figure — and actually above the comparable 2003 and 2004 levels.

Recent Global Insight figures reported in last month's column, incidentally, back up these relatively optimistic earnings figures. The latest numbers provided by this economic consulting firm now are actually a bit higher than the comparable projections made just three months earlier.
July/August 2006


Related Files:
Download Current US Textile and Economic Indicators.
Advertisement