Congress Approves Increased Textile Research Funding
James A. Morrissey, Washington Correspondent
T
he US textile industry's competitiveness will get a shot in the arm as a result of increased Congressional funding of research projects at the Spring House, Pa.-based National Textile Center (NTC) and Cary, N.C.-based Textile/Clothing Technology Corp. ([TC]2). Congress has granted $13 million — an increase of $3 million over last year — to the NTC and $3.5 million — up from $3 million last year — to [TC]2.
The funding will enable both organizations to continue a number of ongoing projects and undertake new ones designed to improve the US industry's competitiveness in the textile and apparel market sectors.
The NTC — an umbrella organization for eight colleges and universities conducting textile research — is moving ahead on a wide range of projects involving manufacturers, consumers and national security.
In the area of basic fibers and fabric, the center has projects underway that could bring about major changes in finishes that would improve washing techniques and waterproofing. In addition, projects designed to improve dyeing and finishing, making color processes more consistent and efficient, are in development.
Work is being done with "smart" fabrics that would sense the atmosphere in homes, including temperature and odors, in order to improve comfort. The same processes would have applications in industrial clothing to enhance the safety of industrial workers.
The NTC also is working on products and processes to aid the military and first responders in emergencies. The emphasis is on lightweight protective fabrics that could be used in uniforms so firefighters, police and military personnel would not have to wear additional protective equipment, which often is bulky and uncomfortable. Work also is being done with biomedical fabrics for bandages and medical devices in order to promote healing.
Both the NTC and [TC]2 are pursuing improved body scanning techniques that appeal to apparel makers, retailers and consumers. The new grant will enable [TC]2 to continue projects that will bring down the size and costs of body scanning, and make it more precise and easier for apparel manufacturers to develop new patterns and new products.
[TC]2 also is working in promising areas to improve ink-jet printing, including developing hardware and software that could make short runs more feasible. Another project with considerable appeal for retailers is designed to eventually eliminate bar codes and replace them with tiny computer chips.
US/China Textile Trade Conflicts Will Continue
While the US and Chinese governments have reached an accord on some highly contentious textile and apparel quota issues, US textile manufacturers are continuing the battle on several new fronts. The ink was hardly dry on a new three-year quota agreement when US manufacturers fired new salvos against what they say are unfair trade practices that give China competitive advantages over the United States and other countries.
As the new quota agreement covering 34 of what are considered to be the most sensitive product categories went into effect, Auggie Tantillo, executive director of the Washington-based American Manufacturing Trade Action Coalition (AMTAC), said the agreement leaves the door open to the US textile industry's right to pursue safeguard quotas covering additional products. He said the US industry will carefully monitor textile and apparel imports from China in the covered categories and be prepared to file additional petitions this year "as meritorious cases develop."
Importers, on the other hand, do not think the industry has a blank check to seek new safeguard-based quotas, and they will strongly oppose any such actions.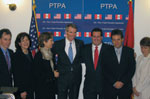 USTR Rob Portman (center left) and Peru's minister of foreign trade and tourism, Alfredo Ferrero Diez Canseco (center right), celebrate with trade negotiators after closing the US-Peru Trade Promotion Agreement.
US, Peru Agree To Free Trade Pact
In another step that could lead to a Free Trade Area of the Americas, the United States and Peru have negotiated a free trade agreement that trade officials hope will pave the way for Colombia, Ecuador and maybe Bolivia to come on board. The pact with Peru, if ratified by Congress, would grant immediate duty-free access to the US market for Peruvian goods except textiles and apparel. In the case of textiles and apparel, imports must meet a yarn-forward rule of origin that requires imported goods to contain US-made components. The agreement does not provide for any tariff preference levels (TPLs) like those in some free trade agreements that permit a limited amount of inputs from nonparticipating countries. The US textile industry has strongly opposed inclusion of TPLs in other free trade agreements.
US Trade Representative (USTR) Rob Portman said the agreement with Peru is "a key building block in our strategy to advance free trade within our hemisphere." Negotiations with Colombia and Ecuador will resume early this year; and Bolivia, which has been an observer, could become part of the agreement at a later stage.
Trade Officials Endorsed By Industry, Importers
President George W. Bush's appointment of two trade officials who will have a major impact on the textile industry has won the support of both the industry and importers. David Spooner, who had been serving as chief textile negotiator, has moved into the Commerce Department as assistant secretary for import administration, and will have responsibility for the implementation of textile agreements. Scott Quesenberry, who had been Sen. Elizabeth Dole's chief counsel and policy director, has replaced Spooner as chief textile negotiator.
In announcing Quesenberry's appointment, Portman said, "The US textile industry has gone through a lot of changes over the past decade, as Scott has seen firsthand working
for Sen. Dole, and he will play a key role in helping the USTR and the industry face future challenges and in exploring new markets overseas."
James W. Chesnutt, CEO, National Spinning Co. Inc., New York City; and chairman, National Council of Textile Organizations, Washington; was quick to endorse both appointments, citing a number of critical issues facing the textile industry and the experience Spooner and Quesenberry have in dealing with them.
Both appointments also received a strong endorsement from Kevin Burke, president and CEO of the Arlington, Va.-based American Apparel & Footwear Association. Burke said Spooner has done " an outstanding job" as textile negotiator and cited Quesenberry's experience as something beneficial to both importers and textile manufacturers.
Subsidies Attacked
Cass Johnson, president, NCTO, blasted a Chinese government plan to grant the state-owned WorldBest textile company what he called a "$618 million bailout."
The Chinese government announced the payment as part of China's effort to shift state-owned capital to pivotal sectors. Johnson charged the deal is in violation of China's commitments to the World Trade Organization (WTO). He said the action is "the most blatant example of the Chinese government's wholesale disregard of free-market principles and its WTO commitments."
And he did not stop there. He charged that textile manufacturers throughout the world must compete with "China Inc.," which he described as a "unique marriage of Chinese government resources and private industry that defies all standards of fair play or free market principles." He reiterated the textile industry's opposition to what many US manufacturers believe is China's currency manipulation and other forms of government subsidies.
AMTAC's Tantillo, who represents a broad range of manufacturers in addition to textiles and apparel, said, "There is no way US manufacturers can compete in the face of China's currency manipulation."
In addition to all of this, US textile manufacturers have their hands full with the proposed tariff reductions that will be a key element in the Doha Round of trade liberalization negotiations.
They will strongly oppose any textile or apparel tariff cuts until there is concrete evidence that other countries are going to open their markets to US goods and eliminate their export subsidies.
January/February 2006
Advertisement