DSM Adds Dyneema® Production Capacity
DSM, The Netherlands, has begun construction on a new Dyneema® high-performance polyethylene fiber production line at its Greenville, N.C., plant. The new line, which will cost tens of millions of dollars, is expected to be fully functional by mid-2007.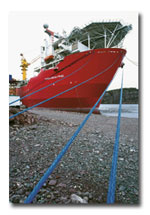 DSM is adding another production line at its Greenville, N.C., plant for Dyneema® fiber, which may be used in mooring ropes for large vessels.

The plant's expansion to four lines is the third such recent increase, bringing DSM's total fiber lines to nine. Strong demand coupled with a focus on supplying the US Army and law enforcement agencies led to the decision, according to DSM.

"This additional investment fully supports our growth and innovation strategy while contributing to improving the balance between our sales by origin and by destination," said Jan Zuidam, deputy chairman, DSM Managing Board.
January/February 2006
Advertisement