January/February 2006:
Textile World 's 2006 International Buyers' Guide is your key to business opportunities in the global textile marketplace.
-buy now-

March/April 2006:
Shipping and logistics are increasingly important to the success of textile operations in today's global economy.
-buy now-

May/June 2006:
Supporters of the Central America-Dominican Republic free trade agreement hope the pact will bring increased trade and regional stability within the Americas.
-buy now-

July/August 2006:
Jeff Lorberbaum, chairman and CEO of Mohawk Industries Inc., recipient of the Textile World 2006 Innovation Award
-buy now-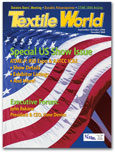 September/October 2006:
This issue of Textile World includes previews of ATME-I®, IFAI Expo and AATCC's IC&E, to be held Oct. 31-Nov. 3, 2006, at the Georgia World Congress Center, Atlanta.
-buy now-

November/December 2006:
Shipping and logistics providers help streamline the supply chain for textile and apparel manufacturers.
-buy now-