Orca Delivers Laser Cutting System To LAB
Orca Photonic Systems Inc., Redmond, Wash., has delivered a CF1250-100 Conveyor Feed Laser Cutting System to the Louisiana Association for the Blind (LAB). The system, the second of its type to be installed by LAB, will increase the association's manufacturing capacity for its Traction Systems product line including anti-slip tread materials and safety matting used in various aircraft and marine applications.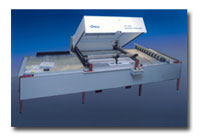 The CFI250-100 system offers 100-Watt carbon dioxide laser-cutting capability, a large cutting area and automated roll-fed material handling.
September 2005
Advertisement