ShanghaiTex Continued Growth
The global exhibition drew strong support from visitors and exhibitors.
James M. Borneman, Editor In Chief
H
eld against a backdrop of contention between the United States and China regarding increased imports in a quota-free trade environment, the most recent edition of ShanghaiTex - the International Exhibition on Textile Industry - showcased the latest textile technology in its largest presentation since its debut in 1984.
From the first edition, held in 11,500 square meters (m2) of exhibition space, the show grew this year to more than 100,000 m2 in seven halls and two temporary halls at the Shanghai New International Expo Center. Three halls were dedicated solely to Chinese textile machinery companies.
The show's record numbers were a reflection of the manufacturing boom China has experienced recently. Its total textile machinery import and export volume reached a reported $5.3 billion in 2004, with imports of $4.7 billion more than exceeding machinery exports of $676 million. Export growth, however - up 28 percent from the previous year, is a sign of increasing availability of Chinese technology in the global market.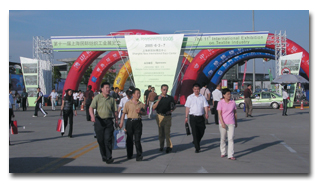 ShanghaiTex 2005 attracted more than 1,400 exhibitors, who offered attendees a full range of textile technology.
A Successful Start
More than 1,400 exhibitors from 23 countries provided a strong international presence and offered a full range of textile equipment, machinery and accessories.
Intellectual property protection, strengthening machinery capabilities and the low prices of Chinese equipment were on the minds of many exhibitors.
On the first day, the show attracted more than 35,000 visitors, with 7.5 percent coming from 39 countries and regions outside of China, according to organizers, which included the Shanghai International Exhibition Co. Ltd., Shanghai Textile Technology Service & Exhibition Centre, and Adsale Exhibition Services Ltd. Co-organizers included the Shanghai Textile Machinery & Accessories Association, with support from 13 textile industrial bureaus, general councils and local companies. Subsequent days yielded similar attendance results.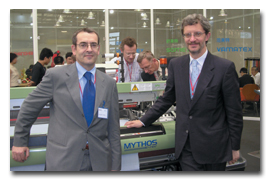 Riccardo Mautino (left ), marketing manager, and Fabio Mazzucchetti, sales and marketing director, Promatech S.p.A., show the Mythos E-Tec weaving machine.
Weaving Technology
The Picanol Group established its Chinese textile machinery manufacturing operation, Picanol Suzhou Textile Machinery Works (PST), in 1994 as the company's first production line outside of its headquarters in Belgium. The company launched Chinese production of the GTM-A and GTM-AS rapier weaving machines with only 50 mostly local workers and engineers.
At ShanghaiTex, Picanol introduced the third-generation GTXplus rapier weaving machine, built upon the design of previous GTM models. The Olympica, an air-jet weaving machine completely developed and produced at PST, also was shown. The newest-generation air-jet weaving machine, the OMNIplus 800 - introduced only recently in Europe - made its Asian debut at the show
(See " Picanol Introduces OMNIplus 800," July/August 2005)
.
Italy-based Promatech S.p.A. continued its focus on technology for the Chinese market and exhibited a renewed range of rapier and air-jet looms. According to the company, ShanghaiTex served as the site of the first official presentation of the new Mythos E-Tec air-jet loom.
"The new Mythos E-Tec is the further evolution of our air-jet technology," said Riccardo Mautino, marketing manager. "The new design reduces power consumption and running cost while it is a step forward in performance and improved running ease."
The machine features a new insertion system with highly efficient hooks and a new design of the main elements of the loom.
The new PGA insertion system shown applied to an Alpha rapier loom increases reliability. A Leonardo Silver weaving machine was exhibited in the Hi Drive version, whose main drive features a brushless motor.
The Sulzer Textil P7300HP from Sultex Ltd., Switzerland - displayed for the first time in China at the show - represents the latest generation of the company's projectile weaving machines. The P7300HP features a performance increase of up to 20 percent over that of previous models and, thanks to optimized motion sequences and direct projectile acceleration, the weft acceleration speed can be kept at the same low levels, resulting in a minimum number of weft stops. Because of its open, modular design concept, the machine can fulfill a broad range of requirements, and has many expansion options to meet the changing needs of tomorrow's markets, according to Sultex.
A dense belt fabric woven on the P7300HP at the show was made of 1,100-decitex (dtex) polyester in the warp direction with a four-fold weft insertion of four times a 500-dtex polypropylene monofil in the weft direction to show the possibilities of this new development.
Sultex also presented the Sulzer Textil G6500 rapier weaving machine at the show, less than one year after its debut. A demanding, high-value cashmere fabric style was woven during the show to demonstrate the gentle warp handling and the high level of fabric quality available from this machine.
Belgium-based NV Michel Van de Wiele representatives indicated positive results at ShanghaiTex. The company presented its technology at four booths.
"Political uncertainty [related to trade issues] is high on the minds of the customers," said Charles Beauduin, CEO. "This effects knits." The company featured the EFS 900 feeder for hosiery.
The show also marked the Asian debut of the Shaggy Rug Explorer SRX82. Van de Wiele reports this new machine can create woven rugs with a pile height of up to 50 millimeters or 2 inches. Eight color frames can be woven.
"Floor covering is stable - linked to construction and still booming. China is still a net importer of carpet," Beauduin added. "So the customers are interested for the local market, which continues to grow."
SMIT S.p.A., located in the Italian pavilion, presented the JS900 air-jet weaving machine, developed using the technology of the previous T4300, Terry Jet and Fast Jet models. The GS900 flexible rapier also was presented as a common platform development. The common platform is shared as well by the G6300F for terry fabrics.
Area Sales Manager Francesco Cecchinato said interest this year from Chinese manufacturers stems from the apparel, home textile and terry markets. "Next year's forecast," Cecchinato said, "will be similar to this year's - not as strong as two years ago, but the market presents many projects. The US dollar improvement [strengthening] has helped [machinery] exports. We have seen a 7- to 8-percent improvement.
"The GS900 has improvements, as does the JS900, and will continue to develop," he added.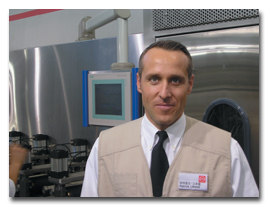 Patrick Lämmli, executive vice president, marketing and sales, Jakob Müller AG, Frick, presented Müller's full supply program.
Franz Miesbauer, a representative of Dornier Machinery (Shanghai) Co. Ltd. - a business unit of Germany-based Lindauer Dornier GmbH - was present with rapier weaving machinery running with up to 16 filling colors. He stated that despite the feeling of fewer visitors, the quality of the show was still very good.
"Investment is conservative with the uncertainty of trade now," Miesbauer said. "China has very big hopes for its textile industry. Its markets are expanding. We are finding interest in our 16-color machine, which appeals to the changing market."
Switzerland-based Stäubli AG announced and celebrated the delivery of the 200th automatic DELTA 100/110 drawing-in system and the 20th OPAL multilayer leasing machine. The Delta 100/110 displayed at the exhibition has been installed at the Tianjin Textile Group, a China-based manufacturer of shirting fabrics. According to Stäubli, Tianjin has a wide range of fabric patterns and will certainly benefit from the high drawing-in capacity of the Delta 110 because of the need to draw-in new styles frequently. The machine will be Tianjin's second Delta, and Stäubli is convinced this one will serve as well as the first one.
Tianjin also has become the owner of the Opal, a machine Stäubli launched at ITMA 2003. Deliveries began in 2004.
Jakob Müller AG, Frick, Switzerland, presented technology for the manufacture of woven and knitted tapes and webbing used for woven labels and technical textiles, and for machines for the ready-made clothing and making-up industry. According to the company, this is the first ShanghaiTex at which the company presented its entire range of dyeing and finishing machines, including Switzerland-based SB-Breitenbach Maschinen AG's production line, which was integrated into Müller's range. The Müller supply program now covers all the needs of the tape and narrow fabrics industry, from individual yarn to the finished made-up product.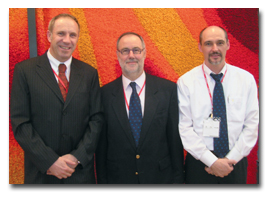 Left to right: Philippe Van de Velde, director of sales, NV Bonas Textile Machinery; Eric Himpe, sales manager, and Danny Bourgois, sales coordinator, NV Michel Van de Wiele
Spinning Technology
Rieter Textile Systems, Switzerland, announced it anticipates the growing importance of the Chinese textile industry. To better meet the needs of its Chinese customers, it has enhanced its local presence by setting up a Business Group China. The new group is led by Sigi Föhn, former head of the company's blowroom and carding operation.
Having supplied machines to China for more than 70 years, Rieter currently employs more than 300 people in sales, after-sales service, commissioning, production, financing and technology support in China. Business Group China is headquartered in Shanghai. Rieter has additional offices in Beijing, Hong Kong, Jinan, Urumqi and Wuhan. The company also operates a production plant in Changzhou and a service center including a spare parts warehouse, as well as a SpinCenter, in Shanghai. All Chinese organizations within Rieter Textile Systems report directly to Föhn.
Uster Technologies AG, Switzerland, while offering a full range of testing, classification and quality control systems, used ShanghaiTex as a platform to make a special presentation of USTERIZED® certifications. According to the company, textiles tested, cleared or inspected using USTER® equipment are more valuable and can achieve a higher market price. The first certifications in China were given during the show to Esquel Textile Co. Ltd.
(See " Spinning News," July 2005.)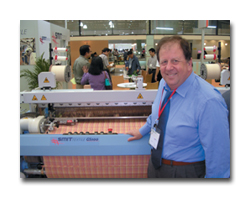 Francesco Cecchinato, area sales manager, SMIT S.p.A., presented the GS900 flexible rapier weaving machine.
Fulvio Galetto, area sales manager of Italy-based ITEMA Spinning's Savio brand, said Savio has been established in China for 30 years, with the first machine installed in 1971.
"As we have seen the movement [in China] from state to privately owned companies, we have seen the interest in exports. Savio machines offer a big jump in quality with a small investment. As labor demand continues to increase, the labor savings of the machine are a help. We have the Gemini S 224B Duo-Pot here as an example - this machine both helps quality and reduces labor. It also adds flexibility to the production." He added the first FlexiRotorS 3000 has been installed in China and is up and running.
Italy-based Loptex S.r.l.'s general manager, Massimo Soffritti, was on hand to explain the Optosonic Sorter, which features both optical and sonic sorting capabilities.
The company specializes in systems that detect and remove contamination in the opening process at spinning mills. Soffritti said the price sensitivity of the Chinese market creates challenges; however, the export-oriented private companies that require quality product offer the best opportunity for this level of technology.
"We have several machines in China through customers in Korea," Soffritti said. "We've come to strengthen our position as the market changes."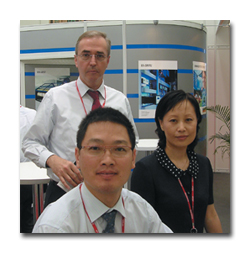 Kurt Honegger (upper left), CEO, Textile Finishing; Zang Jianqing (center) and Lily Zhou (right), sales managers, Benninger Co. Ltd.
Germany-based Trützschler GmbH & Co. KG and its subsidiaries Truetzschler Textile Machinery (Shanghai) Co. Ltd. and Trützschler Card Clothing - which offers complete clothing service for all cards, roller cards and aerodynamic fleece folding machines - presented information on its newest machines for the opening and cleaning of cotton and man-made fibers. On display were the TC 03 card, DK 800 card - introduced at ShanghaiTex and produced by Trützschler's Shanghai subsidiary - and the TD 03 draw frame.
According to the company, more than 1,500 units of the TC 03 have been sold worldwide since its introduction in 2003.
India-based Premier Evolvics Pvt. Ltd. introduced Xeni, which uses both optical sensors and a camera to detect white plastics and all types of colored contaminants including jute, hair, paper, polypropylene, feathers, leaves, and colored threads, among other items. The Xeni was displayed in the Cross Roll Blow Room line.
Premier also displayed new concept solutions in yarn and fiber testing, and the Milli and texpert mill management solutions.
The Switzerland-based Saurer group, which seems to expand each day, was on full display at ShanghaiTex. Saurer's Schlafhorst subsidiary premiered a new three-track rotor-spinning concept.
For manual spinning, Schlafhorst displayed a new time-saving, user-friendly machine controlled by innovative frequency inverters. The new spinbox is optimally tuned for processing all customary staple fibers and also is optimally equipped for processing low-priced secondary fibers. According to the company, an innovative piecing technique, based on semiautomatic rotor-spinning technology, increases the productivity.
For the fully automatic Autocoro product line, Schlafhorst emphasized textile consulting and opening the world market to Autocoro spinning plants. In the Belcoro Boutique, numerous textiles demonstrated the wide range of possibilities offered by Autocoro machines of all generations. The BD 330, the first semiautomatic rotor-spinning machine equipped with digital sensor technology for yarn monitoring, also was displayed.
Neumag presented new developments for carpet yarn, man-made staple and nonwovens production, including the new bulk continuous filament S3 and S5 plants for the production of carpet yarn. Both plants, according to the company, are based on a modular construction kit that enables optimal configuration that meets all of a customer's special requirements. These modules may be combined when purchasing the plant, or added later during an upgrade.
Saurer's Barmag subsidiary provided information on plant design. It has developed an emphasis on being a total solutions provider for the industry.
According to the company, last year alone, in cooperation with recognized partner companies, it carried out two tire cord plant design projects. The entire process chain, from chip preparation to spinning plant through to cabling, has been installed at the customer sites. For man-made fiber manufacturers, low energy costs coupled with the highest levels of productivity and flexibility are of crucial importance in view of globally rising raw material and energy costs and extreme price pressures.
Luca Bardone, sales representative, Cimi S.p.A., Italy, said the show was an opportunity for the company to introduce the new Lavanova system. "This gives us the opportunity to enter the cotton and synthetic markets," he said. "Wool has been the primary business. We anticipate stronger investments in the second half of the year. We have seen local customers, as well as from the north [of China], India and Pakistan - the show seems more international than before."
Benninger Co. Ltd., Switzerland, not only presented its products at the show, but also offered two technical seminars for finishing and weaving preparation.
Kurt Honegger, CEO, Textile Finishing, noted there are trends toward consolidation in the higher-level Chinese companies and a demand for quality standards.
"In fact," said Honegger, "we expect expanding volumes in the future, as well as a shakeout of manufacturers and machinery manufacturers based on quality."
In an effort to keep pace with the increasing importance of Asian markets, Benninger is increasing its local team to meet market requirements.
"Without quality you are lost - quality, reproducibility, reliability all in a safe system are what we are here to represent," he added.
---
THEN Lets The Air Flow
In a special presentation by Hong Kong-based Fong's Industries Co. Ltd. to the press assembled at ShanghaiTex, the company's "Let the Air Flow" theme was illustrated with a special video featuring Wilhelm Christ, Ph.D. - inventor of the Airflow and a research associate at Fong's Germany-based THEN Maschinen GmbH subsidiary.
In the 1970s, Christ, as head of the Then research department, questioned how the enormous water and energy demand in fabric dyeing could be lowered.
"The traditional machinery at the time used the water to carry dyes and to also drive the fabric," Christ said, "thus, the water consumption was very high. In 1979, we started with the development of the Airflow technology together with the German company Hoechst AG. The starting point was then the Rapid Color process as the isotherm
dyeing method. This development step, which was mainly applied in yarn package dyeing, replaced the traditional dye liquor as transport medium. [Using this method,] the steam-heated dye liquor was injected into the air-jet nozzle.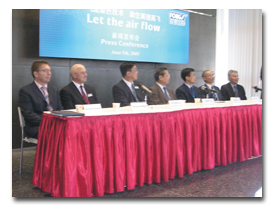 Fong's Industries Co. Ltd. executives present "THEN — Let the Air Flow."
"The next step was to efficiently distribute the small amounts of dye liquor and auxiliaries onto the fabric. This could only be done through an aerosol. The aerosol substituted the liquor used for hydraulic fabric transport and led to completely changed relationship of mass."
According to the video, the development proceeded in giant steps, and the basic Airflow patent was registered in 1981. The inventors were Christ, Hans Ulrich von der Eltz, Ph.D., and Albert Reuther. In 1982, the European patent was registered, and the application of the process started in many countries worldwide.
"The first Airflow machine was shown at ITMA 1983 in Milan," Christ said. "[T]he first prototype machine of 10-kilo load size was installed at the application laboratory of Hoechst AG. Subsequently, Then successfully commercially introduced the technology. In 1991, the first Airflow machine in round vessel concept was exhibited at ITMA Hanover. This design formed the base for today's Model AFE."
According to the company, the Airflow AFS of 1991 and today's AFE model illustrate a "targeted optimization in the process technology leading to a reduction of chemical and water usage by 25 percent."
Main achievements of Airflow technology include:
• reduced process time;
• economical operation;
• increased safety in dyeing;
• gentle fabric treatment; and
• ecological sensitivity.
Today, Christ continues his work at Then, and, as the inventor of the aerodynamic dyeing technology, is passing his expertise and knowledge on to the next generation at the Fong's group.
"I am very pleased that the brand Then maintains its excellent reputation in the world," Christ said. "And, we have many more ideas!"
---
ITEMA's Global Focus
The Italy-based ITEMA Group continues to focus on serving the global textile marketplace. It has reorganized its various divisions with an aim of strengthening its worldwide leadership in the textile field.
The new corporate structure organizes the company into four distinct business areas according to market fields and specific commercial brands.
The brand structure for the company features Itema Spinning, which focuses on winding machines and the Savio brand.
Itema Weaving focuses on weaving machines and features four brands: Itema Shanghai; Somet; Sulzer Textil; and Vamatex.
Itema Accessories also focuses on four accessory brands: Actex; Cincla; Fimtextile; and Nuova Omv.
In addition, Itema Electronics features the Eutron and Eutron Infosecurity brands.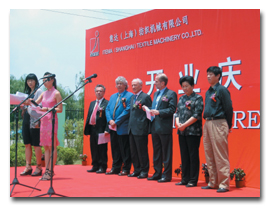 Itema (Shanghai) Textile Machinery Co. Ltd. inaugurates its new expanded facility.

Itema Group Holding continues its use of the following company names: Savio in winding machines; Promatech and Sultex in weaving machines; First in weaving accessories; and Eutron and Eutron Infosecurity in electronics.
The group features four companies - Itema America, Itema India, Itema (Shanghai) Textile Machinery Co. Ltd. and Itema Asia.
Established in 2004, Itema (Shanghai) was created as a production operation specifically for China. A new, expanded facility was inaugurated earlier this year in the Song Jiang Industrial Zone of Shanghai.
The plant currently produces weaving machines and accessories. An annual production capacity of more than 2,000 units utilizes 26,225 m2 of developed area with 6,000 m2 dedicated to production, and 2,400 m2 to offices and services. The site also features a research and development center. Itema (Shanghai) employs 130 people at the site, of which 120 are local employees.
Last year, the company produced more than 400 looms, and the 2005 budget target is 1,200 units. Growth in turnover from approximately 10 million euros in 2004 to 30 million euros in 2005 is expected.
"This country [China] has a good industrial environment," said Rino Morani, commercial director, Itema (Shanghai). "To look ahead, we have to consider what is next. In spite of the worldwide situation, Itema continues to be strong. To forecast is impossible - what we think will take 10 years can happen in five years."
The total turnover for the Itema Group in 2004 was about 645 million euros from operations that included eight industrial sites, seven research and development centers, a presence in more than 90 countries and approximately 2,890 employees.

September 2005
Advertisement