Emerging Trade Strategies
Robert S. Reichard, Economics Editor
S ummer's end is fast approaching — and still no precise answers as to how the China card will play out. There are now at least some broad indications of what may eventually transpire. There is likely to be some additional upward revaluation in the Chinese yuan over and above the small 2-percent move made in Jul This should make textile and apparel imports from that nation increasingly expensive and hence a bit less enticing. There also are bilateral talks with Beijing and other Bush administration initiatives, all aimed at seeking a broad agreement on limiting clothing shipments to the United States. The goal is a pact similar to the one China recently inked with the Europeans. But agreement on such a quota-type arrangement won't come easily. And it will take lots of time. Nevertheless, look for some combination of both the above import-limiting approaches as the two sides strive hard to avert a costly trade war that would have no winners.\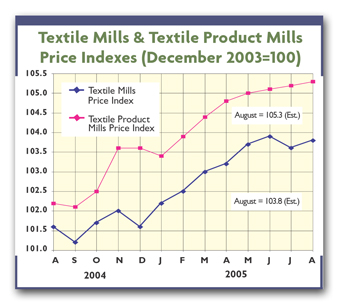 Pinpointing Further Revaluation
It's anybody's guess how much further the Chinese are willing to go in the way of further yuan appreciation. Most observers feel there will be continuing modest and gradual upward nudges, despite Beijing protestations that nothing more is being contemplated. Many US currency experts now predict anywhere from a 5- to 10-percent yuan appreciation within a year. While well under the 30-percent and higher demands being made by some US textile interests, a change of this magnitude should at least help slow down the flood of Chinese imports.
New Trade Talks
The current discussions between US and Chinese officials to conclude a broad trade agreement also will bear close watching. The overall goal is to obtain new safeguard quotas for products where imports have recently taken off. During the first five months of this year, for example, incoming shipments of Chinese socks, shirts and sweaters have soared 1,859, 1,100 and 898 percent, respectively. Equally worrisome are current projections calling for more than a 60-percent increase in overall US textile and apparel shipments from China this year — enough to bring the dollar total to near $24 billion. Obviously these huge gains can't continue. Some kind of new restrictions is the only viable answer.
2005 Import Projections
Add in incoming shipment increases from other countries, and another huge US textile and apparel trade deficit is unavoidable — with the overall US 2005 import gain forecast to be in the order of 10 to 12 percent on a square-meters-equivalent basis. Aside from China, hefty import increases also loom for Southeast Asian nations like Bangladesh, Sri Lanka and Cambodia, as importers shy away from putting all their textile eggs in the China basket. These and other nations also are benefiting by identifying and developing new niche markets, and investing in new equipment and procedures that reduce costs and improve quality, and help shorten critical lead times.
Domestic Impact
These trade developments haven't had any devastating effects on domestic mill activity. First-half 2005 textile numbers show domestic basic mill shipments down by less than 1 percent. When it comes to textile products, they're actually up by a few percentage points. These dollar figures reflect somewhat higher prices — so mill activity in real or quantity terms is probably down a bit. Nevertheless, these numbers are encouraging. There also are other signs of a still-viable industry. The latest survey from the Institute for Supply Management — a grassroots purchasing group — suggests textile orders and production are still in positive territory. Then there are industry profits — far from robust, but still remaining in the black, at least as far as the overall industry is concerned. Why this continuing relatively good news? Probably several factors are involved. These would have to include still rising mill productivity, relatively stable material and unit labor costs, continuing efforts to develop new niche markets and a savvy management that is gradually but surely adjusting to operating in the new one-world textile and apparel market.
September 2005




Related Files:
Download Current US Textile and Economic Indicators.
Advertisement