ATHF Inducts Three Industry Leaders In Class Of 2005
The American Textile Hall of Fame (ATHF) recently inducted its Class of 2005 during a ceremony held last month at the Lowell, Mass.-based American Textile History Museum (ATHM), which houses ATHF. The fifth class of inductees includes three textile industry leaders selected by ATHF's Board of Governors.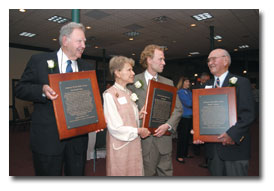 ATHF Class of 2005 awards were presented to (left to right): Cornelius "Buck" Vander Weele, former president and CEO, Saco-Lowell Shops; Adriana Scalamandré Bitter, co-chairman, and Robert F. Scalamandré Bitter, co-president, Scalamandré Silks; and Robert C. Jackson. Photographed by Frank Leone
Robert C. Jackson is past director, National Cotton Council, Washington office, and former executive vice president and CEO of the American Textile Manufacturers Institute, a Washington-based advocacy group that was a forerunner of the National Council of Textile Organizations.
The Saco-Lowell Shops was formed in 1912 from the Lowell Machine Shop, Lowell; the Pettee Machine Shop, Newton, Mass.; and the Biddeford, Maine-based Saco Water Power Co. Originally a leading textile machinery manufacturer, the company continues today as Saco-Lowell Parts LLC, Easley, S.C., to provide global service for its machinery.
Scalamandré Silks, Ronkonkoma, N.Y. — established in 1929 by Franco and Flora Scalamandré — became renowned for reproductions and original designs of fabrics and wallpaper for the White House and other public buildings, and private homes.
October 2005
Advertisement