New York Fabric Forecast
Fabric and surface design trade shows presented upcoming trends.
Virginia S. Borland, New York Correspondent
A
ttendance was up at the apparel fabric trade shows that took place recently in New York City. Exhibitors from across the globe previewed fabrics and surface design for the Fall/Winter 2006-07 seasons at European Preview New York, the Turkish Fashion Fabric Exhibition (TFFE), Innovation Asia, Printsource New York and Direction.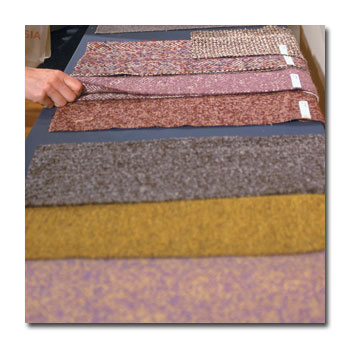 Fabrics at European Preview were dressier and more refined than last year.
European Preview
At European Preview, fashion houses were looking for that something extra.
"If a product is good and on time, it will sell," said Daniel Faure, chairman and CEO of the show. "People will pay extra for innovative design, high quality and service." He noted US designers are less price-conscious than they have been. They will buy fabrics that will differentiate them from the crowd, and European textile companies are offering up a lot of newness in styling and technology in order to stay ahead.
Judging by fabrics shown at European Preview, fashion is dressier and more refined than last year. Of special interest were masculine designs with a classic British look, updated with effect yarns and softened colors. Simple patterns and embellishments with a twist to give vintage a rich look and hidden performance additives also were prominent looks.
In the wool sector, trend directions point towards softness, elegance and subtlety.
Stripes are still selling at Germany-based Wilhelm Becker GmbH & Co. KG. A basic pinstripe is woven with a tonal space-dyed yarn for a subtle difference. Jacketweight fabrics in the classic British tradition are dressed up with effect yarns such as loops, space dyes or Lurex®.
Jules Tournier & Fils, France, showed misted tweed coatings woven with spots of Lurex, multicolored big box checks woven with thick space-dyed mohair yarns, piece-dyed plaids and big black-and-white patterns in wool/cotton blends.
Italy-based Guest S.p.A. - a division of Clerici Tessuto & C. S.p.A. - produces top-of-the-line silks. Its line is innovative and priced to attract a wider customer base. For Fall, in addition to silk, there is wool, viscose, acetate and Lenpur®.
"Business is difficult worldwide. We have invested in creativity and technology," said Cristina Curti, general manager. "So far, because our line is unique, it is selling well."
The Guest stand offered rich, Baroque-patterned taffetas, designed to be used for skirts, woven in a blend of wool/viscose/acetate.
The wool is used for wide decorative patterns. The firm also showed printed boiled wools that coordinate with wool/viscose mesh burn-outs, yarn-dyed wool tweeds touched with sparkle nylon and printed silk crepons.
Heavy winter cotton jacquards that are woven for garment-dyeing and look like upholstery fabrics were one of the highlights at Italy-based Gruppocinque. The range goes from fancy to casual. Most of the fabrics have clean surfaces; many have masculine designs. Man-made and metallic yarns and performance finishes are some of the company's new treatments.
Coordinating patterns at Reynaud Rexo, France, include small-scale foulard designs colored to go with large paisleys and small floral stripes. Lustered jacquards in turquoise and gold combinations were pointed out. Mechanical-stretch striped taffeta is designed to work with wool-blend jacquards. There are color-flecked herringbones to pair with small jacquards.
Cadena, Spain, showed a luxurious line of printed silk satins, crepons, georgettes and velvets. Florals in subdued, bright and earth tones have a rich look. There are oriental flowers embroidered on silk taffeta, lustrous shantung and patchwork jacquards. Turquoise and brown color combinations also are of interest.
In the printed fabrics sector, the ranges go from rich and romantic to Bohemian folkloric.
"Prints are not so hard-edged - they are more refined," said Danna Polikoff, vice president, Weave One Knit Two Inc., agent for Spain-based Pasarela Textil. The firm showed Renaissance-look cotton velvets and cords printed in intense dark colors. Paisleys and blurred flowers that look as if they are warp-printed, and oversized geometric patchworks also were pointed out.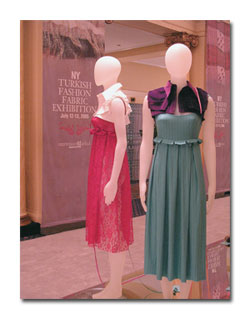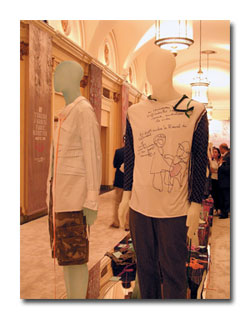 A display of apparel by winners of a design contest that took place recently in Istanbul greeted visitors to the Turkish Fashion Fabric Exhibition (TFFE). All of the fabrics used came from TFFE exhibitors.
TFFE
Fifty-one exhibitors participated in the eighth edition of TFFE. It is sponsored by the Istanbul Textile and Apparel Exporters' Associations (ITKIB), which reported that in the first quarter of 2005, worldwide textile exports from Turkey increased by 12.8 percent. Quality and service are two factors that attract buyers to Turkish fabrics, which are priced higher than Asian and lower than European fabrics.
"I'm known as the pant queen," said BTD representative Francesca DeVito, who showed a group of wool/Lycra® twills, herringbones, pinstripes and square weaves. Other pantweight fabrics were shown woven in polyester/viscose blends, some with 5-percent Lycra. Brushed flannel was a best seller at the show. DeVito said she is doing a lot of repeat business. "We have quick turnover," she said, "and will dye to order."
"Today, denim is the new little black dress," said Tom Ahmann, marketing services representative for Bossa Denim.
"Men generally don't buy stretch, but when they try it, they love it," Ahmann said. Most of the company's denim is comfort stretch containing Wilmington, Del.-based INVISTA™ Inc.'s T-400™ fiber. "It has the look of a rigid fabric," he said. Denim is going darker, according to Ahmann, who also showed a blanket with more than a dozen new shades.
The Bossa formal and casualwear line also showed stretch. Most is monostretch and woven with spandex. A polyester/viscose/spandex check of 250 grams per square meter (g/m2), a cotton/wool novelty herringbone and a flannel-touch polyester were some of the fabrics pointed out. A satin stripe in a cotton/wool blend was shown woven with a frisé yarn.
Confetti Textile showed novelty, silky-touch fabrics. Crushed mattelassés, novelty stripes woven with space-dyed chenille yarns, puckered fabrics and slubbed stripes with eyelash fringe were pointed out. Most fabrics are blends of cotton with nylon or polyester; many contain spandex yarns.
Birlik Mensucat offered corduroy, velvet and sueded fabrics with a soft hand. The company received a positive reaction to thick and thin wales.
There were traditional wool flannels and twills with a menswear look at Altinyildiz. Some contain Lycra. Twills were shown in a range of classic colors, including 15 shades of gray. Herringbones and pinstripes also were on display.
Traditional wool and wool blends at Yunsa were shown with a novel twist. Soft gray flannel was woven with pink pinstripes. There also are suiting twills of 260 g/m2 woven in wool/cashmere and wool/Coolmax®/Lycra blends.
Innovation Asia
Sponsored by Austria-based Lenzing AG, Innovation Asia is a fabric showcase for 24 companies from China, India, Hong Kong, Japan, South Korea and Taiwan. Fabrics containing Tencel® and Modal® frequently were shown blended with cotton, linen, silk, wool or man-made fibers. Many of the vendors are vertical, having their own spinning, weaving and finishing facilities.
Chia Her Industrial Co. Ltd., Taiwan, sells fabrics for shirts, pants and jackets woven with high-twist yarns in blends of Tencel with wool, silk or cotton. Sueded finishes are a specialty. Other fabrics have crinkled surfaces or are touched with metallic.
Chonbang Co. Ltd., Korea, showed a variety of washed denims of 100-percent Tencel, and blends with cupro or linen. A Tencel/wool piqué had a soft, dry hand.
Nam Kwang Textile Co. Ltd., also based in Korea, presented Modal wool jersey and velvets knitted of Tencel A-100 and Modal/polyester.
Dong-Il Corp., Korea, exhibited light and silky Tencel/spandex yarns spun on CleanSil compact ring-spinning equipment. Burn-out ribs and small-patterned knits are going into lingerie and T-shirts.
Hong Kong-based Fountain Set (Holdings) Ltd. showed fabrics that repel oil and water, fabrics that help regulate body temperature, and antimicrobial and ultraviolet-protective fabrics. Some are woven with Tencel or Modal blended with organic cotton. Ombre shadings, tonal stripes, heathers, delicate discharge prints and ethnic paisleys were among the popular items at the show.
Samil Spinning Co. Ltd., Korea, was selling both yarns and fabrics at the event. Ecosil is its brand name for compact spun yarns. A display showing the difference between Ecosil and regular ring-spun yarns highlighted the cleaner appearance, and resistance to pilling and abrasion provided by Ecosil.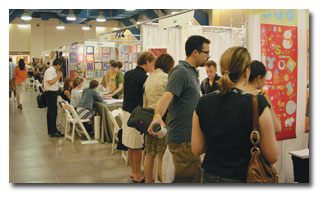 Visitors to Direction looked at prints, embellishment treatments and designs for knitwear.
Surface Design
Retailers, garment manufacturers, private-label developers and fabric companies converged on the Direction and Printsource New York surface design shows. Along with prints, exhibitors also showed embellishment treatments and designs for knitwear.
Predominant themes at both shows included Russian folkloric, Victorian and military.
Tom Cody Design, based in New York City with a branch office in London, exhibited at both shows. Animal skin patterns and denim treatments were best sellers at Direction. Russian ethnics were another look at the show. At Printsource, the company exhibited soft, feminine and elegant military looks such as khaki twills embellished with brass, braiding, gold and lace. Victorian romantic was yet another look.
At Marilyn Kern Textile Designs Inc., New York City, Russian folkloric was a mix of roses with paisleys, some over-embellished with lace and beads. Skin prints also were pointed out, as well as flocking and burn-out techniques.
Ballet Russe was a theme at London-based Circle Line. Persian and Arabian night themes also were present. Overprinted jacquards; shine; jewel-like images; and large, irregular patchworks were darkly colored and ornate.
Folkloric embroidered roses on black grounds shown by London-based Whiston & Wright had a Hungarian look. Small Victorian florals were another theme.
Owens and Kim, also based in London, showed Russian folkloric and Victorian themes that included burned-out chiffons with velvet flowers and overprinted leaves.
Victorian Gothic turned up at Westcott Design Ltd., England, with ornate paisleys embellished with ruffles, beads, embroidery and sparkle. Knit designs featured decorated Fair Isle patterns.
Bohemian designs shown at Baxter Fawcett Design Studio, London, included roses and paisleys on sheer fabrics. Black-on-black designs were shown burned out, embroidered and beaded; they had a lot of contrast and dimension.
Two trends at The Style Council, which has offices in London and New York, are Russian folkloric and military. Appliqués, thick wool embroidery, engineered patterns and borders were some of the ideas shown. Feminine military combines braid, bars and stars with flowers, embroidery and sparkle, all shown on olive drab.
Paisleys, retro florals and Russian bohemian also were on display at New York City-based Splash Ltd.'s booth.
Italy-based Faro Disegni presented groups of classic, softly colored print designs. Flower prints were covered, with little ground showing. The firm showed patchwork designs with metallic outlines, and folkloric flowers in monotone colors.
London-based Zinc Design Ltd. exhibited prints and knits that sometimes overlap. Russian peasant-inspired floral patterns were shown on black and dark grounds. South American ethnics were colorful. Knit designs were thick with heavy cables, fringed tweeds and crochet blanket patterns. An additional look was light, fine-gauge open patterns with lace inserts.
October 2005
Advertisement