The Best Of Both Worlds
IKME 2005 will enlarge its focus to include both knitting and finishing.
TW Special Report
M
ilan, Italy's couture capital and center of industry, will provide a fashionable setting for the second edition of the International Exhibition of Finishing and Knitting Machinery (IKME 2005), to be held at Fiera Milano from 9:30 a.m. to 6:00 p.m. on Friday, November 18, through Tuesday, November 22.
IKME premiered in 2003 as an event that offered European textile companies, primarily those in Italy, an outlet to display their developments and technologies to the international market. Show organizers stress that while Italy may sometimes be eclipsed by Asia on the world textile scene, it still has a powerful impact, meeting 48 percent of world demand for textile products and 75 percent of European needs, as well as making up 30 percent of European textile and clothing production.
The 2005 edition marks the start of the quadrennial schedule of the exhibition, which will take place between International Exhibition of Textile Machinery (ITMA) shows. It also marks the first time the finishing sector - encompassing pretreatment, dyeing, printing and finishing - will be offered in addition to knitting technology - covering flat-bed, circular, chain and crochet machinery developments. Exhibitors also will include manufacturers of auxiliary equipment serving these sectors.
Finishing was added in an effort to meet the needs of manufacturers who want more frequent contact with customers and potential customers than was offered by ITMA's quadrennial schedule.
Organized by Milan-based Fiera Milano International (FMI) S.p.A., the exhibition is promoted by the Association of Italian Textile Machinery Manufacturers (ACIMIT); and recently gained the support of the European Committee of Textile Machinery Manufacturers (CEMATEX) and its supporting textile associations in Germany, Spain and Switzerland.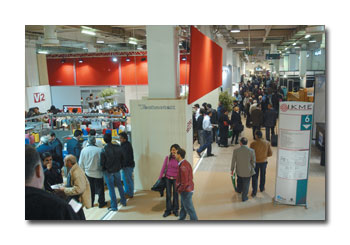 IKME once again will be held in Milan at Fiera Milano.
Exhibitors Continue To Register
After a somewhat slow start to exhibition registration, nearly 180 companies have signed on to exhibit as of Textile World's press time. Italian exhibitors will have the greatest presence, while companies from Turkey, Germany, Japan, Taiwan, Switzerland, Brazil, France, Spain, India, Poland and the United Kingdom will lend an international flavor.
"It looks as though the decision-making cycle of companies that take part in trade fairs has changed," said Dott. Federico Pellegata, director, ACIMIT. "Before, when the markets were more stable, it was in companies' interests to book their places months in advance. Now, because of the turbulence of the international economy, particularly in our industry, companies are making last-minute decisions."
IKME exhibitors will take up the whole of Hall 11 at Fiera Milano, and organizers plan to make space available in Hall 10 as more companies register. Visitors will enter these halls through the Porta Metropolitana entrance.
"We are prepared to change the layout of the exhibition area in order to provide space for companies wanting to take part," said Costantino Cutroneo, exhibition director. "We will certainly make every effort to make sure last-minute participants do not miss out on this great opportunity to take part in the largest textile machinery exhibition in Europe in 2005."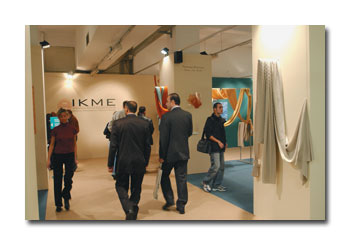 The Excellence area will highlight new products and treatments for traditional fabrics.
Promoting Year-Round
Both FMI and ACIMIT have been involved in a heavy round of promotions since the spring of last year in an effort to bring visitors to IKME.
One result of this promotional activity has been the cooperation between ACIMIT and the Italian Trade Commission. In an effort to promote the Italian textile industry, both organizations have combined forces to help bring delegations of textile companies from South America, Turkey, the Middle East, North Africa and Eastern Europe to the show.
"Our commitment is now to bring a high number of quality visitors to Milan," said Paolo Mastromo, IKME's communications director. "The exhibition will feature some important initiatives, starting with the Excellence area, which features highly innovative products and ideas from around 20 percent of our exhibitors. There is a wide program of conferences, some of which have been organized with leading trade magazines. We have also prepared travel packages at discounted rates and agreements with hotels, and we are working with exhibitors to bring major clients to Milan."
IKME Conferences
Two conferences will be offered at IKME. The first, "The Role of Product and Process Innovation and the Relaunch of Textiles and Fashion," will take place Saturday, November 19, and is sponsored by the Italian Textiles Association and the Italian Textiles and Colour Chemicals Association. Domestic and international experts will discuss topics relating to the Best Available Technologies, which enable companies to save energy and protect the environment. Topics of discussion also will include innovative production processes that utilize nanotechnologies.
The second conference, to be held Monday, November 21, is entitled "The New Frontiers in Textiles: Scenarios, Innovations and Products. Technology, Functionality and the Supply Chain in Textile Surface Finishing and Non-traditional Applications for Knitted Fabrics." Organized by TexClubTec, Milan, it will focus on current development opportunities offered by nontraditional uses of innovative textiles.
On the afternoon of Sunday, November 20, a series of short talks on technical, economic and market topics organized by trade magazines in Italy and abroad will be held in a special conference area in Hall 11.
Promoting Excellence
Introduced at IKME 2003, the Excellence area - an entry portal to the exhibition itself that serves to promote the synergy between machinery manufacturers and users - will highlight new products and treatments for traditional fabrics, as well as the extension of everyday applications to new sectors.
More than 30 companies will be represented in the 600 square meters of the Excellence area. These companies will promote new ideas for home furnishings, apparel and nontraditional applications.
"IKME Finishing & Knitting mainly targets clients in Europe and the Mediterranean basin, who nowadays have to face a difficult market to which they should be able to present ever more interesting and complex products," said Biella Intraprendere representative Maurizio Poma, who will help to coordinate the Excellence area. "This is the basis for the concept embodied by Excellence, which exhibitors will use initially to stimulate interest in visiting the event and then to make visitors want to spend time at the individual stands."
Milano Magnifico
Visitors to this stylishly busy city will find many sights with which to occupy their time outside of the exhibition and its related activities.
Those who desire to see Milan in its entirety may want to take advantage of the rooftop view from the late-Gothic Duomo, the world's fourth-largest church.
The Basilica di Sant'Ambrogio - named for Ambrose, patron saint of Milan and namesake of many Milanese sights - was founded in the 4th century by the saint, who is buried here. The basilica has gone through multiple restorations, resulting in a varied mix of architectural styles.
The Museo Teatrale alla Scala, located within the Palazzo Busca, offers lovers of theater a tour of the Teatro alla Scala's past. The museum houses collections of antique musical instruments, theatrical costumes, curtain designs, gramophones and other memorabilia.
The Pinacoteca Ambrosiana art gallery has on display Caravaggio's still life titled "Fruit Basket," as well as Renaissance works by Tiepolo, Titian and Raphael. Admirers of Leonardo da Vinci's work will want to stop in to view his "Musician."
Art lovers may also enjoy the Castello Sforzesco, which houses paintings by Bellini, Correggio, Mantegna, Tiepolo, Titian and Van Dyck; as well as Egyptian artifacts.
October 2005
Advertisement