Making The Grass Greener
Van de Wiele's SRX82 provides solution to demand for artifical grass.
TW Special Report
A
rtificial turf was first used for field hockey at the 1976 Olympic Games in Montreal. Today, more and more matches are played on man-made surfaces using sand and/or rubber infill; and, as the International Federation of Football Associations (FIFA) and the Union of European Football Associations (UEFA) begin to allow certain international matches on approved artificial grass, woven turf will become more in demand.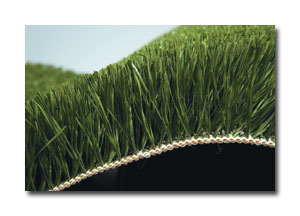 The SRX82 Shaggy Rug eXplorer from NV Michel Van de Wiele may be used to weave high-pile artificial turf.
These next-generation surfaces are often virtually indistinguishable from natural grass when viewed from a distance. With FIFA and UEFA approval for two standards, in climates and stadiums where the maintenance and growth of natural grass is difficult, the use of artificial turf is expected to increase significantly. Artificial grass also will make it possible in multipurpose stadiums to hold daily events on the turf without problems.
Belgium-based NV Michel Van de Wiele's SRX82 Shaggy Rug eXplorer, which is capable of making shag rugs for normal carpet applications, also is suitable for producing these artificial turfs in high pile. The SRX82 has a high production capacity of more than 40,000 meters (m), or 430,556 square feet, per month.
Compared to artificial turf made using traditional tuft techniques, the weave structure and water-permeable ground structure of woven man-made grass enables a stronger pile fixation.
The SRX82 features a pile width of up to 4.2 m and is capable of weaving in double face with spoon lancets of up to 100 millimeters (mm) for 50 mm or 2 inches of pile height on each carpet. Specially adapted polypropylene and polyamide yarns may be used, and white line markings may be woven directly into the artificial turf.
October 2005
Advertisement