ITEMA Looks Ahead
New corporate structure allows business areas to focus on serving specific markets in the textile industry.
Jim Borneman, Editor In Chief
I
n an era marked by the consolidation of the textile industry, few companies compare to the Italy-based ITEMA Group when it comes to gathering well-known textile technology brands under one roof.
Itema continues to focus on serving the global textile marketplace and has reorganized its various divisions with an aim to strengthen its worldwide leadership in the textile field.
The new corporate structure organizes the company into four distinct business areas according to market fields and specific commercial brands. The brand structure for the company features:
• Itema Spinning - focused on winding and open-end machines, and the Savio brand;
• Itema Weaving - focused on weaving machines featuring the Somet, Sulzer Textil, Vamatex and Itema Shanghai brands;
• Itema Accessories - focused on the Actex, Cincla, Fimtextile and Nuova Omv accessory brands; and
• Itema Electronics - focused on the Eutron and Eutron Infosecurity brands.

Sulzer Textil's G6500 rapier weaving machine
ITEMA America
Spartanburg-based Itema America, which recently hosted its grand opening and celebrated the integration of Itema America and the new corporate structure, strives to present the company's broad selection of brands to the US market.
"Let's face it, our industry is constantly changing; the creation of Itema America couples the strength of our brands with the talents of our employees to present a focused team committed to this market," said Scott Malcolm, president, Itema America. "Whatever market our weaving customer pursues, the solution lies in one of our rapier, projectile or air-jet weaving machines. Equally suited and not to be outdone on the spinning side, the new Savio FRS 3000 open-end machine stands ready to address the customer's need for versatility."
"Looking past the integration and our machine portfolio, what ultimately makes Itema America unique is our after-sales support services, which include a fully staffed technical service department and electronic and mechanical repair shops," Malcolm added.
The company also operates a reconditioned machinery service that focuses on purchasing and refurbishing used equipment.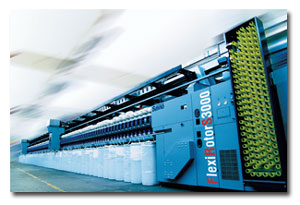 Itema's Savio line includes the FlexiRotorS 3000 rotor-spinning frame.
Weaving Portfolio
Itema offers a broad range of weaving solutions. Following is a list of several machines that have garnered recent attention:
• Somet Alpha rapier machine;
• Somet Mythos Tec air-jet weaving machine;
• Sulzer Textil G6500 rapier weaving machine;
• Sulzer Textil L5500 air-jet weaving machine;
• Sulzer Textil L9400 air-jet power leno weaving machine;
• Sulzer Textil P7300HP projectile weaving machine;
• Vamatex DynaTerry rapier terry cloth/towel weaving machine; and the
• Vamatex Leonardo Silver rapier weaving machine.
Savio Machine Portfolio
Itema's Savio brand continues to expand with these product lines:
• FlexiRotorS 3000 - a rotor-spinning frame with two independent fronts featuring automatic distribution of the empty tubes and an automatic system for end-piecing, package doffing and rotor cleaning;
• Geminis Twister - a two-for-one twister suitable for twisting cotton, wool, linen, silk and elasticized yarns;
• Orion E/I Winder - an automatic winder with automatic bobbin feeding and package doffing; the I model links directly to the spinning frame; and
• Volufil Bulking - an automatic winder for continuous shrinkage and bulking of acrylic yarn.
Positioned For The Future
"[T]he integration of Sulzer, Promatech and Savio is now complete. Our task now is to capture the value and synergies from our respected brands to provide the best solutions and support for our customers," Malcolm said. "I know these have been difficult times, but I'm optimistic, and the technology that is coming on-stream can provide an advantage with flexibility, quality and efficiency. It's good for the industry, and it is good for Itema."
As a result of the reorganization, Itema America's Board of Directors now includes: Danilo Arizzi, chairman; Walter Nadalin, president; Deborah Stevens, chief financial officer and treasurer; Scott Malcolm, vice president, operations; Fritz Legler, Sultex brand representative; Fabio Mazzucchetti, Promatech brand representative; and Paolo Puntoni, Savio brand representative.
The Itema America Executive Committee includes: Scott Malcolm, president and CEO; Deborah Stevens, chief financial officer; Ignaz Ackermann, vice president, technical services; and Gary Hunziker, vice president, new machinery sales.
October 200
5
Advertisement