October 2005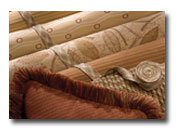 The Astrup Co. Cleveland, has introduced a line of companion trims for its High Point Collection™ of Sunbrella® decorative fabrics.
Designtex , New York City, has launched an on-line interactive Performance Calculator that is designed to help specifiers determine the most suitable textile types and finishes for specific application requirements. The calculator may be found at www.dtex.com under the Technical heading.

Beginning October 1, the Lenzing Group , Austria, is increasing the price of its fibers for nonwoven and textile applications by at least 5 percent, depending on fiber type.

As of October 1, Fairlawn, Ohio-based Omnova Solutions Inc. 's Specialty Chemicals and Textile Chemicals businesses have raised the price of styrene butadiene latex by 5 cents per dry pound; pure acrylic, styrene acrylic and vinyl acrylic polymers by 4 cents per wet pound; and vinyl acetate emulsion polymers by 3 cents per wet pound.

Certified public accountants and business strategists Rodman & Rodman P.C. , Newton, Mass., have established a Manufacturing Division to serve the specific tax needs of small to mid-sized manufacturers and producers in New England.

Effective October 1, The Dow Chemical Co. , Midland, Mich., has raised its list and off-list prices on a range of products in its oxygenated solvents portfolio.

Flowserve Corp. , Irving, Texas, has released the 9.3.0 version of its Performance!™ control valve sizing and selection software.

Effective September 26, Lake City, S.C.-based Nan Ya Plastics Corp. America has increased the price of its filament products by 6 percent.

Ithaca, N.Y.-based Emerson Power Transmission has published PN Gold 05, a new brochure highlighting the PN Gold bearing line of products.

Effective October 15, Dow Reichhold Specialty Latex LLC , Research Triangle Park, N.C., will increase by 7 to 10 percent the price of its specialty latex products, with the exception of nitrile latexes sold for dipping applications.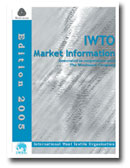 The International Wool Textile Organisation (IWTO) , Brussels, and Australian Wool Services — owner of The Woolmark Co. — have made available the 2005 edition of " IWTO Market Information." The annual publication analyzes textile market trends focusing on sectors such as apparel, interior textiles and technical textiles.
Monee, Ill.-based Bimba Manufacturing Co. has launched a Solutions Shop microsite at www.bimba.com/solutionshop. The new section of the company's website offers a search function by industry or type of application, downloadable pdfs of sample applications, and the ability to create requests for customer-specific solutions.

TRD Manufacturing , a subsidiary of Bimba Manufacturing Co., has relocated to: 10914 N. 2nd St., Machesney Park, Ill. 61115. The company's phone and fax numbers remain the same.

UE Systems Inc. , Elmsford, N.Y., has introduced the Ultraprobe® 10,000 ultrasonic inspection system to detect and record electrical hazards.

The Germany-based Hohensteiner Institute has redesigned its website, www.hohenstein.de. The site is available in German and English, with selected material also available in Turkish and Chinese. The institute also has launched Hohenstein Impulse on-line, an e-newsletter available in both German and English.

The National Council of Textile Organizations recently relocated to 910 17th St. NW, Suite 1020, Washington, D.C. 20006; (202) 822-8028; fax (202) 822-8029.

Germany-based Reifenhäuser GmbH & Co. KG Maschinenfabrik now offers special search functions and a product-oriented navigation system, among other features at its website, located at www.reifenhauser.com.

Effective October 1, St. Louis-based Solutia Inc. has increased the price of its nylon carpet fibers by 8 to 12 percent.
October 2005

Advertisement