ShanghaiTex Redux
China remains in the textile spotlight as ShanghaiTex returns in June.
TW Special Report
A
s a country that seems to be on the minds of everyone involved in the textile industry today, China continues to attract international attention following its accession to the World Trade Organization and subsequent increased access to foreign markets such as the United States and Europe.
Manufacturers will have the opportunity to eye the competition when China welcomes visitors and exhibitors next month to ShanghaiTex 2005 the 11th International Exhibition on Textile Industry. The event will be held from 9:30 a.m. until 5:30 p.m. on Friday, June 3, through Monday, June 6, and from 9:30 a.m. until 3:00 p.m. on Tuesday, June 7, at the Shanghai New International Expo Center (SNIEC) in Shanghai. The SNIEC is located in the Pudong New Area of Shanghai and is set against the backdrop of Century Park. Admission is free of charge to the trade.
The show, which has been held every two years since 1984, is organized by the Shanghai International Exhibition Co. Ltd., Shanghai Textile Technology Service and Exhibition Centre and Adsale Exhibition Services Ltd. It is co-organized by the Shanghai Textile Machinery and Accessories Association, with support from 13 textile industrial bureaus, general councils and local corporations. ShanghaiTex is sponsored by Shanghai Textile Holding (Group) Corp., Council for the Promotion of International Trade Shanghai and Chamber of International Commerce Shanghai.
Textiles and apparel are one of the top China export commodities, said Stanley Chu, chairman, Adsale Exhibition Services. Facing the surge that Chinese textiles and apparel will pose to the world market, [businesses find that] experience and technical exchange between domestic and foreign enterprises [are ways] to sharpen each others competitive edges.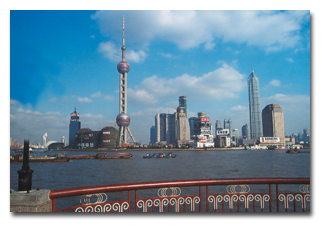 China remains in the textile spotlight as ShanghaiTex returns next month.

Scope Of Exhibit
ShanghaiTex 2005 will cover the entire textile industry. Exhibitors will have on display:fiber manufacturing machinery; nonwoven fabric machinery and tufting; weaving preparatory and weaving machinery; spinning machinery; yarn twisters, winders and related accessories; knitting machinery; bleaching, dyeing, printing, finishing and making-up machinery; apparel machinery and accessories; testing and measuring equipment; information technology systems; chemical products; and mill management instruments.
Organizers have divided ShanghaiTex exhibitors into themed zones that include: knitting and hosiery equipment; printing, dyeing and finishing equipment; textile chemicals; spinning machinery; and weaving machinery.
Overwhelming Exhibitor Response
Organizers expect 100,000 square meters of exhibition space will be used. The show is fully booked; seven halls and two temporary outdoor halls will be utilized. The response signals a keen demand [for] exhibition space, said Chu. Outdoor extension is definitely necessary, though we have already added two more exhibition halls.
International exhibitors will be housed in Halls 1, 2, 6 and 7, while domestic exhibitors will be housed in Halls 3, 4, 5, 8 and 9.
Ten national pavilions will present exhibitors from the United States, Italy, Germany, Spain, Korea, Taiwan, Switzerland, France, China and the United Kingdom. The US pavilion will be hosted by the Washington-based American Textile Machinery Association.
ACIMIT At ShanghaiTex
As part of its ongoing promotional program, the Milan-based Association of Italian Textile Machinery Manufacturers (ACIMIT), along with the Italian Trade Commission, will host Italy's pavilion at the show. More than 100 textile machinery manufacturers from Italy will exhibit.
China is a major market for Italy: it was the number-one customer for Italian textile machinery in 2004, making up 15 percent or 311 million euros worth of total Italian exports. Exports of spinning machinery (41 percent) were followed by exports of weaving machinery (26 percent) and knitting machinery (22 percent).
Visitor Participation
Organizers of ShanghaiTex expect to top the 120,000 visitors that attended the last edition of the show, held in 2003. Visitors to that show which included 35 international delegations came from 47 countries and regions. More than 50 countries are expected to be represented by visitors at this years ShanghaiTex. In an effort to facilitate visitors travels to Shanghai, organizers have appointed a network of travel agencies to assist those traveling from the United States, Hong Kong, Indonesia, India and Vietnam.
ShanghaiTex Events
Symposia and seminars will run concurrently with the exhibition. Topics will cover dyeing and finishing, technical textiles, textile chemicals, weaving and spinning.
Sights To See In Shanghai
Visitors to ShanghaiTex may find time to see some of the many scenic sights Shanghai has to offer. Among the local attractions is the former residence of Dr. Sun Yat-Sen, founding member of the first Nationalist-Communist coalition in history, which was a forerunner of China's democratic revolution.
With a height of 1,535 feet, the Oriental Pearl Television Tower is the tallest television tower in Asia. It offers an observation deck at 863 feet for panoramic views of the city.
The Bund, a longtime symbol of Shanghai, is a picturesque area located on the banks of the Huangpu River opposite the Oriental Pearl Television Tower.
The Yuyuan Garden is the most famous classical garden in Shanghai. Built in the Ming and Qing styles, it features 40 scenic areas.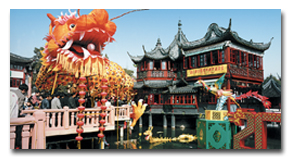 The Temple of the Jade Buddha, built in 1882, is considered a sanctuary of Zen Buddhism. Its name is derived from its jade statue of Sakyamuni from Myanmar.
The Nanpu and Yangpu bridges, 4.7 miles and 5.1 miles long, respectively, are among the longest bridges in the world.
Shopping, dining and other amusements may be found along the Nanjing Road, the busiest commercial center in Shanghai. More than 1 million people pass along the 3.1-mile-long stretch each day.
The Longhua Temple is more than 1,700 years old, and features the Song Dynasty's Jialan Zan Sect seven-hall design. It is the largest and oldest temple in the city. Visitors will find Buddhist scripture, gold seals and Buddhist statues of the Tang, Five, Ming and Qing Dynasties.
The classical Yuyuan Garden in Shanghai boasts 40 scenic spots.
May 2005
Advertisement