Sewn Products Affair
The Spring edition of Material World boasted record exhibitor participation as well as attendance gains.
Rachael S. Dunn, Editor
T
he seventh edition of Material World, along with Technology Solutions, showcased the products and capabilities of a record 435 exhibiting companies. Show organizer Atlanta-based Urban Expositions also reported a significant increase in attendance figures.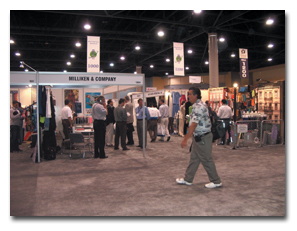 An official event of the American Apparel and Footwear Association (AAFA), Arlington, Va., Material World is the sewn product industry's global trend, fabric, trim and sourcing event. The show brings product innovations and introductions to the Miami Beach Convention Center in Miami Beach, Fla., from companies in North, Central and South America, as well as from companies in the Caribbean, Europe and other regions. Technology Solutions, partnering with Material World for its third edition this year, presented information technology solutions for the sewn products industry.
"The 2005 edition of Material World enjoyed a very strong double-digit percentage increase in attendance compared to the last edition that exclusively featured Material World and Technology Solutions," said Tim von Gal, executive vice president, Urban Expositions. "In addition, we received very positive feedback from our exhibitors regarding the quality of attendees and the solid business results the show generated."
Ron Comer, director of marketing, Latin America, Tuscarora Yarns Inc., Mount Pleasant, N.C., was glad to have participated in the show and thought overall it was a good experience. "We made a few new contacts and were able to meet face-to-face with some of our Latin American customers," Comer said.
"This exhibit provides an excellent opportunity to learn about the latest material technologies and offerings," said Brad Beal, senior vice president of manufacturing and sourcing at Kenosha, Wis.-based Jockey International Inc. "It's also an excellent opportunity to network with potential partners who can further enhance Jockeys quality consumer products."
A new feature at this year's exhibition was the ASAP Global Pavilion, organized through a marketing alliance between Urban Expositions and the ASAP Global Sourcing Show, a division of El Monte, Calif.-based Cyber Merchandise Exchange. Within the Global Pavilion, exhibiting companies formed their own company pavilions, which organizers say facilitated the networking opportunities between North American companies and representatives from textile and accessory manufacturing organizations in China, India, Pakistan, Korea, Japan and Hong Kong, among other countries.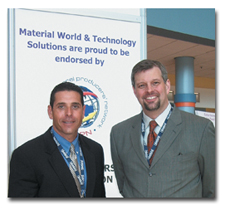 Doug Miller (left), president, and Tim von Gal, executive vice president, Urban Expositions
Material World also offered a variety of educational sessions. Programs included AAFA's 2005 Executive Sourcing Summit; the AAFA- and American Apparel Producers Network (AAPN)-sponsored event titled Regional Sourcing - The Producers Perspective; trend presentations hosted by Cary, N.C.-based Cotton Incorporated, Sharon Gray of Fashikon, and Trend House Inc., both based in New York City; and special International Outreach programs from participating countries.
The Material World brand will extend its reach later this year when Urban Expositions launches Material World New York. This new Fall edition of the show will be held September 28-30 at the Jacob K. Javits Convention Center in New York City. Material World New York is set to offer an expanded global presentation of fabrics and services. Organizers hope to build on New York Citys positioning as the fashion capital of the world. The event will highlight not only apparel resources, but also home furnishings.
"In addition to familiar faces from Miami, we are getting a tremendous response from mills and full-package providers from around the world who have not yet participated in the Miami show," said von Gal. "Being in New York also gives us great access to a very large audience of the most influential fabric and trim purchasers, as well as some of the most important sourcing personnel in the branded apparel and private-label retail industries."
---
AAPN Scores Big With Reception
The American Apparel Producers Network (AAPN), Atlanta, continued its endorsement and support of Material World in Miami Beach. In addition to exhibiting at the show to further network the supply chain and support its members, AAPN hosted its Sourcing Executive Roundtable and Reception the evening prior to the opening of Material World. Thirty senior sourcing executives, including those from major US retail chains, attended the roundtable. Mike Todaro, managing director, AAPN, said the format for the roundtable is an open forum-style discussion of issues common to sourcing executives. I find the roundtable a good way to make an impression with others, to network and to pick the brains of those who have been sourcing for big and small companies for a long time, said Sean Mahoney, general merchandising manager, Jensen Activewear, Norfolk, Va.
The fifth AAPN Sourcing Executive Reception was the first open to members only, but it still attracted a record 300 attendees. The venue Casa Casuarina (home of the late fashion designer Gianni Versace) certainly didn't discourage attendance.
"The reception is our way of thanking AAPN members and giving them a private club atmosphere to network and oftentimes meet one another for the first time," Todaro said. "The most memorable aspect of [the reception] was simply how happy and joyful people could be together for four hours in an otherwise challenging industry."

May 2005
Advertisement