Modern Web Forming
Dilo continues to update crosslapping and carding technology.
TW Special Report
F
or almost five decades, web forming using cards and crosslappers has been the key production technology for staple-fiber nonwovens. Over the years, this successful machine combination has continuously been improved and modified in order to meet modern requirements. The combination of the card with the crosslapper allows variable batt weights and widths. Great progress has been achieved in modern crosslapper design, and has led to higher infeed speeds of more than 150 meters per minute (m/min), high layering precision and batt evenness, and reliable mechanical and electrical drive components.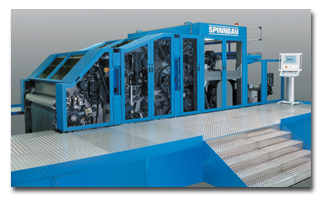 The Spinnbau Delta Card is able to handle web weights of more than 100 grams per square meter.
Yet the crosslapper still has remained a bottleneck in a line when a lighter-weight range is considered, and even more so when smaller layering widths must be realized. In order to increase the infeed and carriage speeds, a higher web weight is preferred to overcome aerodynamic problems and draft within the web passage through the lapper. Therefore, a lap drafter is attached to the lapper in order to:reduce the batt weight at a given number of laps;speed up the following processing steps (needling, entangling and consolidation); andchange fiber orientation and machine direction:cross direction (MD:CD) ratios.
Longitudinal draft and lateral shrinkage are related. Therefore, Profiline CV1 a device, developed and produced by Germany-based Oskar Dilo Maschinenfabrik KG, that creates a cross weight profile with thin edges is applied to correct the thickening of the batt edges. An analysis of weight variation also should be considered.
The number of web layers (n) improves the coefficient of variation (CV) value of the web by 1 divided by the square root of n, according to Dilo. If the batt is drafted afterwards by a draft ratio factor (DRF), the CV values will deteriorate by the approximate square root of the DRF. Because the DRF normally is below the number of web layers, the overall CV remains at an improved value after the lap drafter.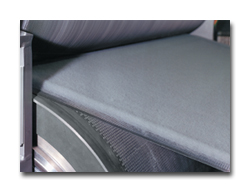 Dilo has updated card design with the Spinnbau Delta Card.
It is clear that batt evenness is one of the first requirements that must be met in order to reduce the average weight, and to save fiber and raw material costs. If draft has to be applied to change the MD:CD ratio, then it is important to use a controlled draft in the shortest possible drafting zones with many drafting stages.Parallel with the mentioned improvements of a card and crosslapper line with drafting units, however, the demands for high-speed production at high quality levels and product evenness are constantly growing, particularly in the area of medical and hygienic lightweight nonwovens made from fine fibers.
The Spinnbau Delta Card is able to handle web weights of more than 100 grams per square meter. In order to respond to this demand properly, Dilo has produced the latest in crosslapper design with universal cards and direct cards, which are designed for high capacity in working widths of up to more than 5 meters, with a speed range of up to approximately 400 m/min, offering excellent evenness and uniformity of fleece consisting of two, three or even four layers. With weights of more than 100 grams per square meter, the Spinnbau Delta Card provides approximately 20 percent more fiber throughput based on a certain quality level compared to conventional cards. It is capable of working with web speeds of up to 200 m/min. At the same time, the Delta transfer system provides a tandem card approach with more uniform blending within the card system. The multiple doffer system gives better web uniformity, allowing considerable fiber savings. The Delta Card is suitable as a direct card for the production of medical and hygiene products that are hydroentangled or needled directly without using a crosslapper and drafting frames.
May 2005
Advertisement