Coating Creativity
Peach State Labs' Sartech environmentally friendly surface coating finds uses across a wide range of applications.
Jennifer Dennard, Managing Editor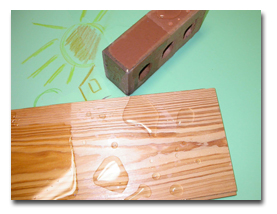 I n today's competitive economy, manufacturers are quickly realizing that to maintain or gain market share, they must design and develop products with multiple end-uses in mind in effect, products that act as panaceas for a businesss bottom line, helping to cure a variety of ills found across a number of different business sectors. Peach State Labs Inc. (PSL) realized this three years ago when it began developing Sartech, an environmentally friendly chemical surface coating polymer that aids in protecting a product's surface from damage caused by stains and moisture, allowing it to breathe at the same time. A homegrown company with 72 employees at locations in Dalton and Rome, Ga., where it is headquartered, PSL has been in the business of developing specialty polymer chemicals since it was founded in 1987 by President and CEO Rick Sargent.
"PSL engages in environmental efforts to reduce process waste," Sargent said. "We also work to create products that will improve the safety of the people who use them."
The privately held company's main goal is to produce chemicals that help make products better and longer-lasting. It currently holds 28 US patents and six foreign patents. PSL sells its products to manufacturers and consumer marketing companies such as Lustrelab LXR Inc., a Greenville-based all-in-one vehicle cleaning product manufacturer. Durability, safety and environmental friendliness are at the top of PSL's product characteristics list. Sartech's main markets include textiles, flooring, coatings and paints, leather, consumer products, bio-fuels and institutional water treatment.
A Mighty Molecule
Sartech is a nanofluorine fluoropolymer coating that weighs 13.7 pounds per gallon and is 2 to 3 nanometers in particle size smaller than a molecule of water.
"[Sartech] is unique in that it penetrates substrates and is highly effective against moisture and oil vapor saturation," Sargent explained. "It has a repellent effect on all surfaces except glass or glass-type surfaces."
The coating may be applied to almost any consumer or commercial product that has some degree of porosity, according to PSL. Upon contact with a material, Sartech reduces the surface energy to a level that causes it to become highly repellent to liquids such as motor oil, blood, red wine and rubbing alcohol. It cures within 30 seconds to five minutes, depending on room temperature and what kind of material it is applied to.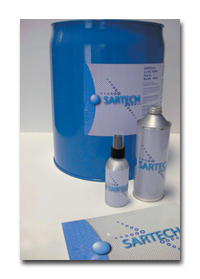 The coating has a very low toxicity; is nonflammable, noncombustible and nonignitable; and also is nonaqueous.
Benefits
It is applied easily using a roller, is odorless and does not discolor the material to which it is applied. It also has the ability to resist water and isopropanol penetration. Other benefits include:increased durability and life of product; surface finish protection; clean and fresh maintenance of surface; prevention of harmful substances from penetrating, staining or altering the end-products finish; breathability; and reduced replacement costs.
A Variety Of Targeted End-Products
Usually applied to finished fabric or goods, Sartech also may be applied during formation of a substrate. A low boiling point allows for rapid dissipation of fluid into the atmosphere. This action helps the coating polymers stay close to the surface of the substrate when applied. For example, the coating may be applied during the formation process and subsequent heat-curing of medical fabrics.
"Sartech has found uses in many other applications as well. PSL has provided technology to the floor covering industry in the form of stain-resist and soil-resist applied coatings," Sargent said. "We currently have seven US patents dealing with reaction to interpenetrating network polymers that are exhausted, sprayed or foamed onto floor coverings to protect the surfaces from dirt or spills. Our current customer list includes the largest producers of floor coverings in the industry."
Other targeted end-products include military fabrics, automotive interiors and moisture-barrier fabrics for automotive transmissions, upholstery, curtains, carpeting, HVAC air conditioning filters, ceiling tiles, paints and coatings, building products, wallpaper and other wall surfaces, tile, hardwood floors, anti-graffiti coatings for brick and stone surfaces, marble flooring and most non-glass surfaces in the home. Sargent sees Sartech's product potential growing to encompass such end-uses as chemical and biological protection in military fabrics, as well as fire-fighting and automotive barrier fabrics; elemental moisture protection for building products; mold- and mildew-repellent filters; shoe moisture protectors; fine fashion repellency (such as rayon that repels food, water and fluid stains); lightweight athletic moisture-control fabrics; and many more.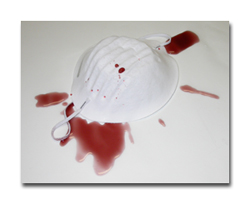 Liquid beads up on surfaces coated with Sartech, which prevents spills from permeating the material to which it is applied.
Measuring Up
Sartech performance testing is ongoing, according to Sargent. An abrasion test done with a Sartech-coated automobile seat found that after extensive wear testing, no loss of repellency occurred. The coating also has been subjected to hot water extraction of upholstery stains without a significant loss of repellency.
Developing The Marketplace
It seems PSL is well on its way to gaining a foothold in a marketplace once dominated by end-products created for only one type of use. As development of Sartech continues and new applications are found, the company continues to maintain its adherence to environmentally-friendly chemistry, diligently striving to produce only goods that are nontoxic and not harmful to the atmosphere.
May 2005
Advertisement