In Dry Cotton
Cotton Incorporated's new WICKING WINDOWS™ moisture-management technology for cotton offers new athletic- and casualwear options to cotton lovers.
Janet Bealer Rodie, Assistant Editor
M oisture management, a performance attribute typically associated with man-made fibers, now is available for cotton as well, thanks to new WICKING WINDOWS™ proprietary technology developed by Cary, N.C.-based Cotton Incorporated. The technology now is available for licensing to athleticwear and other apparel manufacturers.

According to William A. Rearick, Ph.D., director of textile chemistry research at Cotton Incorporated, interest has developed in bringing moisture-management properties — developed originally to add wicking properties to man-made fibers — into everyday casualwear and everything in between casual- and athleticwear.

"There has been a lot of interest in bringing moisture management into 100-percent cotton fabrics," Rearick said, noting that cotton is naturally soft, breathable, static-free, pill-free and hydrophilic; whereas polyester is inherently hydrophobic and must be modified or given a finish to make it hydrophilic. Cotton, however, also holds moisture and can become heavy and cling to the skin, as well as having a long drying time. Therefore, the challenge has been to reduce its absorbent capacity and maintain its wicking properties. "By enhancing treatments, we have been able to increase the liquid and vapor phase moisture-management properties of the fiber," Rearick said.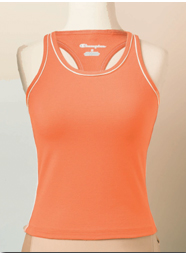 Champion USA's Double Dry™ Cotton
athleticwear uses Cotton Incorporated's
proprietary WICKING WINDOWS™
moisture-management technology.
"We modified the fabric properties to change the contact angle between the liquid surface (perspiration) and the fabric surface, which affects the cling force between the fabric and the skin and causes the moisture to move through the fabric," he explained. "Wicking Windows changes the nature of the fabric such that the two sides are very different, and speeds up the moisture movement and the evaporation rate." In some knit applications tested, he said, the drying time has been cut in half. The treated cotton also exhibits half the cling force of untreated cotton and as little as one-third or less the cling force of polyester, polyester/spandex or polyester/cotton.

Winston-Salem, N.C.-based Champion USA is using Wicking Windows in its new Double Dry™ Cotton athleticwear for men and women. Double Dry Cotton adds a new option to Champion's Double Dry moisture-management athleticwear line, which the company launched several years ago using man-made fabrics, according to Heather Stefani, vice president, marketing.

"Double Dry Cotton offers consumers the best of all worlds," Stefani said. "Our research shows consumers like the hand and weight of cotton. Moisture management is a key benefit for the active consumer, but it's never been applied to cotton before." Stefani expects Double Dry Cotton will bring a new user to the Champion brand — that consumer who has always chosen cotton over man-made fibers now has an option also to choose moisture management.
March 2005
Advertisement