Oh Mexico Where Art Thou
The textile landscape of the United States and Mexico has changed since the implementation of NAFTA in 1994.
John E. Luke, Technical Editor
T he 1994 birth of the North American Free Trade Agreement (NAFTA) brought great hopes for a new Western Hemisphere trade paradigm. To be sure, a few storm clouds rose in the rosy pink sky, particularly for those cheap labor-intense industries and economies that were directly threatened by the appearance of preferential trade championed by the world's strongest economy.
Even the man-made fiber industry in the United States anticipated increased business as three regional partners created a regional equity way station, built upon the relative comparative advantages of each. The United States and its NAFTA partners were sending a firm signal to the then-still-aborning World Trade Organization that the West would participate in free trade, but would ally with regional partners for regional protection and value. In a news release celebrating the 10th anniversary of NAFTA, the Canadian Department of Foreign Affairs and International Trade stated: "In January 1994, Canada, the United States and Mexico launched the North American Free Trade Agreement (NAFTA) and formed the world's largest free trade area. The Agreement has brought economic growth and rising standards of living for people in all three countries. In addition, NAFTA has established a strong foundation for future growth and has set a valuable example of the benefits of trade liberalization."
It is important periodically to take stock of NAFTA's achievements and failures. Until recently, Textile World would have commented that the verdict is clear - a great success for the United States and its North American partners. Unfortunately, several recent developments have cast some doubt on the level of achievement and therefore demand explanation.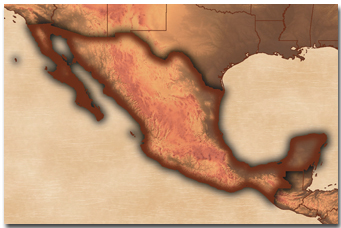 Trade Synchronization
In one of its periodic publications, The Business Frontier (Issue 3, 2004), the El Paso Branch of the Dallas Federal Reserve Bank reported: "Trade between the United States and Mexico slowed sharply between 2001 and 2003, primarily because of slower growth in both countries. [G]ross domestic product (GDP) fell to 1.6 percent per year on average in the United States and 0.6 percent in Mexico. Consequently, US exports to Mexico fell 4.4 percent on average per year for 2001-03. US imports of goods and services from Mexico grew only 0.6 percent on average per year over the same period."
The author hypothesizes that the original format of US-Mexico trade has changed, and the 2001-03 experience is reflective of what business should expect going forward. Originally, the two countries engaged in inter-industry trade: the exporting and importing of different industries based upon comparative advantage provided by their national characteristics or initial endowments. This is the standard concept of trade taught in every elementary economics textbook, describing how opening [or expanding] trade between two nations unequivocally enhances the welfare of both; in other words, a rising tide lifts all boats.
The article continues: "Three important results [follow] from this theory of inter-industry trade. First, after trade opens, a country will export goods that are relatively intensive in abundant domestic factors. The United States will export technology because of its relative abundance of skilled labor. It will import goods like textiles or apparel that are intensive in scarce, low-wage labor. Second, trade benefits the abundant factors (skilled labor, farmers) and hurts the scarce factor (low-wage labor). The country as a whole gains, but there are well-defined losers. Third, export industries expand while industries competing with imports contract, perhaps causing extensive unemployment and long-term readjustment."
How much clearer a picture of the United States textile and apparel complex could one paint?
According to data from the Fiber Economics Bureau, US-Mexico fiber trade between 2001 and 2003 resulted in a negative balance of 85+ million pounds in 2001, dropping to a 22 million-pound negative balance in 2003. More interesting than this balance, however, is the fact that Mexicos export of 277+ million pounds in 2001 represented 57 percent of total Mexican fiber exports, while its 244+ million pounds of exports in 2003 represented only 52 percent of Mexican fiber exports. Obviously, Mexico changed its markets and raised some questions within NAFTA. The first statistic to be noted is the preponderance of filament fibers. Virtually half the fibers traded between the United States and Mexico for both 2001 and 2003 were filament and of that, most were polyester. Under normal circumstances, one would assume the quality demands of man-made filament fibers would favor the technology capabilities of the United States; in other words, Mexico's comparative advantage is in cheap labor. Such appears not to be the case, however, as in both 2001 and 2003, Mexico shipped twice as much filament north as the United States shipped south.
So much for comparative advantage in trade; there must be other forces operating and other countries sharing the wealth NAFTA appeared to promise to the West. The Federal Reserve article defines intra-industry trade, another type of trade that logically was operating in the cited period. This trade occurs within industries and even between countries making the same goods and using similar factors of production. This trade can arise because goods are similar but not identical. Unlike inter-industry trade, where there are well-defined broad classes of winners and losers, intra-industry trade does not carry implications of massive readjustment across industries. Innovations can arise anywhere and the location of fixed factors may simply be an accident of history. Once the United States fiber industry finished automating manufacturing facilities and distribution, and the Mexican industry finished investing in new technology in anticipation of sharing NAFTA's promised benefits, little comparative advantage remained for either Mexico or the United States. Management minimized labor disadvantages, and the machinery manufacturers minimized technology superiority. The result appears to be a new paradigm in fiber trade, in which inter-industry trade is slowing and intra-industry trade is growing and becoming more synchronized across political borders. As the US fiber industry suffers through home-country economic cycles, one expects cross-border trade to mimic US patterns.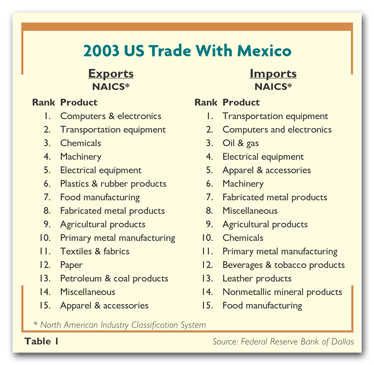 US-Mexico Trade
This discussion of inter- versus intra-industry trade raises logical questions about the future of cross-border activities. The Federal Reserve Bank of Dallas presents data to suggest that inter-industry fiber, fabric and apparel trading is shrinking and intra-industry trade is growing (See Table 1). The important message from Table 1 lies in the duplication of categories across both imports and exports. While finding textiles and fabrics on both lists is no surprise considering the amount of made-up articles produced in Mexico from US fabrics, it is interesting and has more meaning to find apparel and accessories on both lists. According to The Business Frontier: Eleven categories appear on both lists, indicating extensive intra-industry trade. The two way exchange implies each country is sending the other the same product, just at different stages of production. Interestingly, intra-industry trade supports history. Maquiladora (assembly) industries - the three largest, which represent 75 percent of maquiladora activity -are transportation equipment, electronics and textiles and apparel are well represented on both lists. This is a perfect example of intra-industry-different-production-stage trade, but it appears to be only part of the changing face of trade in the textile/fiber complex.
According to the Federal Reserve Bank of Dallas: "Throughout the 1990s, the vast majority of imported products to the maquiladora industry came from the United States. In 2000, 90 percent of maquiladora imports were from the United States and 9 percent were from Asia. By 2003, 69 percent came from the United States and 28 percent from Asia, including 8 percent from China. It may be that US-based suppliers are simply being replaced by global competitors, mainly from Asia.
Alternatively, perhaps US-based suppliers are having their inputs partially or completely produced in Asia to take advantage of cheaper labor, then sent to Mexico for final assembly in the maquiladoras. Either way, maquiladora imports from the United States have fallen, even though Mexico's maquiladora exports remain almost completely (98 percent) destined for US consumption.
A Short Roundup
Has US industry missed opportunities with Mexico? The United States continues to trade in the same categories where, historically, it has not been able to take advantage of its natural business advantages. Maybe manufacturing has just moved across an artificial political border allowing this country to become a victim of trade synchronization under NAFTA.
A Personal Footnote To History
As this article was being written, TW learned of Solutia's decision to exit the acrylic fiber business (See "Solutia To Exit Acrylic Fibers Business,", www.TextileWorld.com , March 2005). In all honesty, the company's ability to remain competitive in a dramatically shrinking market has long been a subject of marvel. With fond memories of the decade-long tenure with Chemstrand, a long-ago predecessor of Solutia, TW would like to think the company, and several notable competitors, survived on a reservoir of product marketing and promotional creativity. Chemstrand banked creative points with Acrilan® denoting the whole carpeted house; Celanese used Fortrel® to represent the desirability of durable press rather than the attraction of a fiber product, and DuPont has positioned Lycra® as a metaphor for the new active lifestyle. These labels, and probably several others consigned to the bank of forgotten memories, focused on brands in a multitude of consumer, home fashions and industrial markets. The man-made fiber industry, currently focused on product and efficiencies, once was a market-sensitive, vibrant, creative lot.
Rest in peace good friends; your future is cloudy at best, but your memories are comforting and instructive to entirely new families of industries currently gestating. Its been a good three-quarter-century run. Its not over, but it sure will be different. Thanks for sharing the ride.
March 2005
Advertisement