Küsters Continues To Climb
Küsters seeks a new partner to extend growth options.
TW Special Report
T he Germany-based Krefeld Küsters Group, a family-run business founded in 1949 that today is an international leader in finishing technology for the textile, nonwoven and paper industries, experienced continued success in 2004, despite some significant price increases for materials. Preliminary results show incoming orders increased by 40 percent to 151 million euros. Turnover, at 113 million euros, increased by 11 percent and, given an almost doubled order backlog valued at 78 million euros at the end of last year, will continue to grow.
Subsidiary Helps Strengthen Sales In Asia
Küsters machines and ranges, which include finishing systems for the textile, nonwoven and paper industries, have met with particularly good sales in Asia. "[The year] 2004 was our Asia year," said Erich W. Broker, Ph.D., CEO. "In this region, we were able to partake in the global relocation of markets and exceed by far our self-imposed goals with an order increase of 51 percent. In China in particular, Küsters finds itself in a strong position, as its technology and product quality is especially appreciated there."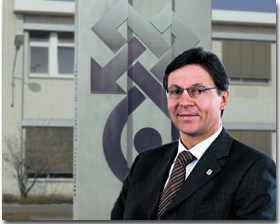 Erich W. Broker, Ph.D.,CEO, Kü sters
Proximity to the customer was significantly enhanced by the establishment in 2003 of its Kuesters Shanghai Co. Ltd. subsidiary. Kuesters Shanghai is in the process of delivering three finishing installations to Sunvim Home Textiles Ltd. The installations include the high-performance TurboFlush washing range. Chinese customers hit hard by rising energy costs are especially interested in the TurboFlush because it is equipped with an optimized, cost-saving energy-water system.
Also included in the delivery to Sunvim are a pad steam-dyeing range; and a continuous bleaching range and mercerizing range, both of which are equipped with gentle-processing technology. The ranges are geared to fabric widths of up to 3.2 meters, and weights between 180 to 200 grams per square meter. Production speeds between 60 and 80 meters per minute may be achieved.
The company's growth momentum also is supported by extremely successful business in Pakistan and India. When making new investments, the textile industries of these countries often opt for well-established Küsters products, which, according to the company, ensure the faultless textile finishing that the large textile importers of Europe and the United States demand.
In view of the booming Indian economy, Küsters considers it a great advantage to have its own manufacturing site in that country. "Our drive towards improving our Indian subsidiaries' delivery and quality standards is now paying off," Broker said.
Strong Sales Around The World
Business volumes in North America increased last year by 22 percent, despite a strong euro. The company reports this increase was due mainly to the successful business development efforts of Spartanburg-based Küsters Machinery Corp.
Because of numerous unique selling points, the order intake of Küsters' Nonwoven Division rose by 29 percent over 2003 figures. The established markets in Europe and the United States continued to dominate the nonwovens area. This also is true for Küsters' Paper Division, which supplies roll and calender systems and wet presses. This division contributed to overall company growth with a 58-percent increase in orders. A highlight last year was the order of a ProSoft calender for Finland.
Finding The Right Partner To Increase Growth
In order to strengthen its competitive position even further and to seize additional growth opportunities, the company has decided to bring in a new partner. Küsters is keeping quiet about the details of its search, as it is still in the beginning stages.
"We have a multitude of innovative ideas in whose realization we want to invest without delay," Broker explained. "Only by extending our technological lead and worldwide market penetration can we pursue our strategy of profitable growth successfully."
Faced with such ambitious targets and the great challenges posed by increasing worldwide competition, a family-owned company like Küsters can offer only limited possibilities, which is why the company intends to continue its growth with a new partner. "Globalization is no walk in the park," Broker said. "Who wants to win, needs to strike a new path. Küsters has always taken up such a challenge and [it] will continue to do so."
March 2005
Advertisement