Neumag Merges With Kortec
Germany-based Saurer GmbH and Co. KG has acquired Kortec GmbH, a Germany-based manufacturer of festooning machinery for the nonwovens industry. Kortec will merge with Saurer's nonwovens machinery business unit, Germany-based Neumag, adding its products to Neumag's other nonwovens offerings including meltblown technology, Ason spunbond technology, M and J Fibretech airlaid technology, and Autefa automation solutions and crosslapping technology.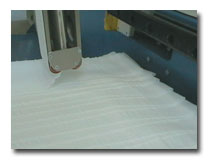 Kortec's festooning machinery is used to plait nonwoven fabric strips.

Roberto E. Rahn, Kortec's general manager and former primary owner, will continue to oversee the festooning technology and related businesses. Other members of Kortec's technical team also will join Neumag.
June 2005
Advertisement